UPDATE 7 Desember 2012 :
SOLD OUT
READY STOCK


HARGA BARU

Moto : KALAU BISA BELI RASA DREAM YANG LEBIH MURAH KENAPA TIDAK :-)
Mau Receiver Linux rasa Dreambox, mau ambil Dreambox ga sesuai kocek.
Receiver canggih era thn 2012, dengan tiket terbang yang mantap maka sangat lancar tanpa jeda, dan bisa dimonitor dengan oscam.
Pake receiver OB S4 baru.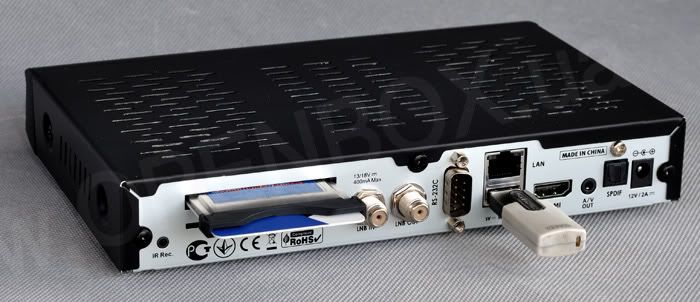 Specifications :
Support 3G receievr
1.HDMI+ USB/PVR +1CA1CI
2.Linux Operating System
3.10/100Mbit Ethernet
OPENBOX S4 HD PVR
1.HDMI+ USB/PVR +1CA1CI
2.Linux Operating System
3.10/100Mbit Ethernet
MAIN FEATURES:
1/Receive Digital High Definition (HD) and Standard Definition (SD) Satellite Signal
2/Supports DVB-S, DVB-S2, MPEG-2 & MPEG-4
3/Digital Video Recorder through USB (external flash or hard drive are not included)
4/The most affordable FTA HD receiver on the market today.
5/Worldwide compatible
6/Hardware Blind Search DVB-S and DVB-S2 (fast search less than 2 Minutes on most satellites)
7/Linux MIPS Operating System
8/HD DVB-S2 SHARP 7306 Tuner
General Specifications:
300 MHz MIPS Processor - Linux Operating System
Fully compliant MPEG-4 H.264/AVC Main Profile Level 3 & High Profile Level 4.1;
Fully compliant MPEG-2 MP@HL & MP@ML;
Fully compliant MPEG-1 Layer I & II & III, Dolby Digital Audio(AC3);
SCPC & MCPC receivable from C/Ku band satellites;
multiple LNB-Switching control (supports DiSEqC1.0/1.1/unicable/1.2/1.3(USALS) supported)
NIT search supported;
Support MHEG-5;
Support HDMI 1.3;
Support PVR(store in USB disk);
Multimedia files playback(by USB);
Support Electronic Program Guide(EPG) for 7 days;
Teletext and subtitle out through OSD;
Support multi-lingual DVB subtitle and teletext;
Automatic and manual channel scan options;
automatic service scan
channel-change time < 1 second
OSD in many languages and skin-support
Multilingual support on screen menu (OSD): English, French, Deutsch, Italian, Spanish, Swedish, Danish, Greece, Portuguese, Finland, Holland, Turkish, Czech, selectable;
LED Display
Multiple display mode: 1080i/720p/570p/576i/480p;
MPEG-2 / H.264 Hardware decoding
Videotext Decoder
Analog audio output: stereo(L+R);
Digital audio output: S/PDIF by coaxial and optical;
S/PDIF Interface for digital bit stream out (AC-3)
YCbCr available;
Screen format:auto, 4:3, and 16:9;
Upgrade software through USB2.0 port;
Powerful program management function, parent lock;
CA 1x slot and CI 1xslot
10/100Mbit Ethernet Interface
directly bouquet-lists
DVB-S2 HD
Input Frequency:950~2150MHz
Loop Out Frequency:950~2150MHz
Input Level:-65~-25dBm
Input Impedance:75¦¸
LNB Power: Auto/14v/18v/OFF, Imax = 500mA
Video decoder
Video Compression MPEG-2 and MPEG-1 compatible, H.246
Video Formats 4:3 / 16:9
Letterbox for 4:3 TV-Device
Audio decoder
Audio Compression MPEG-1 & MPEG-2 Layer I and II, MP3
Audio Mode Dual (main/sub), Stereo
Frequency: 32 kHz, 44.1 kHz, 48 kHz, 16 kHz, 22.05 kHz, 24 kHz
Output digital
Output Level 0,5 Vss on 75 Ohm
Sampled Data Filtering 32 kHz, 44.1 kHz, 48 kHz
S/PDIF-Output optical, Toslink
Video parameter
Input Level FBAS 1 Vss +/- 0.3 dB on 75 Ohm
Teletext filter in conformity with ETS 300 472 Standard
TV-Scart
Output: FBAS, RGB, S-Video
Serielle Interface RS 232
Typ RS232 bidirectional
Bit rate 115,2 kBit/s max.
Plug Connector SUB-D-9
Function: Update of Firmware
Ethernet
10/100 MBit compatible interface
Function: Update of Firmware
USB
1 x USB 2.0 Host ,PVR
LNB power and polarisation per tuner
LNB Current 500mA max.; short-circuit-protected
LNB Voltage vertical < 14V no load, > 11,5V at 400mA
LNB Voltage horizontal < 20V no load, > 17,3V at 400mA
Count of active satellite position
DiSEqC 1.0/1.1/unicable/1.2 SAT POSITION / SAT OPTION
DiSEqC - Rotor Control
External PSU
Input:110-240V AC / 50-60Hz / 0,6A
Output: 12V = / 3,0A
Physical specification
Ambient Temperature +15 °C...+35 °C
Humidity < 80%
Size (W x D x H): 300 mm x 220 mm x 56 mm
Weight: 1,8 kg without HDD
Power AC input range:100-240VAC 50/60Hz
PowerConsumption (Standby): Max. 10W (<1 W)
Kecanggihan Receiver ini :
- Bisa menggunakan USB Hub pasif
- Bisa menggunakan USB Modem 3G (merek tertentu), CDMA belum bisa
- Sudah menggunakan OSCAM bukan CCAM
(membuat "terbang" lebih nyaman dan tahan goncangan)
- Bisa Youtube, dll
- Support BIS input untuk siaran NSS6 IPM
---> Update Firmware terbaru S4 bulan Oktober 2012, youtube jalan kembali
Harga : SOLD OUT
BONUS : USB WIFI & KABEL HDMI
[B
]KHUSUS AREA JAKARTA ----> FREE ONGKIR
[/B]

MOHON MAAF : KAMI TIDAK MENERIMA REKBER !!!!!!!
Stok limited
Yang benar benar berminat bisa melakukan SMS ke 087752715772 (SMS only)
atau email ke benny_s@cbn.net.id (PIN BB : 32A7BA15)

Di tunggu ordernya agan agan
Thread Skybox F3/Openbox X3 di
http://www.kaskus.co.id/showthread.p...#post733595322
Thread Dreambox 800 SE di
http://www.kaskus.co.id/showthread.php?t=16666313
Harga kami terbaik saat ini !!