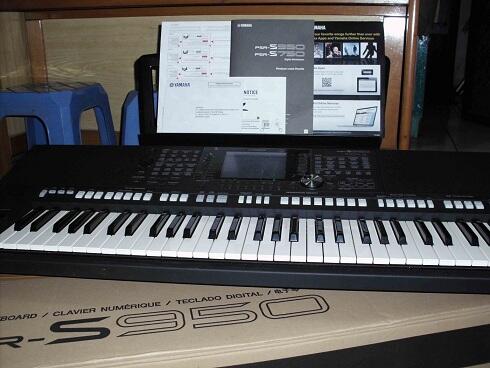 Features
Just play to experience incredibly realistic and expressive sound
Acoustic instrument-specific articulations, nuances and dynamics are challenging to reproduce. As the world's largest musical instrument manufacturer, Yamaha has perfected both the science and art of this process to bring you the most sophisticated, musical-sounding and easy-to-play instrument Voices.
Super Articulation (SA)
Super Articulation Voices reproduce the performance characteristics of acoustic instruments so authentically, you'll feel as if you're playing the real thing. Best of all, SA Voices intelligently add just the right expressive nuances to your performance without having to learn a bunch of tricks just play!
Mega Voice Style Technology
Mega Voices feature various playing techniques and performance sounds like guitar and bass finger slides, brass falls, vocal effects, etc. When used in Styles, Mega Voices provide some of the most realistic-sounding and dynamic accompaniments.
Hubungi :
TOKO ALAT MUSIK DI BANDUNG
I R A M A J A Y A
Jual macam-macam alat musik mulai dari
Drum, Keyboard, Piano, Gitar Elektrik dan Akustik
Biola, pianika, amplifier , Efek Gitar , Efek Bass
Capo, Stand mic, Picollo snare drum dll
Ruko Taman Kopo Indah III blok F-12
Telp.022 5413124 hp. 082118788380
Email
iramajaya@gmail.com
KURSUS KEYBOARD & PIANO DI BANDUNG
Menerima murid baru untuk belajar alat musik keyboard, dan piano pop, jenis lagu yang di pelajari boleh pilih atau campur, lagu mandarin, pop barat, pop indonesia, dan pop rohani(gereja) Dewasa dan anak2 Not Balok & Not Angka, Guru bisa hadir mengajar dirumah murid Hubungi Taman Kopo Indah III blok F-12
0225413124 hp. 082118788380