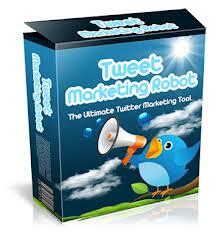 Jual Tweet Marketing Robot / Tweet Demon License
Official Site
Aplikasi ini bisa ngapain aja ?
What "Tweet Marketing Robot" Can Do For You?
Automatically follow users that are in real need of your products and services.

Automatically follow the followers of users who are already popular in your niche.

The most complete and powerful Twitter Software Available.

Protect your account from getting banned.

Follow and unfollow users using the web browser and not API to appear more natural.

Auto unfollow users who don't follow you back.

Auto unfollow users you followed in a specified number of days.

VIP list and protect very special users from unfollowing even if they don't follow you back.

Ignore users with no pictures and who tweet links to minimize following spammers.

Follow users from other users lists.

Use An Unlimited Number of Accounts.

Automate twitter marketing without getting noticed.

Build thousands of followers without worrying on API limits.

Post and schedule thousands of tweets without worrying on API limits.

Make money in twitter with or without any followers.

Reply on thousands of users looking for your offers on autopilot.

The only twitter software that DOES NOT USE THE API.

Automatically follow users with the same interest.

Anti spammer filtering.

Follow users with your specified random number of users in a specified random time intervals.

Kurs Rp. 11.000
Harga Asli $297 = Rp. 3.267.000
Ane Jual Rp. 1.260.000 aja gan.
Udah irit 1.4+ jt (itu juga kalau kurs pas 11k hehehe) + DISKON 30%
License ini buat selamanya, jadi ga perlu bayar apa2 lagi selamanya.
Alesan jual
: Ga pernah jago gw maen di SM, sempet ngasilin duit lumayan pake software ini, cuma sekarang ga sempet lg dan banyak billing numpuk harus dibayar

Akses admin panel bakal ane serahin ke pembeli, dari situ semua data bisa dirubah sesuai data agan sendiri.
Tertarik atau minat silakan PM ane / SMS only ke 0878 77 55 33 28.