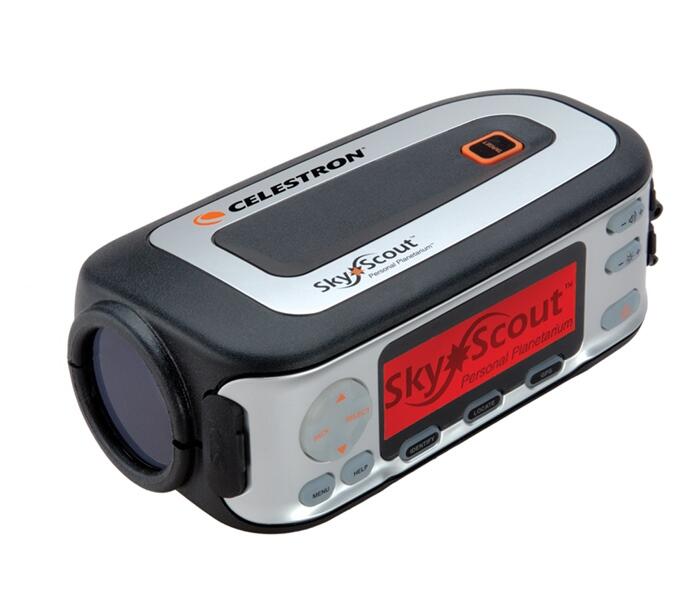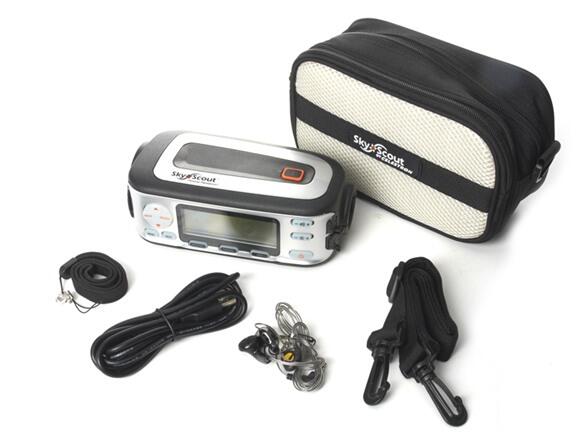 Celestron SkyScout - Personal Planetarium
Description
Introducing the Celestron SkyScout!
The SkyScout is a revolutionary, one of a kind, patented, hand-held device that instantly identifies and locates any celestial object visible to the naked eye. It provides educational and entertaining information, both in text and audio. A fun learning tool for all ages, the SkyScout Personal Planetarium puts the knowledge of an expert astronomer in the palm of your hand.
Using the SkyScout
Point the Celestron SkyScout at any bright star and it will instantly identify the object or choose an object from the celestial database of over 6,000 objects and the SkyScout will guide you to it.
The SkyScout includes great information and stories about the most popular celestial objects in scrolling text and narrated audio.
SkyScout's unique features include:
• Tonight's Must-See List - When the Celestron SkyScout is turned on, it will tell the user the 10 most exciting things to look at in the sky that night. The SkyScout uses internal GPS to automatically customize it to where that particular user is located.
• Constellation Lessons - If the user is looking at a star that's part of a constellation, the SkyScout will inform the user, show a picture of the constellation, and help the user locate the other stars in the constellation.
• Updatable Software and Data - USB port included for periodic updates of the operating software, as well as the ability to download new data from celestial objects like the Space Shuttle or passing comets.
• SkyTour Content Cards - SD card slot exists for additional content offerings, such as Astronomy for Kids.
How it works
SkyScout combines GPS technology, which gives the time, date, and location of the user, software that calculates the position of the objects for that moment, and three axis sensors, which measure gravitational and magnetic fields to determine the true orientation of the SkyScout to the earth. Operates on 2 user-supplied AA batteries.
WE HAVE FIELD TESTED THE SKYSCOUT AND SEEN IT IN ACTION - PLEASE CHECK OUT OUR SKYSCOUT REVIEW FOR MORE INFORMATION. GET THE HOTTEST NEW ASTRONOMY ACCESSORY TODAY!
Dimensions & Specifications
• Dimensions : 2.5 x 4 x 7.4 Inches
• Weight : 15.2 oz. (without batteries)
• Warranty : 2-Year Limited
• Brand : Celestron
• Telescope Accessories Series : Celestron SkyScout and SkyScout Accessories
What's Included?
SkyScout, Case, Headphones, Wrist Strap, USB Cable
Telepon : +62 21 3649-5554 / S E N S O R-3117-0440 (Pukul 09:00-17:00 WIB Senin-Jumat / Pukul 09:00 - 14:00 WIB Sabtu)
Raja Survey Group
Phone : +62 21 3649-5554
Mobile : S E N S O R-3117-0440
Fax : +62 21 730-3447
BB : 25A9CB48
WhatApp : S E N S O R-3117-0440
LINE : S E N S O R-3117-0440
Mail :
firdi@rajasurvey.net
Yahoo Messenger : rajasurvey30
Website :
http://www.indonetwork.co.id/thedigitalstore
Jalan Pesantren No. 64 Jurang Mangu Timur
Pondok Aren Tangerang Selatan
Banten Indonesia 15222
Ini merupakan alamat kantor operasional kami.
Kami tidak memiliki toko offline ataupun kantor cabang.