AVAILABLE @ Tommy's Place (TP)


Pickup Seymour Duncan SH-4 JB + SH-1n '59 CROME Cover.
Kondisi NEW & ORIGINAL Made In USA. 4 kabel Konduktor untuk SH-4 JB . Batangan (NO Box). Kabel panjang sekitar 25 Cm. Bonuss 1 biji Jek 3 Kaki
Harga Paket NETT Belum termasuk Ongkos Kirim = Rp. 1.000.000/Set ( Dapet nya 1 Biji SH-4 JB untuk posisi Bridge + 1 Biji SH-1n '59 untuk Posisi Neck + 4 Per + 4 Baut + 1 biji Jek 3 Kaki)
Sorry , Tidak DIjual Ketengan.

What U See is WHAT U WILL GET . NO more or LESS
Just TAKE IT or LEAVE it

Lokasi Gw di Cipinank - Jakarta Timur. Buat Yang serius minat BELI ...Juz Contact Maz Tommieh>>>
021-93536158
Add Whats App & CALL ONLY = 08888699998 ( Tidak akan pernah bakalan bales SMS )
Tolong juga sebutkan Nama & ID Anda yach Agar bisa lebih akrab n tidak tertukar2 githu lho Broww

Ato via PM dah kl yg mo gretongan doank

kalo mo tau sound sample PU Duncan JB + '59 , coba cek di Utube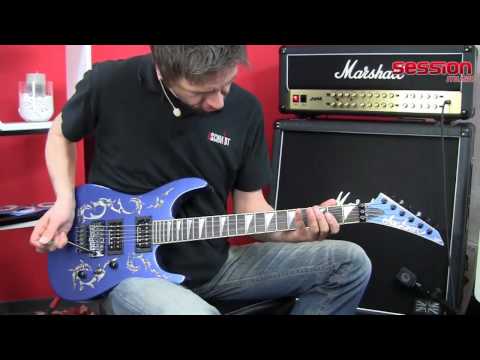 Duncan JB @ Bridge + '59 @ Neck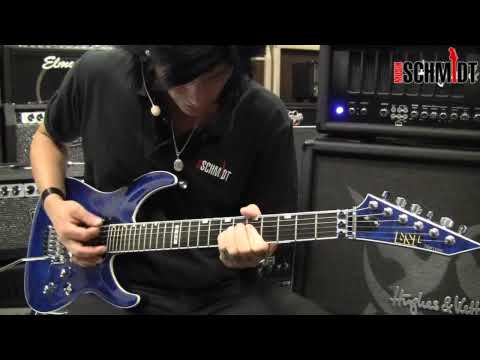 Specifications for SH-4 JB:
Magnet : Alnico V
DC Resistance: 16.4 k
Resonant Peak : 5.5 kHz.
Bass / Middle / Treble : 5/6/8
The archetype hot-rodded humbucker for over 30 years. Great for everything from heavy blues to heavy metal.
description
The world's most popular humbucker. Provides slammin' output while retaining singing highs, aggressive harmonics, and just the right blend of sustain and distortion. Goes from sweet warm tones to raw rock 'n' roll. Compared to the SH-14 Custom 5, the JB has a stronger treble detail. Some players use it with 250K pots to smooth out the highs. Comes with four-conductor hookup cable.
complete setup

Recommended for bridge position. Often a JB is paired with a neck pickup like the SH-2n Jazz(Seymour's favorite) for versatility or a
SH-1 '59
for P.A.F. tones.
guitars
For balanced and warm instruments. Works especially well with rosewood fingerboards.

players
Paul Stanley / KISS, Gary Rossington / Lynyrd Skynyrd, Ty Tabor / King's X, Steve Marker / Garbage, Nick Hexum & Tim Mahoney / 311, John Connolly / Sevendust, Dave Mustaine / Megadeth
Sound sampe SH-4JB @ Bridge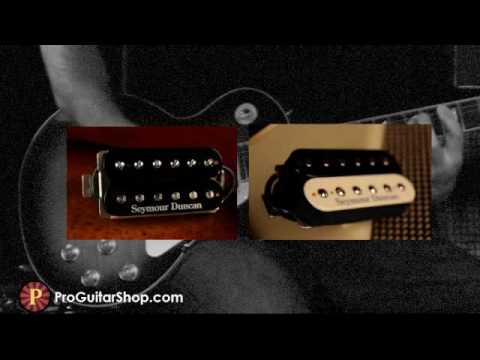 Specifications for SH-1n
Magnet : Alnico V
DC Resistance: 7.43 k
Resonant Peak : 6.80 kHz.
Bass / Middle / Treble : 6/3/8
Application
Versatile P.A.F.-type humbucker. Great for country, jazz, blues, funk, classic rock and heavy rock.
Description
Late-'50s, vintage-correct, humbucker sound.
Warm and crystalline clean
tones. Full and bright distorted tones.
Smooth sustain
. Classic appointments include plain enamel wire, long legged bottom plate, vintage single conductor cable and no logo. Compared to the SH-55 Seth Lover, the '59 has slightly more scooped mids and is
vacuum wax potted for squeal-free
performance.
Complete setup
Available in both neck and bridge models. Often a '59 neck is used together with a hotter bridge pickup like the
SH-4 JB for extra versatility.

Guitars
For balanced and warm instruments. Works especially well with mahogany bodies and rosewood fingerboards.

Players
Ben Harper (neck & bridge), Robben Ford (neck & bridge), Mike Einzinger / Incubus (neck), Robert Smith / The Cure