Quote:

PENGUMUMAN



Kami informasikan bahwa Dune Indonesia sekarang berdiri sendiri dan Kantor & Service Center Dune Indonesia

STC Senayan 1st Floor #1031
Jl. Asia Afrika Pintu IX Gelora Bung Karno
Jakarta
021 70882588
BBM 7DBCB7EF

1. Untuk service dan repair untuk sementara bisa email ke dune.indo@yahoo.com

- Memiliki Service/Repair Center di Indonesia






2. Untuk demo dan pembelian unit bisa hubungi reseller2 kami

3. Dune Indonesia bisa menerima pembelian via Online (pengiriman via JNE)

Demikian kami sampaikan dan terima kasih atas perhatian dan kerjasamanya

HDI Dune Indonesia



Full HD 1080P High Quality Media Player Bluray + Hard Disk
Quote:

HDI Dune Limited
Company address
RMs 1101-1104, 11/F., Nan Fung Tower, 173 Des Voeux Road Central
Hong Kong


STC Senayan
Jl. Asia Afrika Pintu IX Gelora Bung Karno
Jakarta 10270
Telp 021 68099160




Dicari : Reseller di seluruh wilayah Indonesia

Komunitas Dune HD : Gabung di sini
Silakan berikan testimonial dan feedback bagi pengguna Dune HD Media Player
Official Link Testimonial & Feedback
Dune HD Max is the first "THX Media Director" enabled media player
Dune HD GmbH announced that the Dune HD Max Universal Digital Media Player is the first commercial Blu-ray player to integrate THX Media Director™ technology. THX's unique technology transforms movies, music and other digital media into "smart content" that enables A/V components to auto-select the most appropriate audio and video playback settings, preserving the content creator's artistic intent.


Dune HD Max is the first "THX Media Director" enabled media player

Dune HD Universal Digital Media Players are widely recognized for playing nearly all audio and video formats regardless of delivery format, resolution or type — a key reason THX selected the Dune HD Max to be the first commercial player to demonstrate THX Media Director technology. THX Media Director works with a variety of digital media (i.e., optical discs, downloads, broadcast and streaming) to simplify and ensure an optimal home theater experience for consumers.
THX is building the THX Media Director foundation with support from leading semiconductor chip companies, enabling CE device manufacturers to easily implement THX Media Director functionality into these devices. HDI Dune worked closely with THX and major semiconductor chip companies to integrate THX Media Director and help pave the way for an ecosystem of THX Media Director enabled AV receivers, HDTV displays (2D/3D), projectors and video processors to emerge.
Dune HD Max Highlights:
• Supports Dolby TrueHD, DTS HD Master Audio as well as DVD and Blu-ray discs and images, in addition to network delivered or internal HDD based audio and video files
• Features ultra-fast networking speeds, IPTV, Internet radio functions, and a built-in Internet browser
• Includes a 3.5 inch SATA HDD rack with hot-swap support, internal SD card slot, and 3 high speed USB 2.0 ports for connecting external storage, expansion modules or devices
THX Media Director Benefits:
• Automatically selects optimal video and audio modes based on the content, so users don't have to navigate complex menus using multiple remote controls to get the best home entertainment setup
• Allows users to enjoy the signature playback features and settings specific to their HDTV and home theater system
• Signals HDTV displays with the appropriate 3D characteristics when 3D content is detected, ensuring that the components automatically select the proper 3D mode
THX Media Director is a trademark of THX Ltd. which is registered in some jurisdictions. All rights reserved.
Quote:



Products :

A. Full HD Players




In Production


[Quote]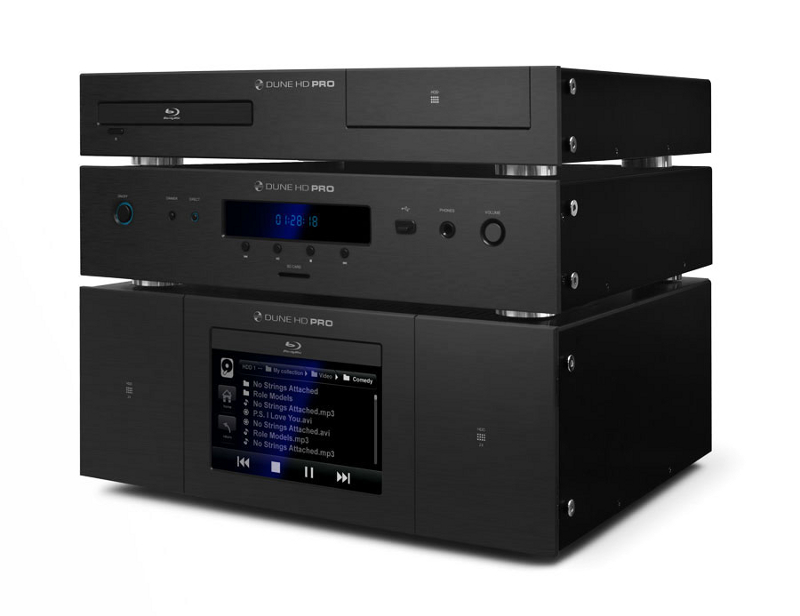 Dune HD Pro Master
Dune HD Pro Gateway
Dune HD Pro Extender

Quote:







Perbandingan Dune HD Player :





Accessories:
Quote:

Dune Air Wireless USB Adapter






Dune HD Qwerty



Miniature wireless keyboard Dune HD Qwerty with embedded Touchpad is designed to control Dune HD media players (based on Sigma Designs SMP864x/SMP865x processors and higher), and also can be used with PC or Apple computers.



Features:
Quote:



Dune Remote v. 1.3 released



Dune HD bisa di control melalui iPad / iPhone

The HDI Dune company has reported about the Dune Remote application update. In the new version numbered 1.3 the native iPad support has been added and several bugs were fixed.

The application allows to fully control Dune HD players with Apple mobile devices such as iPhone and iPad. Dune Remote has been developed by the Ukrainian company UkrHD and is absolutely free and available for downloading at Apple Store.







It should be noted that player control with Dune Remote is based on commands sent via TCP/IP, and this means that your iPhone or iPad, as well as the Dune HD player, should be connected to the home network. At the moment of publication of this news the publicly available versions of Dune HD player firmware do not support controlling via this protocol. Such support will be fully integrated into players in the nearest future. Anyway, for all who wants to get aquainted with Dune Remote now, there is a special test version of the firmware available for download at the official manufacturer's site: http://dune-hd.com/firmware/ip_control/.


Dune Review :
- by MPC Club Community : [URL="http://www.mpcclub.com/forum/links/showlink.php?do=goto&l=207&linkurl=http://www.mpcclub.com/download.php?f=review_dune_smart_h1.pdf"]download review
[/URL]
Dune Indonesia