hai bro and sis
mau menawarkan Ebook novel Animorphs karangan K.A. Applegate
bagi para penggemar novel serial Animorphs, saatnya mengobati kerinduan dan rasa penasaran nih..
Novel Animorphs sendiri pernah diterbitkan di Indonesia oleh PT Gramedia, tapi berhenti di tengah jalan dan tidak berlanjut sampai tamat
kini hadir Ebook Animorphs complete dari jilid 1-54 (tamat)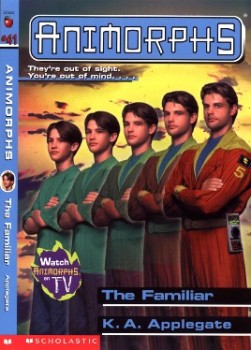 semua dikemas dalam 1 CD saja seharga
75 ribu rupiah
BONUS:
berbagai novel side story mengenai:
- Visser
- Andalite (Elfangor)
- Ellimist
- Sejarah Hork-Bajir
- Alternate Universe Megamorph dan Alternamorph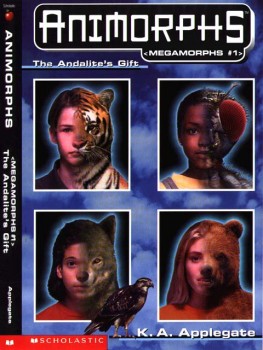 semua seharga 75 ribu rupiah..

Hubungi 0818 0741 8656

Lokasi Jakarta Barat
preview Ebook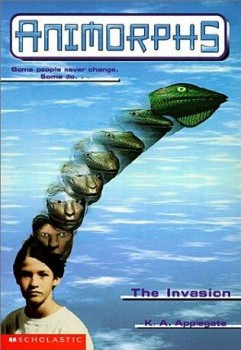 CHAPTER 1
My name is Jake. That's my first name, obviously. I can't tell you my last name. It would be
too dangerous. The Controllers are everywhere. Everywhere. And if they knew my full name,
they could find me and my friends, and then . . . well, let's just say I don't want them to find
me. What they do to people who resist them is too horrible to think about.
I won't even tell you where I live. You'll just have to trust me that it is a real place, a real
town.
It may even be your town.
I'm writing this all down so that more people will learn the truth. Maybe then, somehow, the
human race can survive until the Andalites return and rescue us, as they promised they
would.
Maybe.
My life used to be pretty normal. Normal, that is, until one Friday night at the mall. I was
there with Marco, my best friend. We were playing video games and hanging out at this cool
store that sells comic books and stuff. The usual.
Marco and I had run out of quarters for the games, right when he was ahead by a lot of
points. Mostly, we're equally good at games. I have Sega at home so I get lots of practice
time in, but Marco has this amazing ability to analyze games and figure out all the little
tricks. So sometimes he beats me.
Or maybe I just wasn't concentrating very well. I'd had kind of a bad day at school. I'd tried
out for the basketball team and I didn't make the cut.
It was like no big deal, really. Except that Tom - he's my big brother - he was this total legend
on the junior high basketball team. Now he's the main scorer for the high school team. So
everyone expected me to make the team easy. Only I didn't.
Like I said, no big thing. But it was on my mind, just the same. Lately, Tom and I hadn't been
hanging out as much. Not like we used to. So I figured, you know, if I got his old position on
the team . . .
Well, anyway, we were out of money and getting ready to head home when we ran into
Tobias. Tobias was . . . I mean, I guess he still kind of a strange guy. He was new at school,
and he wasn't the toughest kid around, so he got picked on a lot.
I actually met Tobias when he had his head in a toilet. There were these two big guys holding
him down and laughing while they flushed, sending Tobias's straggly blond hair swirling
around the bowl. I told the two creeps to step off, and ever since then, Tobias figured I was
his friend.
"What's up?" Tobias asked.
I shrugged. "Not much. We're heading home."