Term Of Service :
Quote:
- Untuk mendapatkan daftar list album terbaru beserta ukuran filenya, silahkan kirim sms ke 089682283122 dengan mencantumkan alamat email anda.
- Sebagian tracklist album bisa dilihat di
http://edmlovers.silentmedia.in
- Format lagu mp3 berkualitas 320 kbps.
- Sebagian besar album Unmixed (antara satu lagu dengan lagu lainnya terpisah / tidak sambung menyambung).
- Bebas memilih album, tarif dihitung berdasarkan jumlah dvd, jadi 1 dvd bisa berisi banyak album. 1 dvd = 4,2 gb (4200 MB), so harap diperhatikan masing2 size album.
- Harga per dvd Rp. 20.000, belum termasuk ongkir dari Denpasar Bali.
- Minimal pemesanan 5 dvd.
- Bonus 1 dvd tiap pembelian minimal 10 dvd (berlaku kelipatan)
- DVD merk MAXELL, no label, dvd case yes.
- Setelah proses burning, DVD selalu kami cek dan test terlebih dulu.
- Kami akan mencatat seluruh judul album yg anda pesan untuk menghindari adanya duplikat pada pemesanan berikutnya.
- Terima pengisian via hard disk dengan tarif Rp. 20.000/6 gb.
- Pengiriman via TIKI dan JNE.
- Pembayaran via BCA.
Pemesanan
Quote:
SMS / WA : 0896 8228 3122
Testimoni :
Quote:
Original Posted By
confession100
►
uda sampe, thank you, fast response, packing rapi banget..


Quote: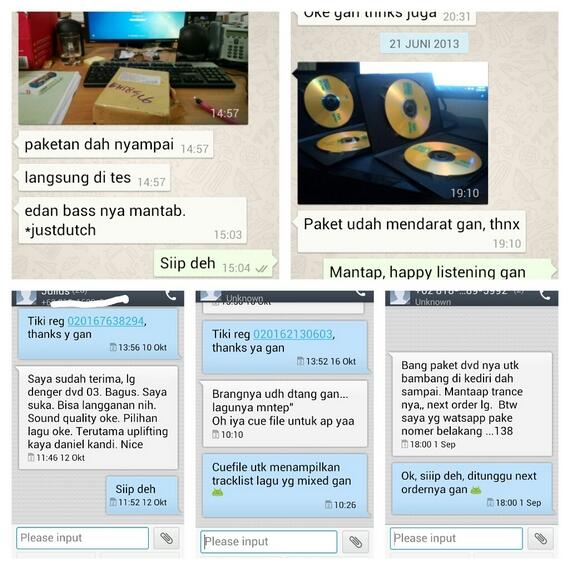 Quote:
Original Posted By
variotechno
►
pesenan ane udh sampe...ternyata lagu2 trancenya emang mantab...sesuai dgn pesenan ane...tx bang ipung or saiful fata...viva trance!!!!! -risky/jkt-
very reccomended seller
Quote:
Original Posted By
nikolas1984
►
LAPOR GAN PAKET ANE UDA DATENG GAN BARUSAN AJA CEPET BANGET GAN...GUA YANG DARI SURABAYA GAN....NENDANG ABIS GAN LAGU2 NYA... PAS GUA LIAT BIT RATE NYA TINGGI... PANTES SUARANYA MAKNYUSSSSS... SEKIAN DULU TESTI ANE GAN... ANE UDA GA SABAR MAU DENGER TRANCE NYA.... NTAR KALO UDA GUA DENGERIN SEMUA GUA PESEN LAGI YA GAN HEHEHEHEHE....
























Quote:
Original Posted By
bastiansyah
►
Sory gan br ngsh testim barang sudah smpai ke solo
ane coba wow bener2 320kbps, kenceng ni masuk audio mobil,hehe,,, mantab gan
packing nya berlapis jd aman

Quote:
Original Posted By
AvrilFanzzz
►
Ane yang nubi mau bikin testi utk bangipung...
Kenal beliau setelah liat postingan di subfor lifestyle, beliau posting youtube lagunya arty - kate (original mix) nubi langsung terkesima, trs nubi liat ternyata beliau buka lapak.
spek album nubi percayakan kepada beliau, cuma kasih pesan tolong di cariin album yang bnyk female vocal trancenya.
setelah transfer ke rek beliau, besokannya lgsg sampe di rmh ntu dvd, pdhl nubi mau bilang tahan aja dulu, nanti nubi ambil sendiri di Bali...tp kgpp dah, dan hasilnya MEMUASKAN!!!


Beliau RECSEL abis nih...Sampe2 nubi mau diajakin ke Boshe segala.


kalo beli 10 DVD Boshe gratis ya mastah??


cek kulkas mastah ada upil gajah dari bali marine park


sukses lapaknya mastah...
Quote:
Original Posted By
bloodsweatpuke
►
Bos,sori bru kasih testi skrg,ni Niko yg di Cikarang bro..
DVD jalan smua.kualitas lagu memuaskan smua.sedep bnr dah pokoknya..jadi napsu nge dj lagi gua LOL..
Thank you ya bos.n sorry ngorder pas mau nyepi..lupa gue..
Quote:
Original Posted By
elesce
►
Siang boss saiful...!dvd nya sdh sampaiii ke suroboyooo!
Thanks sdh carikan dan download kan request saya ASOT 550 dan The best of pulsar 2011 saya!!
Pokoknya jangan ragu dgn agan saiful!!
Service nya TOP!!
Keramahan TOP!!
Harga TOP!!




Quote:
Original Posted By
jogasurya
►
TOLOOONGGG....!!!
Hardisk laptop ku sampai penuh dikirimi lagu - lagunya Bang Ipul


Nanti kalau ada koleksi baru, aku dikabarin ya.
Thanks
Quote:
Original Posted By
khartanto
►
Agan

bangipung123

a.k.a Beli Saiful Fata
has established and applies a quality Person for
Honestly, Care Customers Oriented, Fast Comitment, Responsibility Wonderfull
An Audit was performed, Report by Me, We can say
to
Mr.bangipung123
it's ...
GOOD RECOMMENDED SELLER






PS: Paket Telah Mendarat dengan Selamat Sentausa dan Menggemparkan Sejagat Kota Bandung, A.. A.. Ampun DJ Ipung, Rapih Jali sampe keringetan buka Paket ada 3 Lapis (1.Amplop Executive Plus Print Out, 2. Kertas Koran Rapih Banget Bungkusnya Niat, 3. Plastik Rangkap Solatip bener-bener Care Banget ke Pesenan Niat Banget) Test semua DVD Lancar Jaya sampe Broken Angel & Close To The Stars nih Speaker Plus Earphonenya ikut Goyang Gayung Trance, Ngga nahan Bonusnya itu bener2 buat Kaget Buaanyak Bener dimanjaain sama DJ Ipung so Dancing in The Dark & DJ Ipung Give Me Everything sesuatu banget yach, Yo Da One DJ Ipung, Let's Party Rock Anthem (Stereo Love) Thank Ya DJ Ipung, kabar - kabari kalo sudah ada Lengkapnya ASOT Meneer Armin ntar pesen lagi ya DJ

Quote:
Original Posted By
emink19
►
Gila banget dah agan bank "dance and trance" ini...
Kualitas burn bit rate nya ga ada yang meleset....100% TOP

RECOMMENDED SELLER gan!!!
Tambahin DJ Tools yaaa...hehehe....awaaaassss!!!!!cendoooooolllll!!!!!!.
Quote:
Original Posted By
desmondw
►





Abis pesan DVD ama agan 1 ini... 15 keping ke Surabaya... Pelayanan dijamin mangstab !!! Orangnya ramah pula... En ada followback after salesnya... Packing rapihhh banget... Isi DVD kualitasnya MakNyuss.. Bikin Ajeb2 terus sepanjang hari kalo dengerin semuanya... Wkwkwkkw Maap testinya telat gan... Ane tunggu lagi kl ada update'an album baru yah... Tengkiu !!!
Update Pengiriman
Quote:
1. 2 dvd to Lampung (Arief)
2. 2 dvd to Jakarta (Edwin)
3. 3 dvd to Jakarta (Danni)
4. 1 dvd to Denpasar (Nur)
5. 1 dvd to Jakarta (Tri)
6. 1 dvd to Jakarta (Tri) (2nd order)
7. 1 dvd to Bekasi (Micke)
8. 1 dvd to Jakarta (Tri) (3rd order)
9. 4 dvd to Pangandaran (Ok Cell)
10. to Jakarta (Tri) (4th order)
11. 6 dvd to Depok (Ricky)
12. 6 dvd to Malang (Dhemitz)
13. 7 dvd to Grogol (Andre)
14. 9 dvd to Lombok (Alan)
15. 11 dvd to Jakarta (Yoga)
16. 2 dvd to Bekasi (Vicky)
17. 2 dvd to Jakarta (Diah)
18. 5 dvd to Jakarta (Emir)
19. 7 dvd to Tegal (Thomas)
20. 14 dvd to Jakarta (Junior)
21. 2 dvd to Balikpapan (Jenny)
22. 15 dvd to Surabaya (Flynn)
23. 17 dvd to Palembang (Marizal)
24. 12 dvd to Bandung (Kurniawan)
25. 16 dvd to Kalimantan (Abdurrahman)
26. 14 dvd to Depok (Joga)
27. 7 dvd to Surabaya (Surya)
28. 5 dvd to Cengkareng (Henry)
29. 5 dvd to Utan Kayu (Rama)
30. 5 dvd to Cengkareng (Henry) (2nd order)
31. 5 dvd to Cikarang (Niko)
32. 22 dvd to Depok (Joga) (2nd order)
33. 285 gb via hard disk to Bandung (Adrian)
34. 5 dvd to Bekasi (Ridwan)
35. 4 dvd to Cengkareng (Aditya)
36. 8 dvd to Jakarta (Sofiar)
37. 5 dvd to Solo (Pahlevi)
38. 5 dvd to Surabaya (Jimmy)
39. 30 dvd to Kalimantan (Abdurrahman) (2nd order)
40. 6 dvd to Surabaya (Chen)
41. 5 dvd to Yogyakarta (Nugroho)
42. 11 dvd to Padang (Mahatir)
43. 5 dvd to Medan (Yudhistira)
44. 11 dvd to Jakarta (Zakky)
45. 2 dvd to Surabaya (Lingga)
46. 27 dvd to Depok (Joga) (3rd order)
47. 2 dvd to Lampung (Joko)
48. 6 dvd to Purwokerto (Muliawan)
49. 11 dvd to Purwokerto (Muliawan) (2nd order)
50. 5 dvd to Sleman (Fajar)
51. 11 dvd to Jakarta Utara (Riman)
52. 5 dvd to Purwokerto (Muliawan) (3rd order)
53. 5 dvd to Medan (Affan)
54. 5 dvd to Surabaya (Rian)
55. 5 dvd to Jakarta Utara (Budi)
56. 16 dvd to Jakarta Barat (Panji)
57. 5 dvd to Surabaya (Agung)
58. 5 dvd to Jakarta (Apriantomi)
59. 11 dvd to Jakarta (Andi)
60. 34 dvd to Miami Florida USA (Nugroho)
61. 5 dvd to Jakarta Barat (Rudy)
62. 5 dvd to Sukabumi (Ferry)
63. 5 dvd to Purwokerto (Eric)
64. 12 dvd to Purwokerto (Muliawan) (4th order)
65. 5 dvd to Samarinda (Ferdinandus)
66. 5 dvd to Sukabumi (Ferry) (2nd order)
67. 6 dvd to Purwokerto (Muliawan) (5th order)
68. 11 dvd to Kalimantan (Abdurrahman) (3th order)
69. 11 dvd to Jakarta Timur (Wahyu)
70. 4 dvd to Bandung (Sandy)
71. 5 dvd to Kalimantan (Abdurrahman) (4th order)
72. 5 dvd to Sleman (Jojo)
73. 7 dvd to Purwokerto (Muliawan) (6th order)
74. 32 gb to COD Denpasar (Herman)
75. 5 dvd to Makassar (Ardiansyah)
76. 16 dvd to Temanggung (Budiono)
77. 5 dvd to Bandung (Reza)
78. 13 dvd to Tegal (Deddy)
79. 5 dvd to Lombok Timur (Alan)
80. 5 dvd to Bandung (Nandang)
81. 11 dvd to Jakarta Pusat (David)
82. 5 dvd to Sleman (Sinyo)
83. lanjut post 2