Saatnya untuk mengenal dan mempelajari tentang robot.
Bagaimana sih caranya merakit robot? bagaimana pula pemrograman robot? bagaimana sensor pada robot dapat bekerja?


Semuanya dapat anda pelajari dengan menggunakan modul robot dari korea ini.
Modul ini dibuat untuk memudahkan dalam pembelajaran tentang robot dan dapat membuat robot menjadi mainan yang menyenangkan.

Bisa juga loh dipakai dalam pertandingan robot.


RoboRobo tersedia dalam 5 kit. Dalam setiap kit, komponennya saling kompatibel dengan kit yang lainnya.

Kit buatan Korea ini sudah banyak digunakan di beberapa negara maju seperti Amerika, Spanyol, China, Jepang, Singapore, Canada, Switzerland,.Italia, Polandia dll. Cocok untuk pemula dari tingkat SD, SMP, SMA dan Perguruan Tinggi.
ROBOROBO KIT #1 Rp. 1.500.000,- (pengiriman @ 2 kg)
ROBOROBO KIT #2 SOLD OUT
ROBOROBO KIT #3 Rp. 3.370.000,- (pengiriman @ 3 kg)
ROBOROBO KIT #4 Rp. 4.150.000,- (pengiriman @ 4 kg)
ROBOROBO KIT #5 SOLD OUT

Harga diatas belum termasuk ongkir. ongkir bisa cek di
JNE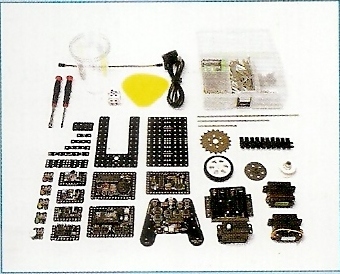 The Robot kit, that is developed to nurture talented children in science and
(to help them develop the creative thinking) instead of using simple assembling
type. Therefore, the user is able to easily understand the structure of machine
and operate in the assembling process of various models.
Since it has a safe circuit module (which welding is unnecessary), It is not hard
to assemble/disassemble at any time and it's helpful for the brain training of
growing students by natural hand movement. Able to understand the movement
and internal structure of the object. Also, students can improve their spatial perception ability from the assembling process.
Workbook which increases the learning efficiency!
It is organized for the user to check and revise the important points and allows the user to go to the next level after insuring the most important points.
Fun!
It provides the various characters and pictures rather than excessive texts. Also
it delivers the learning content efficiently through a quiz that is related to learning.
Self-learning
Users can complete their own workbook. It allows the user to feel the accomplishment by testing themselves about what they learned today and improve their self-learning skills.
Spoiler

for

Rogic Program -> software untuk program robot nih

: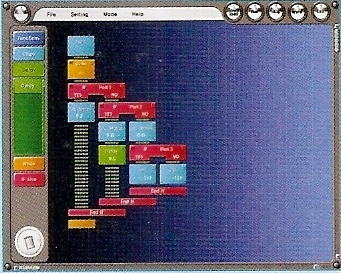 Simple and Fun programming
GUI (Graphical User Interface) allows the user to enjoy the programming much easier.
Flowchart concept programming
Not controlling the robot with a simple icon but nurture the theoretical and mathematical basic ability through the Flow-chart concept algorithm programming.
Complicated algorithm function
Variable uses, various control statements (while, if, break, loop etc.), functional
call etc, From the simple program to the complicated program, diverse functions
are available such as Variable uses, various control statements (while, if, break,
loop etc.), functional call and so on.
Not only the icon basis program but also direct programming through C language
are possible, so the user is able to control more preciously and professionally.
Able to control by C language program
Direct programming by C language and icon type of programming are possible,
thus the user is able to control more preciously and professionally.
Model Robot yang dapat dibuat
Spoiler

for

RoboRobo Kit 1

: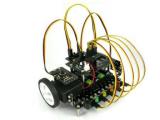 EasyBot is designed for teaching basic assembling skill. Let's learn fundamental methods assembling correctly. Also, you can study about the characteristic of each operating part of the robot.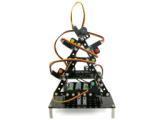 TreeBot is designed to teach the different functions of the LED and Buzzer board. We also learn function of the CPU board.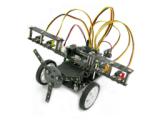 FlyBot is an airplane robot. This robot consists of the DC motor which supplies rotatory power to the propeller, and the buzzer and the LED. Program the direction and speed of DC motor by using DC motor chip.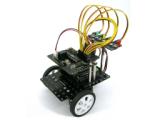 RaceBot can do car race using two DC motors. Let's learn how to go forward, backward, right turn, and left turn.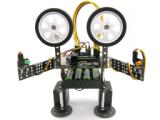 DancingBot moves by means of rotating wheel guide. Learn about the function of a While chip and a DC motor drive board.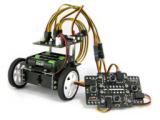 ControlBot is operated by a wired remote control that you make by yourself. Let's learn how to program a contact switch.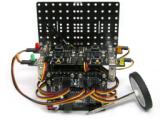 HittingBot is a game robot. Whenever a LED board of the robot is ON, user hit a contact switch beside the LED to get to the score. Let's learn about a LOOP chip and play hitting game.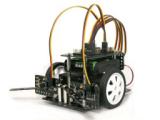 A BumperBot uses two contact switches to go through a labyrinth.The contact switches act like a bumper. The BumperBot has various operation depending on which bumper is pushed.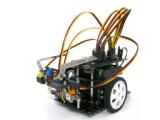 Using three IR sensors, SensingBot can sense the front obstacles so it can avoid them. This robot also senses edge of the table so it doesn't fall down the table.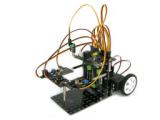 Spoiler

for

KickboardBot

:
Using two IR sensors, KickboardBot is operated like a kickboard by using. Also user can learn various method of IF chip while programming KickboardBot.
Video penggunaan RoboRobo
Quote:
Untuk gambar dan keterangan produk bisa cek ke
http://www.roborobo.co.kr/eng/product.html
Pemesanan bisa via PM atau sms ke
08990732578
Lokasi MAKASSAR, Sulawesi Selatan
Pembayaran via BCA atau RekBer.