M 900 Rp. 450.000,- cuci gudang


Holy Digital Quran Read Pen
Belajar membaca Al Quran menjadi lebih mudah


Cara penggunaan :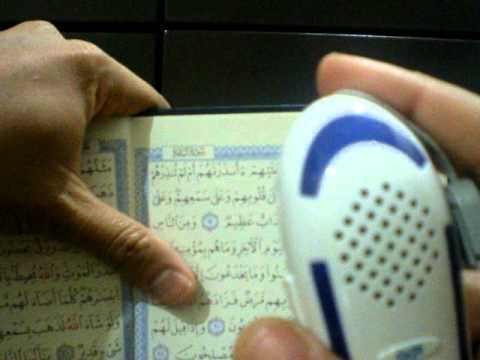 Holy Digital Quran Read Pen
Quran Read Pen is an assistive reading device that is designed for Muslims / non-Muslims
learning to recite Holy Quran which Includes built-in speaker and headphones.
Quran Read Pen hides a unique technology that scans and pronounces Quran Page / Sura / Aya
from printed Quran. This powerful tool fits in a pocket and has an intuitive, friendly
interface.


1. Quran read pen can read all complete quran book with 5 famous reciters voice;
2. Gold-filled and well painted holy quran sounds book
3. Recording voice for comparison quran sounds
4. Six famous reciters: Maher maekli, Alsudaes, Alhuthaifi, Albaset, Ghamidi, Menshavi Quran readings;
5. Can read the quran text by touching the paper loudly and high fidelity;
6. Read relevant sentence by touching anywhere of the sentence and repeat by touching again;
7. Read the whole sura by touching the sura title;
8. 4G memory and support extend 2G TF card to extend memory for MP3 or new reciter voice;
9. Integrate with a high fidelity speaker and support the earphone;
10. There are twelve translate language voice in it, include: Melayu ( Indonesia ), Farsi, Urdu, English, French, German, Turkish, Russian, Spainish, Uigur and Arabicannotate
11. Rechargeable battery, A-Grade lithium battery built-in6.

Package Accessories:

Charger, Earphone, Pouch, User Manual, Hang ring, USB cable, Batteries: Built-in Li batteries

Dimension
Packing box:215*16*78mm
Book: 200*142*34mm

M 10 ( terbaru ) Rp. 750.000,-

Cara Penggunaan :
Tertarik untuk jadi reseller :
Harga super spesial harga Pabrik min pembelian 100 unit ( 1 kota hanya 1 reseller ) silahkan sms

Tlp : 08562170696 / Pin BB : 29122F78
Taba