Misi gan
Numpang buka lapak dvd pc game ane, daripada dah gak kepake lg..

Ane jual sepaket ya gan..
90ribu
aja
nett y gan
exclude ongkir. Posisi ane di Ponorogo.. klo ad yang mau COD silahkan.
Call Of Duty Black Ops II 4dvd (di compi ane crash mulu pas mau play)
Airport Control Simulator 1dvd
Alone in The Dark 5 2dvd
Camping Manager 1dvd
Call of Juarez Bound in Blood 1dvd
Call of Juarez the Cartel 2dvd
Driver san Fransisco 2dvd
delivery Truck Simulator 1dvd
Dead Island 3dvd
L.A Noire 4dvd
Lords of Football 1dvd
Max Payne 3 7dvd
Omsi Bus Simulator 1dvd
The Walking Dead Survival Instinct 3dvd
Sleeping Dogs + DLC 3dvd
Omerta City of Gangsters 1dvd
Tomb Raider 2013 3dvd
Medal of Honor Warfighter Limited Edition 4dvd
Sniper Ghost Warrior Gold Edition 2dvd
TOTAL 46 DVD
Semua Game diatas work 100% di PC ane.. kecuali Call Of Duty Black Ops II..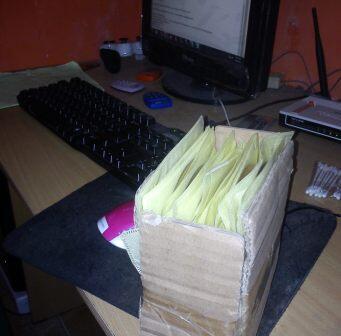 Quote:
Quote:
BCA 289066xxxx
Mandiri 900-000-444-xxx-x
BNI 025043xxxx
BRI 3214-01-002xxx-x0-x
(semua a.n Wayah Bangun Utama)