Untuk yang baru mau mulai coba main World of Warcraft ataupun memang kolektor yang demen sama barang super rare(langka).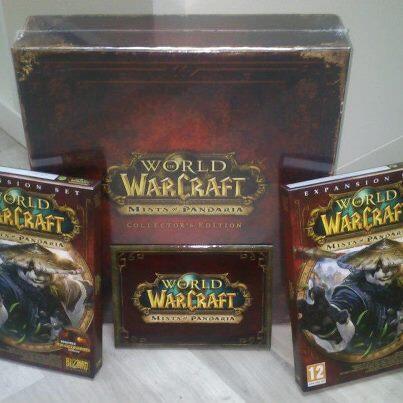 WoW Mist of Pandaria collector's edition ini dikemas super bagus,dengan isi yang memang ga mungkin bisa di dapetin dimana" terutama di Indonesia,kita semua tau untuk cari game pc asli aja susah,apalagi collector's edition.
Berikut isi dari kemasan WoW MoP Collectors Edition
-Exclusive In-Game Content
World of Warcraft - Mount & Pet
Take to the skies of Azeroth astride the magically-conjured wings of the Imperial Quilen mount. Then, fly to your next adventure with the Lucky Quilen Cub at your side.
Diablo III - Banner Sigil and Accent
Display your status as a hero of Pandaria with this exclusive Diablo III banner sigil and accent, featuring the iconic markings of World of Warcraft's newest playable race.
StarCraft II - Portraits
Bring the thunder of the Horde and Alliance rivalry to the far reaches of the Koprulu Sector with these two exclusive StarCraft II portraits—the infested orc and the night elf Templar.
-The Art of Mists of Pandaria
Explore the vast library of artwork that went into the development of Mists of Pandaria. This 208-page hardback tome includes never-before-seen pieces from early concepts to final 3D renderings.
-Mists of Pandaria Mouse Pad
Equip your gaming desk with this special edition mouse pad featuring Chen Stormstout, ready for battle.
-Behind the Scenes DVD and
Blu-Ray Two-Disc Set
Meet the teams behind the creation of World of Warcraft's newest expansion with this Blu-Ray/DVD two-disc set. Enjoy over an hour of directors' commentary, insider interviews and developer roundtables that reveal how the continent of Pandaria came together from the combined efforts of artists, writers, designers, musicians and animators.
-Collector's Edition Soundtrack
Experience the music of Azeroth's newest continent with twenty orchestral pieces from the Mists of Pandaria soundtrack on CD.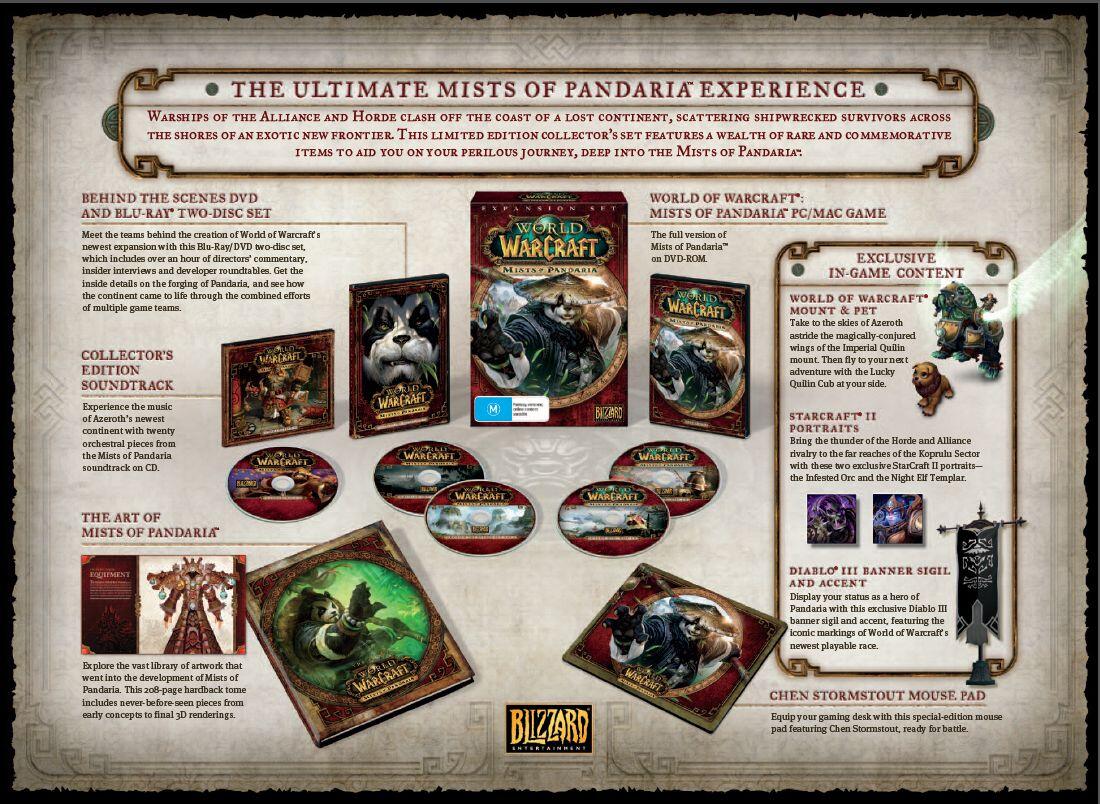 Tanya" bisa langsung disini..
contact:081398310011
price: Rp.3.000.000 net
Ingat guys,gw cuma megang satu barang,so langsung aja di tarik dari tangan gw,hehe..