VICKS BABY BALSEM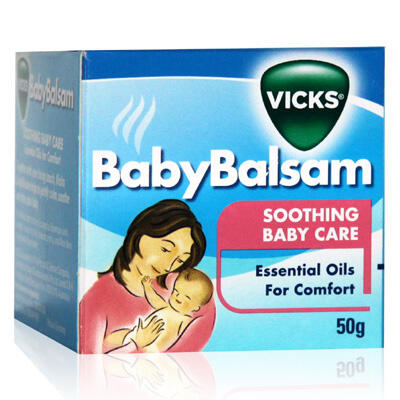 Balsam bayi VICKS untuk kenyamanan dan kehangatan buah hati Anda

Bisa digunakan untuk bayi pilek, sakit batuk dan demam.

Balsam bayi VICKS dgn kandungan kayu putih, lidah buaya serta aroma lavender. Formula khusus yang memberikan kehangatan & kenyamanan pada kulit saat bayi pilek.


Soothing comfort for babies.

Contains eucalyptus, aloe vera, and fragrances of rosemary & lavender.

Specially formulated, soothing comfort for babies.

At times when your baby is fussy or irritable you want to do everything you can to soothe and comfort them.

The gentle Vicks Baby formula contains petrolatum and aloe to leave your baby's skin feeling soft.

Vicks Baby contains the aromatic fragrances of eucalyptus, rosemary and lavender.

Vicks Baby combined with your loving touch is perfect to calm, soothe and relax your baby.

Can be used as needed on babies 3 months to 5 year.

Gently massage on the chest, neck, and back to help soothe and comfort.

Replace jar lid when not in use and store in a cool place.



Product Description:
Vicks Baby Balsam 50g
The gentle Vicks Baby Balsam formula is specially developed for babies from 3 months. Suitable for children up to 5 years.

Safety Tips
For external use only. Avoid contact with eyes. Do not use directly on face or on broken or damaged skin. Do not use in mouth or in nostrils.

Do not heat in water, a vaporizer, a microwave oven or on the stove. Keep this product out of reach of children. Replace jar lid when not in use and store in a cool place.

Directions
Use only as intended. Gently massage on chest, neck and back to help soothe and comfort.

Ingredients
Petrolatum, fragrance, aloe extract, eucalyptus oil, lavender oil, rosemary oil

Made in Germany
COD Wilayah Babarsari
For CP : 081568225312 // 087838629596
Harga : Rp.80.000,-