CHINT is currently the leading player in the low-voltage electrical industries in China. The company has passed the certification of ISO 9001, ISO 14001 & OHSAS 18001 & adopts an ERP system by SAP & automatic warehouse that guarantee just-in-time operations & lead-time. Exquisitely manufactured & strictly tested, CHINT low-voltage product will meet various demand for industrial, commercials, & residential application on reliable operation.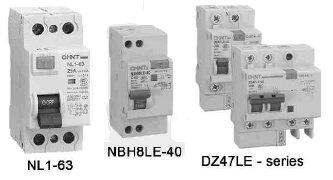 NL1-63 Sensitivity 30mA
2P
In=25A; Rp__
In=40A; Rp__
In=63A; Rp__
4P
In=25A; Rp__
In=40A; Rp__
In=63A; Rp__
DZ47LE series sensitivity 300mA
DZ47LE-32 In(A)= 6, 10, 16, 20, 25, 32
1P+N; Rp__
3P+N; Rp__
DZ47LE-63
1P+N In(A)= 25, 32; Rp__
1P+N In(A)= 40, 50, 60; Rp__
3P+N In(A)= 40; Rp__
Pls email to
dktwell@yahoo.com
for specs & pricing.
Kami menyediakan jasa interior / lighting design berikut instalasi untuk rumah, kantor, gedung & outdoor. Kami juga menyediakan jasa pembuatan panel listrik & instalasi lift / elevator. Terima kasih.