Jual HK Bassforce XL made in
GERMANY!
kondisi joss 99%, di repaint warna merah maroon, pasti suka!
untuk review:
Characteristics8/10
200 watts transistor amplifier, the settings could not be more basic with a bonus EQ matrix, ie, a pitch correction dedicated to specific types of gambling
At the rear is also basic, headphone output, 2 speaker outputs, an XLR line output, and an effects loop
Sailing Sailing
Utilization8/10
It sounds very good input so the tone controls are just to adjust the sound from the room acoustics. The EQ is very useful matrix, the finger position gives a tone for the game type fingers, with low méduims very present, the position slap hollow mediums, hand position is as it were an adjustment going on everywhere, and then a off position (note that the XXL version, the position is replaced by an off position fretless)
I bought the amp for the price argus OCCAZ but with the record of XXL, there is nothing that changes, except power and a twist on the EQ +
Sounds8/10
All suits have this amp, thanks to its 15-inch woofer and horn tweeter.
I play with a stingray 5 string and if passes without problem, and the slap too, provided you do not push the volume if the Horn Driver is active, otherwise have a very unpleasant breath
Overall Opinion5/10
I have this amp since mid September 2004, I like it, although sometimes I wonder if it really gives off 200 watts, because before I had my stingray a passive bass, and I had to push the gain on 7 - 8 and the master at least 5 in order to make myself understood in the face of guitars and Marshall 100 watts pushed volume to just 2-3
I have the same problem with my stingray, I am forced to connect the input passive with substantially the same settings ... jme sometimes asks questions
Review of 20/10/2007:
3 years since I played it, record:
- Active input and tweeter HS (though the tweeter never used)
- Amp aging rather badly, the sound was really muffled since I got it, so that even with the treble and midrange nearly full, the sound is Always fade.
- I do not use that to repeat, my Fender BXR300C who took the notes on stage
- Dual Output Hp gotcha, do not use it, even if it announced that it only comes out 120 watts using two speakers, it disappears from the scene like that.
ITP more than I could advise, its small size and good power can serve as a return for your drummer if you connect from the XLR output or preamp out of your real amp stage.
Harga dibuka 4,5 jt Nego tipiis!
Bass cort artisan c4h Black kondisi 80% pre amp mati dan neck ada goresan kena cymbal

harga dibuka 1,7jt nego tipis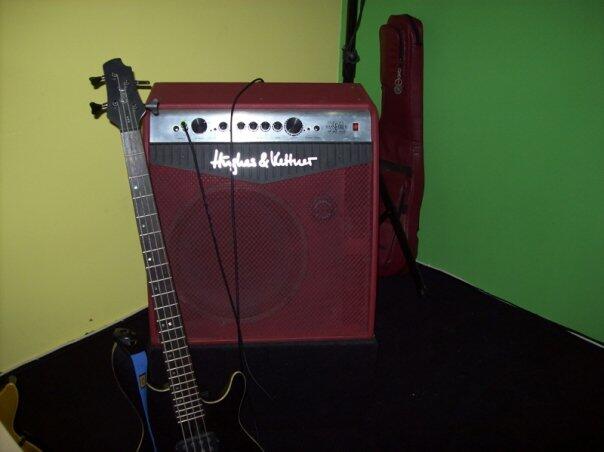 Hubungi saya di
Nico
08989291792
nicodemusbimop@gmail.com
Whats app 083895247999