Dijual
MURAH
Parrot Bluetooth BARU, Blom keluar dari bungkus..
Speknya :
Parrot MKi9100
Bluetooth® Hands-Free Car Kit
Interface:
Remote control
3 buttons plus rotary button
2 LEDs: 1 green, 1 red
Display
Blue LED, 2 lines
Displayed information:
Phone status
Phonebook
Menus & settings
Small playlist
Caller I.D. (if in phonebook)
Spoken & displayed
Name & number
Bluetooth
Bluetooth v2.O + EDR
Supported profi les:
HFP (Hands-Free Profi le)
A2DP (Advanced Audio Distribution Profi le)
AVRCP (Advanced Video Remote Control Profi le)
OPP (Object Push Profi le)
PBAP (Phone Book Access Profi le)
Maximum range: 33 feet, 10 meters
Pairing: by PIN code "0000"
Up to 5 paired devices
Automatic connection (enabled or disabled)
Updates via Bluetooth and USB
Audio
External double microphone with adjustable
direction
Full duplex
DSP-3 echo cancellation, advanced noise
reduction
Voice and music heard over vehicle speakers
Music
Multiple connectors: Dedicated iPod®/iPhoneTM
(from fi fth generation),
USB (for MP3, fl ash drives), 3.5 mm line-in jack
(for music players)
Stream music from Bluetooth stereo (A2DP)
compatible devices
Digital Class D 20-watt amplifi er
Phonebook
Automatic phonebook synchronization
User-independent voice recognition
Text-To-Speech voice synthesis of phonebook
Number of contacts: up to 8,000 total, up to
1,500 per paired phone
Caller I.D.: Spoken and displayed name and
number (if in phonebook)
Processor
Microprocessor Parrot P5+ (32 bits at 208 MHz)
Memory: Flash = 32 Mb - RAM = 16 MMb
Dimensions
Screen
Height: 1.2 in., 32 mm
Width: 3.2 in., 82 mm
Depth: 55 in., 14 mm
Remote
Height: 1.5 in., 38 mm
Width: 2.0 in., 51 mm
Biar puas, biarkan gambar yang berbicara..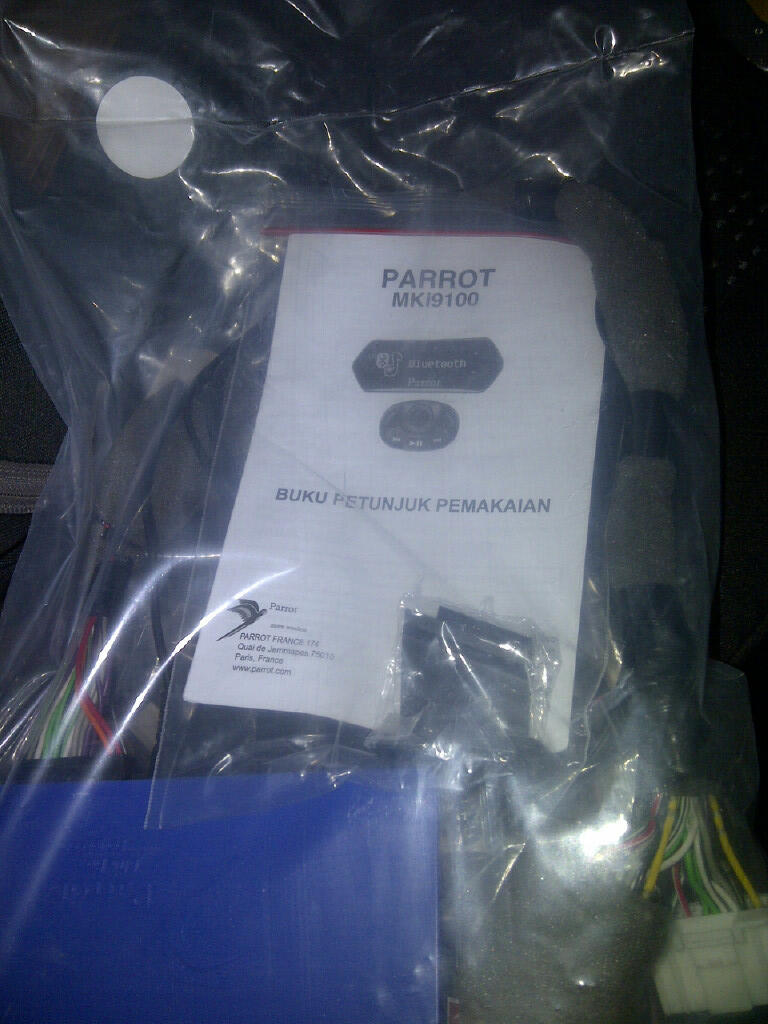 gag brani buka, supaya originalitasnya terjaga.

Harga 1600000 Nego ala kaskus pastinya..

Call / SMS : 08813585655 - 94772272