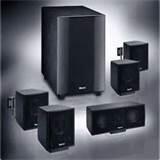 Magnat Interior 501A Surround Sound System
Highlights & details
Active Subwoofer: 100 W output power
4 satellites: 100 W Maximum
Center: 120 W Maximum
Ideal for use in 5.1 home theater systems
Noble black high gloss lacquer
Description
Compact size, elegant appearance and a variety of applications: these are the characteristics of the Interior 501 A surround system of Magnat But more important is the sound quality, many buy on the market systems of comparable size by their compactness and their seemingly low price, easy.. Technology and false compromise on sound and solid MDF cabinet. magnate, the interior is completely different system.
The Interior 501A consists of 4 satellites, a center and a compact powered subwoofer with 170 mm membrane. The active subwoofer can be individually adjusted in volume, crossover frequency and level - for various space conditions, but also different preferences with regard to the sound tone. Convincing and powerful yet compact satellite speakers with a double magnet system.
The Interior 501A offers sound and build quality at its best!
Features
4 satellites and 1 center with a newly developed 2-way coaxial chassis (15 mm tweeter with acoustically optimized horn projection and 85 mm midrange driver with a strong double magnet system and high-quality voice-coil and coated paper cone)
Active Subwoofer (down-fire principle) with 170 mm Membrane and flared port tube
volume and crossover frequency (50 - 150 Hz) on the subwoofer adjustable
Subwoofer with power-down for low power consumption
Acoustic phase on the subwoofer panel
overload protection
satellites and center magnetically shielded
Superior black piano-black finish
Solid Terminals
Dim. Subwoofer: 235 x 380 x 350 mm (W x H x D) Satellite: 90 x 110 x 110 mm (W x H x D), Center: 210 x 90 x 110 mm (W x H x D).
Included in delivery
Active Subwoofer
Center
4 satellites
2 adjustable wall brackets for satellites
3 feet for shelf placement with variable vertical dispersion
Manual.
Technical data
Max. music power 1 x 100 W + 4 x 100 W + 1 x 120 W
Frequency range 32 - 32000 Hz
Colour Black
Content 1 Set
made in germany .bagi yang berminat & serius dapat menghubungi 08988120822/add my pin bb 2a992f38(harga bisa nego)