jual onboard preamp
John East Marcus Retro
, direct upgrade untuk yg pake
Jazz Bass Marcus Miller signature 4strings
- tanpa modifikasi sama sekali. TInggal copot aja preamp board original nya dah gantikan dengan yang lebih nendang dari John east. Dijamin pol !
100% brand new condition, lengkap dengan box - only 2units Available.

HARGA Rp.3,7juta nego halus banget cuy Contact 082149803000
*buat yang mau beli versi tanpa plate nya juga ada 1 unit
.
Technical Specification
Volume & Blend (Knob stack nearest the neck pickup)
Volume
The upper knob is the Volume which has two sections under the same knob. A high impedance section is used for the passive path and low impedance for the active circuitry. When used active, this knob has active circuitry after it so that the feed to your amplifier is a low impedance drive.
Blend & Pickups Switch
The lower outer knob is the Blend balance for the pickups. Turn it fully clockwise for the neck pickup alone and fully anti-clockwise for the bridge pickup. The midway position, which has an indent, gives an equal mix of both pickups. The balance between the pickups is continuously variable with progressive level compensation towards the single pickup settings.
Please Note Important:- The Pickups switch (by the blend) must be set pointing towards the jack for the Blend to function. In passive mode, the bridge pickup or both pickups can be used.
BASS & TREBLE (The middle knob stack)
Treble (+12dB @ 1k5Hz, -12dB @ 1kHz)
The upper knob is the Treble control with boost and cut. The central 'flat' position is indented. The cut settings work on lower frequencies compared to boost to give a deeper sound when the top is rolled off.
Bright (+8dB @ 7kHz)
Pull the Treble knob for the Bright setting.
Bass (+15dB @ 40Hz)
The lower outer knob is the boost only Bass control. The frequency band of boost gets progressively lower as the boost is increased. An indent midway is included to aid the setting of this control.
Mid Level & Frequency (The knob stack nearest the jack)
Boost/Cut (+/- 12dB)
The upper knob controls the amount of Mid boost or cut at frequencies according to the setting of the Frequency knob. The midway indent is the 'flat' position.
Frequency (150Hz - 3kHz)
The lower outer knob is continuously variable and sets the Mid frequencies for boost or cut.
Passive Tone (Single knob near the jack)
The passive tone pot consists of two sections, one for each pickup. Two sections are necessary since the pickup signals are kept separate and fed to their own individual input amplifiers prior to the electronic blend circuitry.
To retain the characteristics of a true passive tone, its circuitry is connected directly to the pickups at all times, and therefore it functions in both active and passive modes. The roll-off frequency is set to give a deep mellow sound.
Active/Passive Switch (By the jack)
Towards the jack for active, the opposite for passive.
Power
The PP3(9v) battery is switched on automatically when a mono jack is plugged into the socket.
[YOUTUBE]https://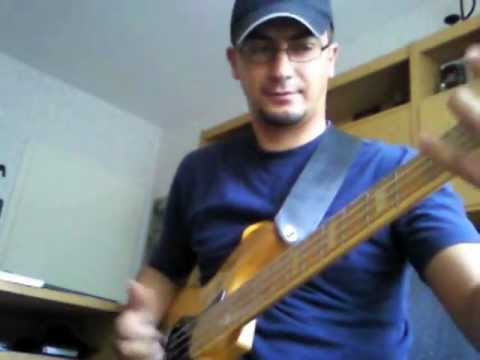 [/youtube]