Dijual Soundcard FW410 Normal Plus Software apa aja Yang dibutuhkan yang punya Owner
www.jualsoftwaremusik.com
jadi masalah software mudah diatur
bonus mic condenser samson co1 dan mic cable 7M
Dijual 2.5JT Nego
klo Beli PC musicnya Gratis Soundcard ini. liat thread :
http://www.kaskus.co.id/post/5121d31...12439c7b000010
Gambar Bicara
Detail :
Convenient 4-in, 10-out connectivity.
The M-Audio FireWire 410 Computer Recording Interface gives you everything you need: flexible routing, unsurpassed fidelity, superior driver technology, broad compatibility, zero-latency monitoring, bit-for-bit accurate digital transfers via S/PDIF, 24-bit/96kHz recording, and control over SCMS. It also has 8 analog outs and 2 analog ins, configured for -10dB unbalanced signal level plus S/PDIF digital I/O on gold-plated RCA connectors. It's perfect for combining with an analog mixer for a computer-based music recording system that behaves more like a traditional analog setup.
Features
Flexible routing
Unsurpassed fidelity
Superior driver technology
Broadest compatibility of any card
Zero latency monitoring
Bit-for-bit accurate digital transfers via S/PDIF
24-bit/96kHz recording
Control over SCMS
Gold-plated jacks and connectors
System requirements PC: Windows 95, 98, 2000, or ME; Pentium III 500 MHz and 128MB of PC100 RAM for 96kHz operation
Pentium II 400 and 64MB of SDRAM for 48kHz operation
System requirements Mac: MacOS 8.6 or higher; G4 or G3; 128MB RAM for 96kHz operation; 64MB RAM for 48kHz operation
Now compatible with ProTools M-Powered Software FireWire 410 is a FireWire-compatible audio/MIDI interface that has it all - power, flexibility, compact size and low price. Its 4-in/10-out configuration with preamps is perfect for personal recording, routing discrete outputs to a mixer, or directly driving a surround sound system. The on-board ASIO 2-compliant mixer and software control panel provide total routing flexibility - including monitoring with external effects. You also get ultra-low latency software monitoring and zero latency hardware direct monitoring - and two headphone outs with independent level controls let you collaborate with a partner anywhere, anytime. FireWire 410 can even be completely bus-powered for total mobile operation*. Features 2 x8 24-bit analog I/O 192kHz output (output 1 and 2 only; 96kHz on others); 96kHz input Digital I/O w/ S/PDIF, AC3 and DTS (coax and optical) 1 x 1 MIDI I/O Powered via DC supply or FireWire bus* Dual mic/instruments preamps w/ gain control (66dB available gain) and phantom power 2 headphone outs w/ individual level controls Low-latency software monitoring; zero-latency direct hardware monitoring Analog outs can directly drive up to 7.1 surround Software-assigned level controller for tactile control of all input and output levels 2 convenient high-speed FireWire ports * requires 6-pin FireWire port Includes Maximum Audio Tools containing a great collection of software ...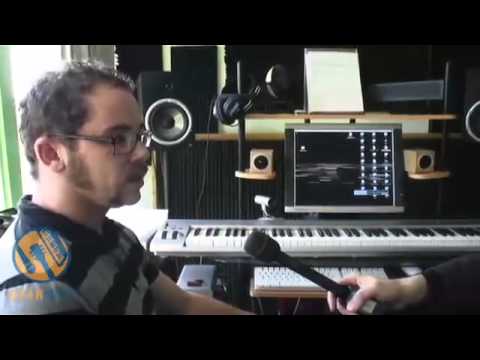 untuk kepastian
cek aja jualan saya lainnya
atau cek no telp saya di google
call/sms 085260113313[/youtube]