Asli Original Import dari Thailand
Jual: 700rb
Hub: 021-9777 7777
Pin BB: 3290A099

Stamp Coin Jatukam Mohngkhon Jakkrawan (Neua Thong Phaabaat)

GENUINE THAI AMULET JATUKHAM COIN

BATCH NAME: Mohngkhon Jakkrawan
Main Metal: Copper (Neua Thong Phaabaat)

Consecrated in B.E.2549 at Nakhon Si Thammarat Province, Southern Thailand

This Jatukam-Rammathep amulet is known as Roon (batch name) "Mohngkhon Jakkrawan". The batch name means gathering all auspicious thing in the universe (the three worlds) to be together here. Main material of this one is called Neua Thong Phaa Baat, mixed metal from the lid of monk's alms bowl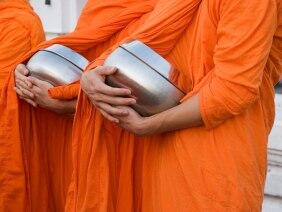 with sacred objects powder i.e. gold, silver, copper plates inscribed with magic words, some old metal amulet rasp dust and another sacred ingredients etc.

Design on front of amulet is Tao Jatukam-Ramathep Bpang Prathanporn (posture of beatifying) sitting on a lotus at the center, flanked with two ancient Khmer characters call "Yant Na Maha Saehtthee" (meaning of wealth, prosperity and being a millionaire) and "Phuttha Khun Yant Na Maha Niyom" (meaning of be loved by others and always get help from others with love and kind) On the top is the city pillar with 3 Thai words "Fah, Din, Maha Samut" means having super power beyond the three worlds.

Design on the back of amulet is the horoscope of the city, surrounded with 12 fixed stars within a spinning disc weapon, encircled again with 8 bodies of Rahu to help enhance the fortune and to help protect from harm and danger. There is a temple code with running number "2945" engraved on back side of amulet to prevent counterfeit. Size of amulet is (wxh) 2.5x3.4 cm. Very nice condition, comes with original temple plastic box.

This amulet has passed many blessing and incantation ceremonies by many expert monks of Southern Thailand as following:

1 st ceremony: Monday, May 15 B.E.2549 (A.D.2006) at 15:39 p.m. Worshipped and invited all the holy things and sculpted and imprinted the first amulet (metal and powder amulet) for the auspicious inauguration ceremony.

2 nd ceremony: Thursday, May 25 B.E.2549 (A.D.2006) at 16:39 p.m. to 18:39 p.m. Maha Thaehwa Phisaehk, great incantation ceremony by expert monks at the center of the gulf of Thailand, Pakpanang estuary, Amphur Pakpanang, Nakhon Si Thammarat province.

3 rd ceremony: Sunday, June 11 B.E.2549 (A.D.2006) at 16:39 p.m. to 19:39 p.m. Phuttha-Thaehwa Pisaehk at Tham Khao Thong, Amphur Lansaka, Nakhon Si Thammarat province.

4 th ceremony: Saturday, July 1 B.E.2549 (A.D.2006) at 13:39 p.m. Maha Phuttha-Thaehwa Pisaehk at the great chapel, Wat Phra Mahathat Varamahavihan temple, Nakhon Si Thammarat province.

5 th ceremony: Sunday, July 2 B.E.2549 (A.D.2006) Great cerebration and invited all deities at Nakhon Si Thammarat City Shrine, Nakhon Si Thammarat province.

6 th ceremony: Friday, July 7 B.E.2549 (A.D.2006) at 08:19 a.m. Lighted the auspicious candle and conducted the Nakhon Si Thammarat conventional incantation ceremony as old days at Wat Mahaeyong temple, Nakhon Si Thammarat province.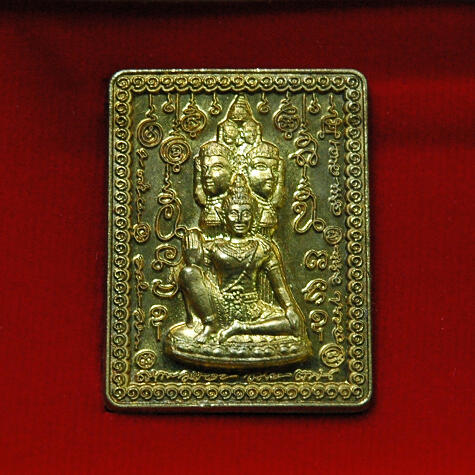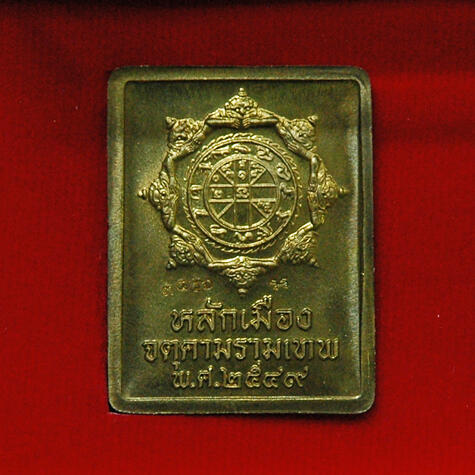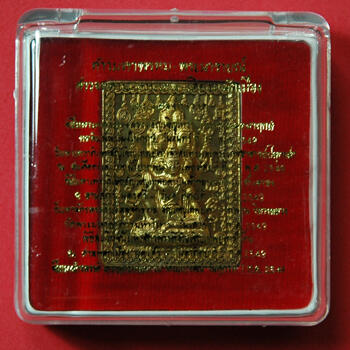 Tambahan
:
Why Do Amulets Become Ineffective?
http://www.kaskus.co.id/post/513f75a...27cf0a0700000a
Angelina Jolie Bikin Tattoo Jimat Thai Amulet Talisman Dengan Monk / Ajarn Thailand
http://www.kaskus.co.id/post/513f779...6ea1c266000004
Salah Satu Testimoni Dari Thailand, Pemakai Thai Amulet Yang Saya Dapat Dari Internet
http://www.kaskus.co.id/post/513f726...76088711000003
Tentang Thai Amulet
http://simplybuy8.blogspot.com/2011/...diversity.html