Gan, mau jual koleksi kesayangan ane kapasitor black gate "KING OF ELCO"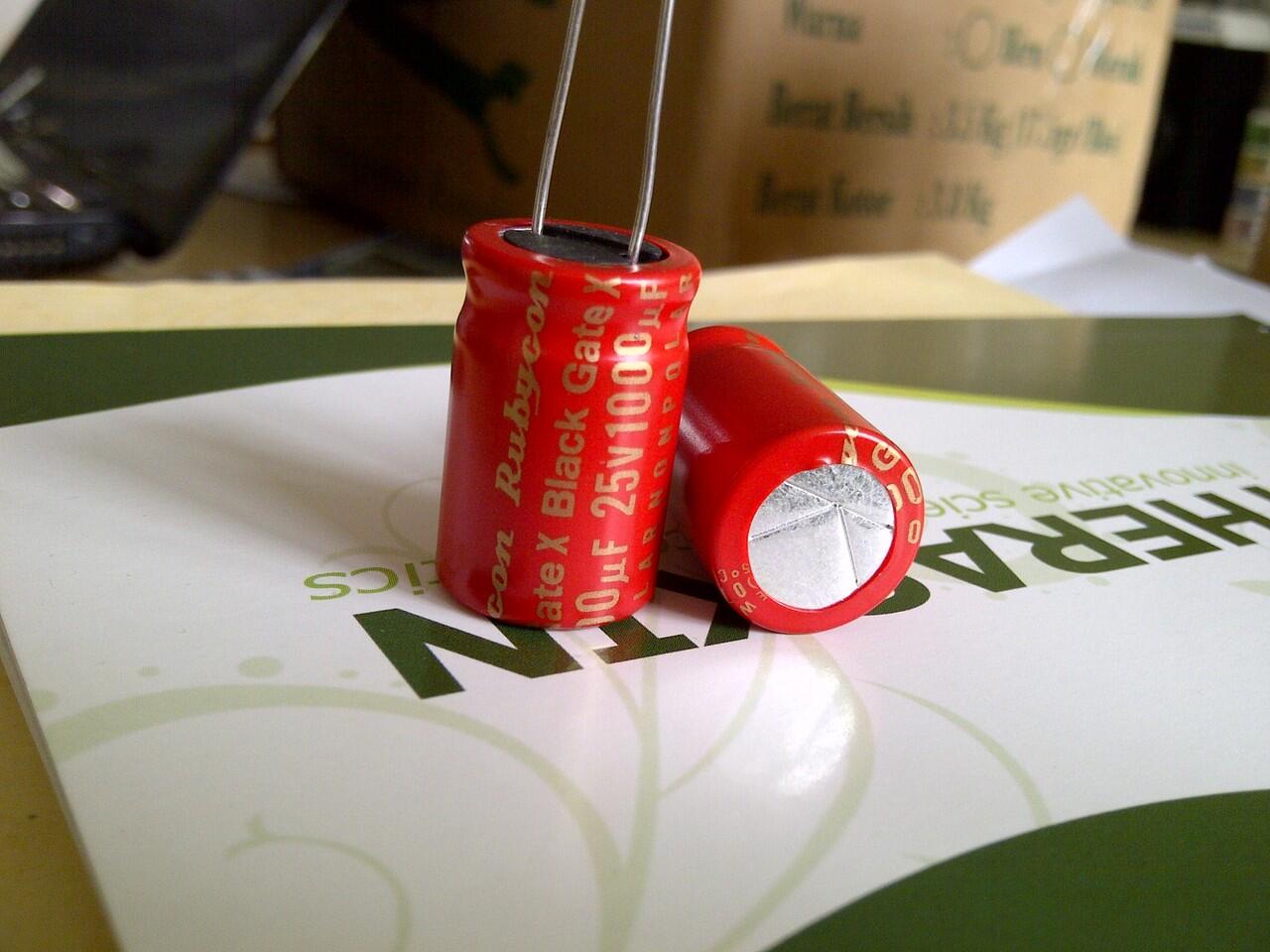 type NX (kelas diatas N) 1000uF 25v
Jumlah terbatas
cp/whatsapp: 0856 180 9939
Cancelling resonance frequency by using the characteristics of Black Gate-N
Jelmax has developed a new system which uses a pair of two BG-Ns of the same voltage and capacity in such a way that their internal inductance's (L) cancelled each other by utilising the mechanical characteristic of the BG-N using a rolled pair of electrode foils of the same area and same mechanism set face to face, and thereby, allows the pair to function as a single ideal capacitor called Super E-Caps".
Figure 6 shows how this works. Two non-polarised capacitors BG-N C, and C: have their respective inner capacities CN1 and CN2 equivalent series resistance E.S.R elements RS1 and RS2 very small inductance's L1 and L2 resulting from the internal electrode foil roll, and resonance frequencies each other Inductance's L1 and L2 generate magnetic fluxes m1 and m2 Since both electrodes of BG-Ns of the same specifications are the same and symmetric in mechanism and size, with their rolls start and end at the same positions. Suppose signal o is applied to a pair of the same BG-Ns corrected in parallel. If magnetic fluxes m1 and m2 are in such a relation that they are cancelled with each other as shown in the Figure , the total resonance frequency disappears in load ZL. The pair of the BG-Ns leaves nothing but CN1 and CN2, serving as an ideal capacitor allowing the Impedance and E.S.R to lower infinitely as the frequency increases. This can be attained only by the BG-N Pair. Hence it's naming of "Super E-Caps".
This is also shown in Figure 5 In the BG-N Pair, the capacity is twice as large as and the E.S.R. is half as small as those of a single BG-N. In addition, as a result of the elimination of resonance frequency, the impedance and E.S.R. lower infinitely as the frequency increases.
Marking to show the starting and ending positions of a foil roll
The BG - N and BG - NX are always manufactured in the same manner as shown in Figure 7, each product shows the foil roll starting and ending positions by means of lead lines of different lengths or by the marking of O and × on the terminal rivets. These allow users to connect these capacitors in parallel or in series as needed to cancel the resonance frequency due to residual inductance.
Sample power supply circuits using Super E-Caps
Figure 8 gives a sample + 2power supply "Super E-Caps" L-Cancel Pair circuit widely used for IC power supplies it is a power supply of 12V and 5V. C1 to C6 are BG-Ns. Correcting them as shown in the Figure based on the rivet marks and/or lead line lengths forms an ideal power supply for very high-speed, high-density information processing meeting the requirements for a very low level of noise and a very high speed.
What Super E-Caps means
A capacitor C, a resistor and an inductance L which are basic parts of electronic circuits have become of high quality with the development of recent technology. Most of capacitor in components are, however, still occupied by polarised ion transfer type electrolytic capacitors. Those capacitors have been a stumbling block which limits the improvement of the performance of electronic devices in every aspect including transmission rate, distortion, power, phase characteristic, operating band and durability compared with other electronic components.
USP 5,379,181 recently granted on the invention of Back Gate Super E-Caps means that those obstacle elements are all removed and that all the components have reached the highest quality. Electronic devices have, thus, made a revolutionary improvement for the first time.
With the opening of the 21st century is just around the corner, high quality devices using a digital transmission, multimedia systems and many other proposals are made in the worldwide bases. The electronic industry is expected to make progress which has never been attained. The invention of our Super E-caps is just timely granted because it can be applied to those devices and systems.
We firmly believe that the invention is a sole technology which is able to meet world-wide expectation in every field. We also believe that no other new technology will be able to substitute this pioneer invention using the combination of natural cellulose fibre and two elements of aluminium and graphite in coming 100 years.
Effect of Super E-Caps in electronic equipment
Without exception, electronic equipment uses a lot of electrolytic capacitors serving as routes for the signals Even though the ion transfer and polarised mechanism produce a variety of distortions beyond expectation, the problem has yet to be resolved. It has been common that even when a product delivers performance which is far less than expected, the maker continues designing and manufacturing equipment without thinking that the electrolytic capacitors used are the cause of the unsatisfactory performance.
Thanks to our product promotional activities, however, equipment makers employing the Black Gate have been increasing in number. In the area of CD players and DAC systems conducting digital signal, as the inventor companies completely switched to the use of the Black Gate, it has been attaining the dominating position. Its use in audio and communications equipment has also been spreading at home and abroad. It has become to be used in HDTV sets.
In the area of computers, the largest digital signal equipment, among others, it is absolutely necessary to provide very low-noise power supplies to meet the coming wave of very high-speed, very high-density capabilities. However, the existing switching power supplies, DC-DC converters and other driving power supplies are a hindrance because of their unsolvable noise problem. We believe that noiseless power supplies using the Super E-Caps would be a great boom to the world electronics market, bringing a revolutionary improvement to all electronic equipment involving digital signal processing.
Patent Registration
Japanese Patent No.1,368,245
New Japanese Patent No. l,662.570
U.S Patent No.4,345,302, No.5,057,972, No.5,379,181
German Patent No.2,900,742
Trademark No 1,601,800,No.1,601,801
The Idling Process
If a Black Gate capacitor mounted on an electronic device is actuated, a signal current flows into it and the electrodes are gradually activated, reducing non-linear distortion and phase distortion substantially while improving the efficiency of power transfer efficiency. The time required for this process varies widely with the capacity, voltage and signal level a total of about 30 hours is the standard level. Once this process of idling is completed. The effect continues as long as the capacitor Is kept at the same place and the operating environment does not undergo a substantial change The effect of idling has been proved with all types of electronic equipment - analogue, digital, high-frequency and other devices. It must be noted that idling is different from ageing, which applies a direct current voltage without giving signals.