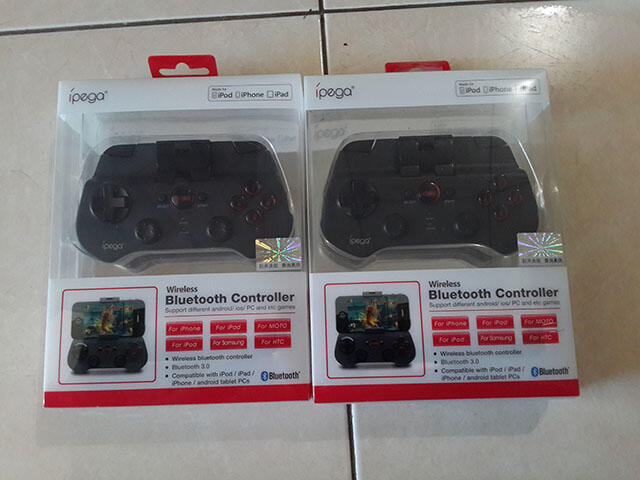 Bluetooth Controller (iPhone 5/ iPhone 4/ 4s/ Samsung/ HTC)
This product is a new design wireless bluetooth controller and support different android / ios / PC and etc games.
It can be used when connected with the Bluetooth mobile phone and without any drivers.
Built-in lithium battery, after charging can be sustainable long-term use, safe and stable.
The phone can be placed on the telescopic holder, convenient for playing games.
Bluetooth 3.0 wireless transmission can be 6-8 meters wide range of control from the operation.
User-friendly software designed to enter the power saving mode with no connection state.
Compatible with iPod/iPhone/iPad as well as the vast majority of android tablet PC.
Game Support Descriptions :
Note : The Compatibility problem exist on the part of the game of android 4.0 system support of the vast majority of the simulator as well as racing and tower defense type of game under the android system.
(ie FC simulator, GBA simulator, Arcade emulator, SFC simolator, N64 simulator, Shadowgun, Sonic SD Cordy, Soulcraft, Zenonia4, 9 Innings 2013, The reptide GP, Angry Birds, Fruit ninja, The Airbag Frank 3D Plantsvs, Zombies, Gunsn Glory etc.)
Support of the vast majority of the game with a virtual keyboard under ios system. (i.e. GunmamClive, Helium Boy, League of Evil League Evil Muffin Knight Free Stardash, Temple the Run, etc.)
List game -
http://www.droidgamers.com/index.php...s-you-can-play
Harga: Rp.SOLD OUT Nett (belum termasuk ongkir)

Kontak:
SMS/Whatsapp/Wechat : SOLD OUT