SELAMAT DATANG DI LAPAK TERPERCAYA
TERBUKTI RECOMMENDED SELLER
Quote:
Original Posted By
hadicacah81
►

Lapor gan... Ozaki Ipod Speaker dockingnya udh sampe hari ini....
Barang bagus....Suara Lumayan. Bentuknya indah...hahahhahaa



Remotenya sempat bermasalah..ternyata setelah baterainya diganti normal gan.... Thanks ya...



Quote:
MUST READ!!!
1. No tipu-tipu, barang pasti ane kirim sesuai dengan order
2. Jika pada saat pengecekan stok ternyata barang yang di order habis, ane akan langsung memberikan opsi : tukar jenis lain atau
REFUND
3.
Resi sebisa mungkin pasti akan ane informasikan
, namun mohon maaf jika informasi sms resi mengalami keterlambatan dikarenakan ane juga punya kesibukan lain selain jualan online ( kadang pengiriman barang ane serahkan ke orang lain; adik / orang rumah lain yang bisa ane suruh untuk proses )
4. Keterlambatan kedatangan barang di alamat tujuan yang disebabkan pihak ekspedisi ( JNE ) adalah diluar tanggung jawab ane
5. Namun jika keterlambatan pengiriman dikarenakan kesalahan ane, contoh :
karena tertinggal/terlewat mengakibatkan barang dikirim keesokan harinya maka
ane akan bertanggung jawab sepenuhnya dengan memberikan kompensasi seperti: refund ongkir / gift / diskon ( penentuan jenis kompensasi adalah hak ane )
6. Kemungkinan transaksi COD akan sangat sedikit, dikarenakan kesulitan untuk menentukan waktu dan tempat ( mengingat ane punya kesibukan pekerjaan lain )
7. Sementara untuk transaksi transfer langsung hanya menggunakan BANK BCA
8. Untuk kenyamanan transaksi
silahkan menggunakan REKBER
( transaksi up to 1juta wajib menggunakan JNE YES )
9. BAGI YANG DEAL TRANSAKSI DENGAN ANE MAKA DIANGGAP SETUJU DENGAN SEMUA HAL DIATAS
10.HAPPY SHOPPING ALL, ALL MY RESPECT TO SERVE YOU...THANKS
Quote:
TRANSACTION RULE:
1. SMS dilayani dari jam 07.00 - 23.00
2. Konfirmasi transfer senin - jum'at terakhir jam 16.00, sabtu jam 14.00
3. Tidak melayani telpon
4. Prioritas COD bagi buyer yang sudah ane kenal (beberapa kali transaksi), untuk buyer baru akan ada pertimbangan tersendiri dikarenakan banyak terjadi pembatalan sepihak
5. Gunakan jasa RECOMMENDED REKBER!!!
Quote: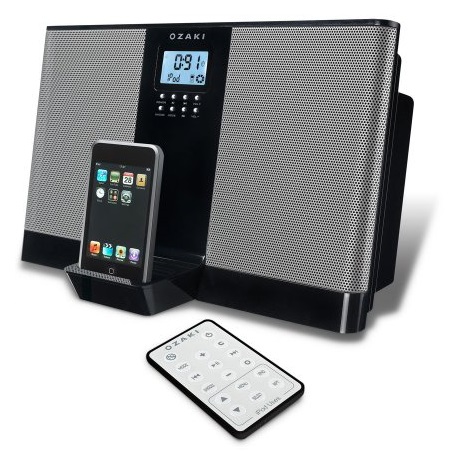 Quote:
The Ozaki iBand Speaker & Docking System is a high quality 2 CH stereo speaker system for your iPod/iPhone that fits perfectly into any room of the house.

In fact, with the Ozaki iBand FM radio and iPod/iPhone docking system's multi-function remote control, that allows direct access to your iPods/iPhones menus, you don't even have to leave the comfort of your armchair.

Take your Ozaki iBand FM radio and iPod/iPhone docking system into the lounge and you can enjoy room-filling bass-rich sound from Ozaki's exclusive technology and two powerful magnetic shielded speakers.

The Ozaki iBand FM radio and iPod/iPhone docking system speaker's output of 2 x 8W provide you with superb audio performance whatever your musical tastes.

Sleek and compact, the Ozaki iBand FM radio and iPod/iPhone docking system is available in cool black to make it a stylish addition to any room essential equipment for the digital generation.

Features
Optimal Audio Quality
2 Dynamic speaker drivers provide pure crisp and deep digital bass sound. You can enjoy your favorite music from your iPhone.
Multi Function Design
Can be used as iPhone/iPod iRang docking, FM Radio, Built in radio alarm.
Compatibility
Compatible with iPhone 4S/4/3GS/3G, and any iPods with a standard dock connector.
Other Features
Other features of Ozaki iBand Duet :
Charges your iphone while you enjoy the music
Perfect remote control may operate the functions of speaker of iPod
Back-lighted LCD for radio and alarm clock
USB Interface and Line In to connect to any MP3, CD, PC and other audio devices
Specification of Ozaki - IBand Duet - Model IP091
Frequency Response : 70Hz - 20 KHz
Impedance : >10K ohm
Sound Pressure Level : 350 mV
Sound to Noise Ratio : 75 dB
Battery Type : AMP Output Power : 10W Driver
Output Power : 12W x 2
Dimension : 305(W) x 168(H) x 177(D) mm
PROMO PRICE SUDAH HABIS
NOW PRICE
IDR 650.000,-
Quote:
SOLD 3 UNITS
BDOV701439840813
BDOM700228543163
BDOV701471225213
Quote: