Quote:
Quote:
Quote:
HARGA
USD 460
*Harga NETT dan dapat berubah sewaktu-waktu tanpa pemberitahuan
*Untuk update ada tidaknya barang, silahkan hubungi kami terlebih dahulu
Quote:
DESKIRPSI

A NEW WAY TO PERFORM, A NEW WAY TO CREATE
The Novation Twitch combines a cutting edge DJ controller with a 2-in/4-out audio interface for a powerful new way to perform music. Twitch is built tough with an aluminum faceplate, and fits perfectly in your laptop bag. With Twitch, the included Serato Itch DJ software, and your laptop, you've got seriously powerful music performance system.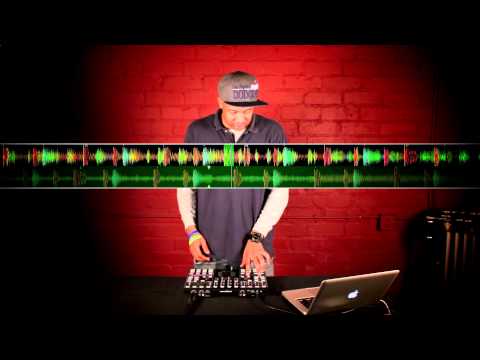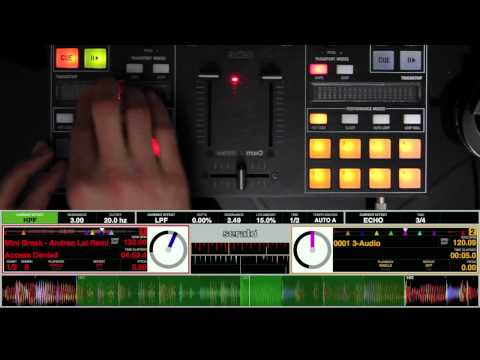 Twitch gives you a slew of high-quality knobs and buttons to give you instant access to its powerful mixing capabilities. Two touch strips provide a new way to navigate your tracks and adjust loop points. The channel faders can be assigned to control effects from your software with a click of the knob. In short, Twitch is a fully hands-on experience.
Twitch truly breaks new ground with its 16 multi-function trigger pads. Twitch has four different Performance Modes, each of which utilizes the trigger pads in a unique way. Hot Cues mode lets you assign each pad to a cue point in your track for instant access, letting you effortlessly jump around tracks. Slicer Mode chops up your track into multiple "slices", each assigned to one of the trigger pads – instant remix madness! Auto Loop mode lets you set loop points as you're playing, with each trigger pad setting a different loop length. Finally, Loop Roll mode lets you create loops while the track continues playing underneath – when you stop looping, you'll re-join the track as it continues to play instead of being being held in place while looping. Very cool, and the extensive hands-on control of Twitch makes navigating these different modes fast and intuitive.
Twitch lets you control your DJ software like never before, but the addition of a built-in audio interface truly makes Twitch a complete music performance tool – just add a laptop and you're ready to go! Twitch comes with Serato Itch DJ software, and is compatible with Native Instruments Traktor and Ableton Live. No matter what software you like to DJ with, Twitch will give you control like never before.
Novation Twitch Features at a Glance:
Aluminum faceplate makes Twitch durable yet lightweight

Built-in audio interface eliminates the need for extra gear

Compatible with Native Instruments Traktor – drop-on overlay included

Compatible with Ableton Live and other major DJ software

Comes with Serato Itch for instant DJ fun

17.12″ W x 4.72″ H x 13.58″ L

More Info :
http://www.tokodistorsi.com/97-jual-...sk-jockey.html
Quote:
KONDISI
New! Brand New In Box

Original

Garansi Resmi

Quote:
CONTACT

Bonard Alfin
PIN BB :
55FE965D / 54281732 / 7A44A270
SMS / CALL :
082221811948 / 085695951288
Email :
mail[at]tokodistorsi.com
*SMS / BBM jika telp tidak diangkat
Distorsi dapat dihubungi :
Senin hingga jumat: 11.00-18.00 WIB

Sabtu : 11.00-15.00 WIB

Minggu dan tanggal merah libur

Quote:
SHIPPING / COD
Shipping menggunakan ekspedisi
JNE
Check Ongkos kirim hingga kerumah anda di
www.jne.co.id
dari Jakarta Selatan. Ongkos Kirim / Asuransi / Packing Kayu
buyer yang bertanggung jawab
Cod hanya bisa di sekitar KFC Lentang Agung, Cilandak Townsquare, Cilandak Mall, Cinere Mall, UI Depok, Fatmawati, atau langsung hubungi aja untuk nego dimana ketemuannya
(Untuk COD gk selalu bisa gan, yang nganter / yang COD cuman ada 2 orang, jadi kalau mau di jadwalin dulu)
Home Office
: Distorsi - Jl. Kelinci no.19A Ciganjur, Jagakarsa, Jakarta Selatan 12530
(Ini alamat rumah ane, HARAP Konfimasi kalau mau kesini, gk semua barang ready gan)
Quote:
PAYMENT
Pembayaran dapat dilakukan melalui
MANDIRI
SMS or WhatsApp untuk mengetahui detailnya

Quote:
BONUS
Dapat 1 buah cendol untuk yang memberikan testimonial