SONY ICD PX312
DIGITAL VOICE RECORDER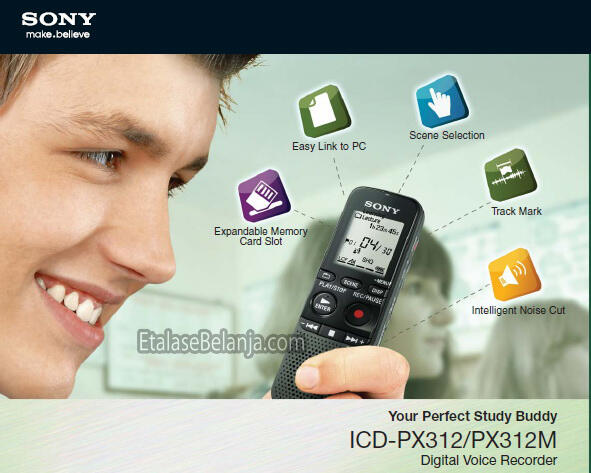 HSK = HARGA SPESIAL KASKUSER
Rp: 650.000
Deskripsi Produk
SONY ICD-PX312
Put your pen down,..and take the notes Digitally !
2GB ~ Digital Voice IC Recorder MP3 with Expandable Memory Slot. Records Up-to 536hrs of recording in MP3.
All the information you need, all the files you want to preserve and all the important thoughts you need to remember, store everything in perfect high-quality sound with the ICD-PX312M Digital Voice Recorder. With PC Link Function, transfer is truly a breeze.
-------------------------------------------------------------------------------
Features
•Up-to 536hrs of recording in MP3 file format
•Expandable micro SD/M2 card slot
•Track Mark
•Intelligent Noise Cut/Voice Operated Recording
•A-B Repeat/Digital Pitch Control
•Divide/Add/Overwrite editing functions
Specifications
•Built-In memory : 2GB (Expandable)
•PC Connectivity : Yes
•Channel : Stereo/Mono
•Recording Format : MP3
•Earphone Jack : Yes
•Battery type : 2x AAA Alkaline Batteries
•Mic-In Jack : Yes
•Supplied Accessories : Application software 'Sound Organizer'
•Recording Time
•LP : 536hrs 0min (Memory - 8kbps) / 72hrs 0min (Alkaline Battery Life - 8kbps)
•SP : 89hrs 25min (Memory - 48kbps) / 60hrs 0min (Alkaline Battery Life - 48kbps)
•HQ : 33hrs 30min (Memory - 128kbps) / 55hrs 0min (Alkaline Battery Life - 128kbps)
•SHQ : 22hrs 20min (Memory - 192kbps) / 55hrs 0min (Alkaline Battery Life - 192kbps)
•Functionality
•Scene Select : Yes
•Voice-Operated Recording (VOR) : Yes
•Noise Cut Function : Yes
•Digital Pitch Control : Yes
•PC Data Storage : Yes
•MP3 music playback : Yes
•Digital Voice Up : Yes (on PC only)
•Microphone Input : Yes
•Track Mark : Yes
•Speaker power output: 300mW
•Speaker size: Approx. 28mm
•Overall frequency response
•LP : 75 - 3.500Hz (8kbps)
•SP : 75 - 14.000Hz (48kbps)
•HQ : 75 - 17.000Hz (128kbps)
•SHQ : 75 - 20.000Hz (192kbps)
•Weight (including batteries) : Approx. 74g
•Dimension (W X H X D) : 37.5 x 114.0 x 20.9mm
--------------------------------------------------------------------------------
Package Contents
•Main Unit Sony ICD-PX312 MP3 Digital Voice Recorder 2GB
•User's Manual
•CD Software (Application software 'Sound Organizer')
•Warranty Card
--------------------------------------------------------------------------------
HUBUNGI KITA (KODE HSK = HARGA SPESIAL KASKUSER) :
02170905889 - 02168826710 - 08164815887 - 081387511835 - 087781185851