Fostex DMT-8VL. Digital Audio Workstation. Mixer-recorder 8 in 8 out.
Fostex DMT8VL adalah recording 8 track stand alone dengan Hard Disk internal. Multitrack Rrecorder 8 In – 8 Out live recording. Dapat pula difungsikan sebagai mixer 8 channel berkualitas recording.
Sebelum rekaman di studio rekaman professional, coba dulu rekam sendiri di rumah … Bisa diulang2 tanpa batas. Menghemat biaya sewa studio.
Kapasitas rekam - 3 Jam ..!


Kondisi :
Bekas
Mulus nyaris tanpa cacat.
Semua fungsi normal... aman terkendali.
Deskripsi :
Fostex DMT8VL dapat merekam 8 track live recording sekaligus secara simultan, disimpan dalam Hard Disk internal. Dapat merekam slama 3 jam penuh. Outputnya dapat sekaligus 8 channel.
Dapat digunakan sebagai mixer 8 Channel biasa berkualitas tinggi.
Features:
8 analog in jack (6.35) 2 with impedance selector (low-mid-high)
2 internal bus (left / right)
2 to choose (either one or the other)
2 different recordable tracks (left / right related to bus)
Recording uncompressed 44.1 kHz.
SPDIF out, 2 inputs bus L / R RCA, RCA outputs 8
Spoiler

for

tampak depan

:




Spoiler

for

tampak samping

:

Spoiler

for

tampak belakang

:


Kelengkapan:
- Fostex DMT-8VL
HARGA :
Rp 1.900.000,- SOLD Laris Manis
Garansi : 1 Minggu.
Alamat COD
Jl. Melati Raya No. 2
Depok - Jawa Barat
16432
kontak :
Ian Zielo
HP : 0815 19990939
Spoiler

for

PERALATAN RECORDING DAN STUDIO YANG SUDAH LAKU

:

Roland SP-808 Groove Sampler
Fostex DMT8VL Mixer-Recorder 8 Track Hard Disk
Roland VS 1680. 24 bit Digital Multitrack Workstation
Roland VS-880 Audio Workstation. Mixer-Recorder
USB Audio Workstation - TASCAM US 428
Roland Edirol UR-80. Digital Audio Workstation
Digital Recording Studio KORG Pandora PXR4
KORG D4
Line6 BackTrack


Spoiler

for

ALAT MUSIK LAIN YANG SUDAH LAKU

:

Gitar dan Bass Elektrik :
Ibanez EX Series Original Made in Japan
Gitar Elektrik : GreCo - Destination of Rock Addict
Bass Ibanez SDGR GSR-300 beautiful color
Guitar double output: USB+Audio. JamMate JM400
Gitar Fernandes Sustainer 25 th Aniversary
Roland GC-10 dan VG-88. Guitar Controller-Synthesizer FULL SET
Bass Guitar Vintage jarang Ada Super limited Edition
Yamaha RGX-121Z Original
Gitar Elektrik Caraya
Ibanez Jem Replika Indoenesia - Koleksi Pribadi
Guitar Stratocaster output USB - BEHRINGER iAxE 393
Midi Travelling Guitar - Yamaha EZ-EG
Bass Akustik Elektrik
Gitar Digital CASIO DG-20

Keyboard :
Keyboard USB-MIDI Controller M-Audio Radium 61
USB Keyboard MIDI Controller Evolution ekeys37
Keyboard MIDI Controller Roland PC-200 MK II
Keytar modif Yamaha CBX-K1
MIDI Keyboard Controller 37 keys - YAMAHA CBX-K1
MIDI Keyboard Controller 49 keys - YAMAHA CBX-K3
Keytar Yamaha SHS-10 dan Sound Module Yamaha MU-80
Yamaha DJX-II Keyboard DJ Goovebox
KORG microKONTROL MC-1
Yamaha PSR E243. Keyboard Wide Stereo dengan out USB MIDI

Peralatan Sound system dan Mixer:
KORG KME-56 Multi Equalizer 5-7 band 5 Channel
8 Channel Parametric Equalizer. Kawai EQ-8. RARE & UNIQUE
Behringer Composer Pro-XL MDX2600
Mixer Soundcraft Spirit Folio Lite 12 Made in England
Yamaha VA-10 stereo Guitar Amp
mixer-profesional-12-channel-roland-rm-124-made-in-japan"]Mixer Profesional Roland RM-124 Made in Japan
MixerAnalog 8/12 Channel Ultra Low Noise Maxon RM804X
MIXER Profesional 12 Ch. TOA CX-124
Mixer 8 Channel RAMSA WR-X02
Mixer High-End kualitas Recording. TASCAM 564
Mixer dengan kualitas recording Yamaha MD8
Mixer Portable Vintage - BOSS BX-600

Peralatan Dj :
DJ Mixer+Sampler Audio Technica AT-MX35 Made in Japan
Ion Discover dJ
Soundcard + DJ Controller Hercules DJ Console
Numark D2 Director DJ Console
Numark DMC2 dJ Controller
Yamaha DJX-IIB. DJ Controller-Groovebox
Yamaha DJX-II Keyboard DJ
Numark Ion dJ. dJ controller docking Ipod

Gitar Akustik :
Takamine T-1NS. Gitar Folok Akustik Made in Japan
Takamine TD-series. GitarFolk Akustik 30 tahun Made in Japan
Takamine TD-27 Gitar Folk Akustik Made in Japan
Takamine Elite G 90 Gitar Klasik Akustik Made in Japan
Yamaha no.80 Nippon Gakki - Gitar Akustik tahun 60-an
Yamaha G-80A. Gitar Akustik berusia 40 tahun lebih
Yamaha G-100 berusia 40 tahun
Yamaha No.G60 Nippon Gakki. gitar Akustik Nyaris setengah Abad
Kawai Custom F-150D Made in Japan
Kawai M-40 Gitar Akustik Usia Setengah Abad.
Morris W-20. Gitar Folk Akustik Made in Japan 1978
Guitar Folk-Accoustic Morris MD-505 Japan. 30 tahun
Morales 100 Zen On. Gitar Folk Akustik made in Japan 60-70an
Morales Lyre Bird. Gitar Folk Akustik Made in Japan
Ibanez Performance PF10 Gitar Folk Akustik original-Korea
Gitar Folk Akustik Mizuno No. 120 Made in Japan. Thn 70-an
Stafford SF-200D Sunburst + H. Case - Japan Domestic Market
Aria W-15 Made in Japan Gitar Folk Akustik Tahun 70-an
Fernandes Grand Concert GC-12. Gitar Akustik Klasik Hand made Japan
Greco F-150 Accoustic Fok Guitar Made in Japan th 70-an
Suzuki Reinforced Neck. Gitar Folk Akustik Made in Japan 70-an
Reedman RM-401 Gitar Folk Akustik-Elektrik -- Like Ovation. Japan
Gitar Akustik-Elektrik Espanola
Zen-On RW250. Gitar Akustik Folk Japan. Vintage, Rare, Historical - Koleksi Pribadi

Efek Gitar dan Bass :
Korg AX3G Guitar Multi effects Made in Japan
KORG A3 Guitar Rack Multi effects
Korg AX300G Guitar Multi effects Processor
Korg AX30G Guitar Multieffetcs Made in Japan
KORG G1 Multi Distortion
KORG Toneworks AX1500G
KORG Toneworks AX-10G
KORG Toneworks AX1000G
KORG G3 Guitar Multi effects
KORG AX5B. Bass Multi effects
KORG A5
Digitech RP6 Guitar Effect Processor Made in USA
Digitech RP1 Guitar Multieffects Made in USA
Digitech RP5 Guitar Multieffects
Digitech RP10
Digitech GSP 21
ZOOM G7.1ut
ZOOM 9000 + Foot Controller
ZOOM 8080 double pedal Made in Japan
ZOOM BFX-708
ZOOM 4040 Double pedal. Guitar Multieffects
ZOOM 505 II Guitar dan ZOOM 506 Bass
ZOOM GFX8 Multi effects for Guitar
ZOOM 503
Zoom 3030
ZOOM GFX-5
Yamaha GW-33 Multi effect Twin Analog-Digital
Yamaha GW50 Multiefek Gitar Canggih dan Sangar. Made in Japan
Yamaha FX900 + Foot Controller FC900
Yamaha GW-10
BOSS GX-700 Guitar Multieffects + Bonus Foot Controller
BOSS ME-5
BOSS ME-20
BOSS ME-6B Bass Multi effects
Boss ME-30
BOSS ME-6
BOSS ME-20B
ROLAND GR-09 + GK-3 Pick-up
ROLAND VG-88 + GK-3 Pick-up
Roland GR-30
Line6 POD ver 2.0 + Behringer FCB 1010
Efek Rak Rocktron 360 Dual Compressor Made in USA
Radar DE-1. Guitar analog Multieffects - tempel di gitar

Lain-Lain :
Roland GK-3 pick-up
Straplock Gitar dan Bass. 6 Warna pilhan
Mandolin Antik Suzuki th 1958 Made in Japan
PATCHBAY Tascam PB-32P
Drum Pad untuk Electric Drum Yamaha TP-65, TP-80
Yamaha HH80. Solusi murah Real Hihat
Kick Pad dan Kick Pedal Drum Elektrik - Yamaha KP-80
Cymbal Elektrik Yamaha PCY-130
Yamaha Silent Brass SB3-9
Sony DRB-G1 Drum beatbox untuk gitaris
LELANG - Tuner Korg
Drum Module YAMAHA DT-EXPRESS


Penjual terpercaya di Kaskus. Id: herdiprodia Check
verified member di situs jual beli t*k*bagus.
id: herdi_pro >>
[URL="http://herdi_pro.tokobagus.com/"]check[/URL]

verified seller di ebay dengan 100% positive feedback. id: cm-solo >>
check

Spoiler

for

Contoh SKRINSUT jualan ane ke SELURUH DUNIA

: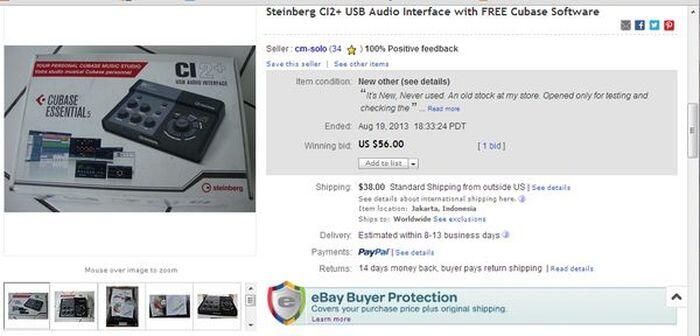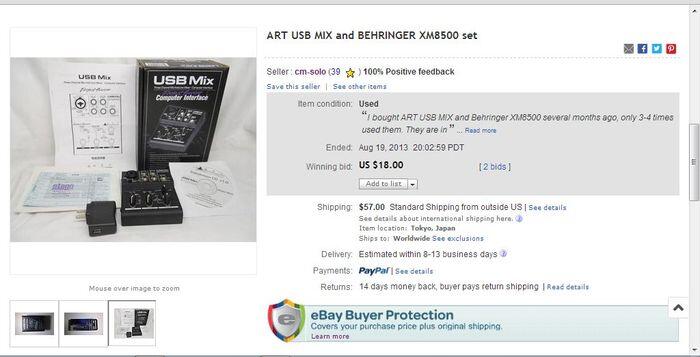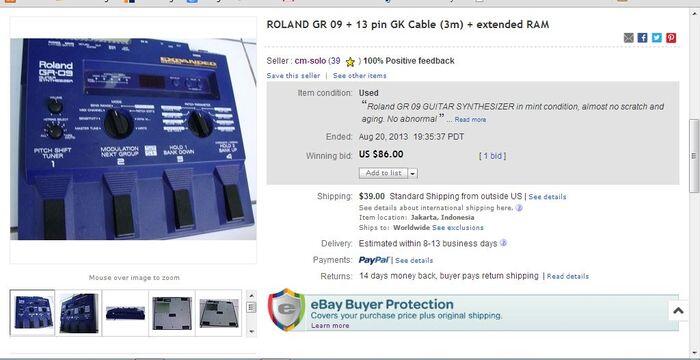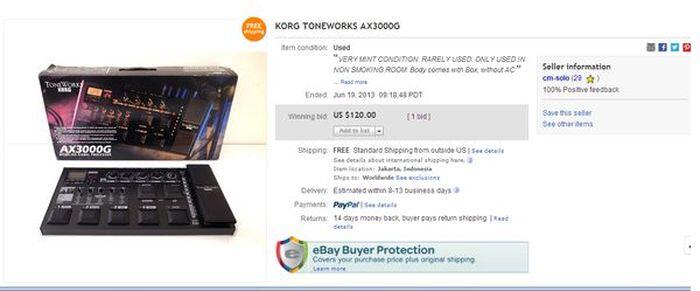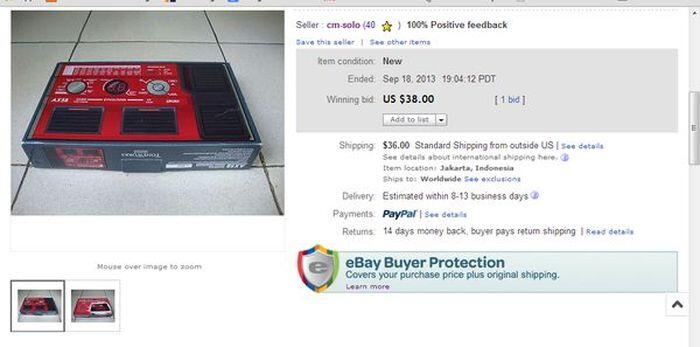 Spoiler

for

REKENING BANK DAN PAY-PAL

:
Garansi 1 minggu terhitung setelah barang ditangan. Berhubung itu cuma barang satu2nya, maka garansi berupa pengembalian uang penuh. Transport dan biaya pengiriman kembali ditanggung pembeli. Untuk pembeli luar kota harap sertakan resi penerimaan barang dan resi pengiriman kembali barang. Resi penerimaan dan resi pengiriman tidak lebih dari 1 minggu.