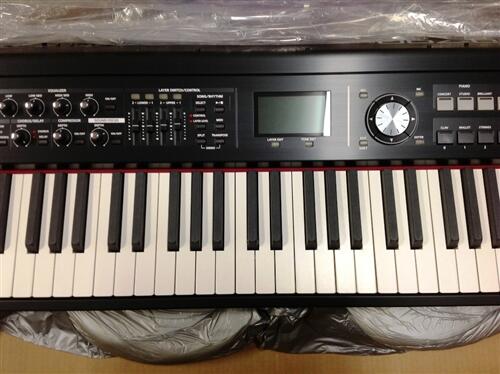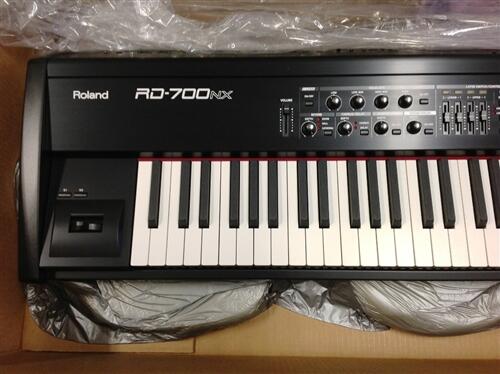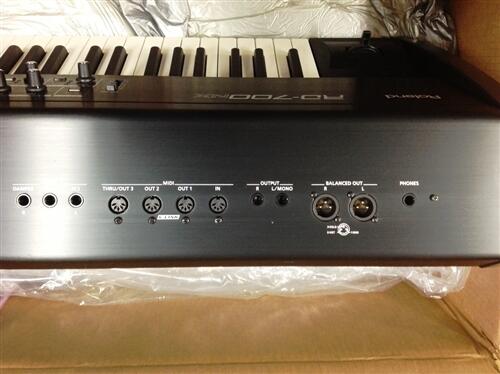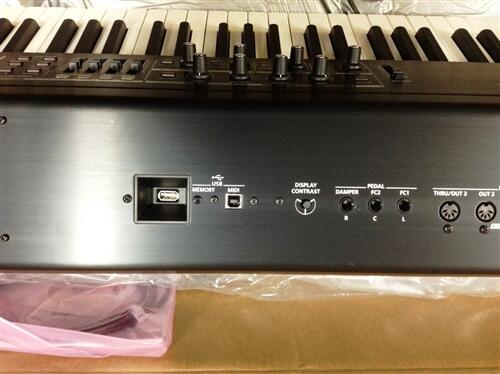 Features
SuperNATURAL Piano sound engine (3 grand-piano types, 30 variations), EP based on SuperNATURAL technology (10 EP types, 15 variations)
Hundreds of built-in sounds: 242 normal tones, 10 Tone Wheel organs, 256 GM2 tones, 5 rhythm sets, and 9 GM2 rhythm sets
Storage for 100 Live Sets (combinations of layers, zones, effects, and various tone parameters)
Deluxe PHA III Ivory Feel Keyboard with Escapement
Innovative Sound Focus feature ensures that every note will be heard in the mix, even subtle pianissimo passages, without compressing or coloring the sound
Extensive multi-effects processing options
Instant access to standard piano and EP sounds via One Touch Piano buttons
Master MIDI control features plus four MIDI ports (MIDI IN, MIDI OUT x 2, MIDI OUT/THRU)
Balanced XLR outputs; USB ports for data storage and audio-play functionality
RD-700NX Stage Piano Specifications:
Keyboard: 88 keys (PHA III Ivory Feel Keyboard with Escapement)
Maximum Polyphony: 128 voices
Parts: Live Set (4 layers) + 16 parts
Sound Generator: SuperNATURAL Piano, SuperNATURAL (E.Piano), Virtual Tone Wheel Organ, PCM Sound Generator, GM2 (for SMF Playback)
Live SetPreset: 300User: 100
EffectsMulti-Effects: 2 x 4 systems, 84 typesReverb: 6 typesChorus: 3 types3-band Compressor4-band Digital Equalizer


SMF/Audio File Player
File FormatStandard MIDI File: format-0/1Audio File: WAV (44.1 kHz, 16-bit linear), MP3Audio CDs (CD-DA) (when using optional CD drive)


Recorder Section
File Format: Audio File: WAV (44.1 kHz, 16-bit linear)


Others
Rhythm Pattern: 200 patterns
ControllersLAYER LEVEL slider x 4 (Assignable)EQUALIZER knobsREVERB knob, CHORUS knobCOMPRESSOR knob, SOUND FOCUS knobPitch Bend/Modulation leverS1/S2 Buttons (Assignable)
Display: 240 x 128 dots graphic LCD (with backlit)
ConnectorsOUTPUT Jacks (L/MONO, R): 1/4-inch phone typeOUTPUT Jacks (L, R): XLR typeDAMPER Pedal JackCONTROL Pedal Jack (FC1, FC2)MIDI Connectors (IN, OUT1, OUT2, THRU/OUT3)USB Connectors (MIDI, Memory)PHONES Jack: Stereo 1/4 inch phone typeAC Inlet
Power Consumption: 12 W
Accessories: Owner's Manual, Damper Pedal (capable of continuous detection), Power Cord


Size and weight
-7/8 inches, (1,444 mm)
Depth: 14-13/16 inches, (375 mm)
Height: 5-7/8 inches, (148 mm)
Weight: 55 lbs. 2 oz., (25.0 kg)

GALAXY MUSIC HOUSE
===================
LOKASI KAMI:
JL.KERTAJAYA INDAH TIMUR VIII /57
Blok O-327, 60117 - Indonesia

Telp : 0878-0337-6762
------------------------------
Phone :0878-0337-6762

kami hadir untuk mempermudah pembelian perlengkapan alat musik melalui online.
Produk yang kami hadirkan berupa alat musik seperti====

Keyboard TECHNICS.
ROLAND,YAMAHA,KORG,CASIO
mixers merek SOUNDCRAFT,
MACKIE,ALLEN & HEATH,
YAMAHA,BEHRINGER
speaker merek JBL,RCF,
MACKIE,BEHRINGER,DAS
Power Amplifier merek CROWN,QSC,
MACKIE,YAMAHA,SOUNDSTANDARD,
DDL==========

KONDISI BARU 100% MASIH SEGEL
ORIGINAL
==============================
CARA PEMESANAN :
=======================================
FORMAT SMS :
Nama # Alamat + Kode POS # JENIS/TIPE BARAM # NO.HP.
===============

CONTACT ke : 0878 0337 6762

HUBUNGI : 0878 0337 6762


Garansi SATU tahun by Authorized Distributor??.

Kami juga Melayani Pengiriman ke seluruh Pelosok

Nusantara memakai jasa POS, JNE, Travel, Cargo, PO dll..........