Bebe Sheer for Women
Eau de Toilette 100 ml
PRODUCT FACT
Main Accords
floral
fresh
fruity
white floral
citrus
Bebe Store Inc. introduces a new fragrance Bebe Sheer, a lighter version of the original Bebe perfume which was presented last year.
Sheer is made from a blend of floral notes, fruit and musk, and inspired by the airy fabric textures such as organza, silk and tulle. The scent is associated with the original, yet offers a more romantic and more sensual story.
Perfumers Claudette Belnavis and Jean Jacques from Takasago composed this fruity-floral scent, which in the top notes offers a coctail of citrus, apple and green floral notes, mixed with heart notes of peony, jasmine and freesia, on the basis of sandalwood, musk and amber.
The fragrance is available in heart-shaped bottles in amount of 50 and 100ml EDT and in the bottle in amount of 10ml EDT, along with 200 ml of body lotion. The bottle is designed by Barbara Hulanicki designer group. The fragrance is expected on the market in late August 2010, on the anniversary of the release of the first Bebe perfume.
PRICE
Market Price : Rp 900.000
PlatinumPrice : Rp 535.000
PlatinumPerfumery
Provide a wide variant of ORIGINAL perfume and fragrance, we offer you an original guarenteed perfume delivered to your doorstep,
We're the only place that give you installment*
and the cheapest price in the market.

Contact Us :
Blackberry Pin : 316EE434
Phone : 088211463546/0856 1212 109
Whatsapp : 088211463546
Line : serigalajkt
Twitter : @platinumparfum
Instagram : PlatinumPerfumery
Email : platinum_parfum@yahoo.com
Website : platinumparfumoriginal (dot) co (dot) id

Spoiler

for

Bebe Sheer for Women

:
Spoiler

for

Bebe Sheer for Women - Rp 535.000

: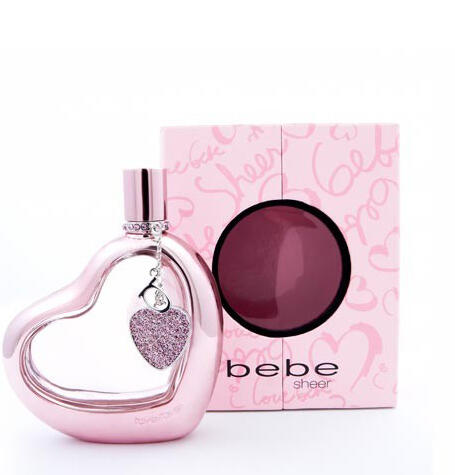 Spoiler

for

Bebe Sheer for Women

: