HP / WHATSAPP : 085779954325 / 081291594339
LINE : SWANISHION
INSTAGRAM : SWANVAPE
HALLO AGAN-AGAN SEKALIAN.
ANE MAU NAWARIN LAPAK ANE NIH GAN.
PERSONAL VAPORIZER GAN. BERIKUT PENAMPAKANNYA :

Quote:
Innokin iTaste MVP V2.0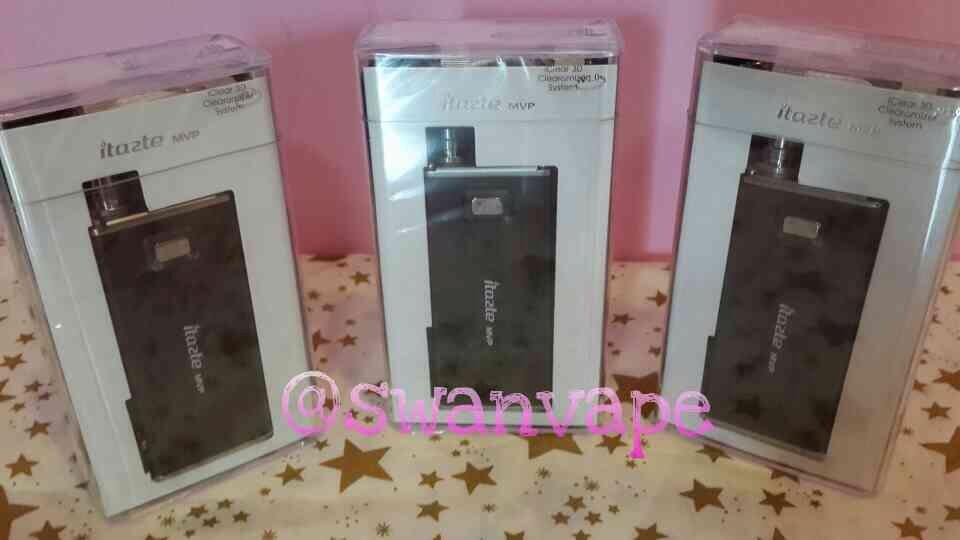 Description
The iTaste MVP 2.0 is a 510/Ego threaded device with a built-in 2600mAh battery. This box mod is loaded with features such as VV, VW, passthrough function, LCD screen, ohm meter and can even be used as an on-the-go charger for your portable devices.
Dimensions: 4.21"L x 1.61"W x 0.86"D
Charge Time: 5-6 hours
Features:
Variable Voltage: Voltage can be adjusted from 3.3 ~ 5.0 in 0.1 volt increments
VariableWattage: Wattage can be adjusted from 6.0 ~ 11.0 in 0.5 watt increments
Ohms Meter: Reads the resistance of your atomizer
Puff Counter: Number of puffs taken since last time the battery was turned off.
Protections: Short Circuit/Atomizer Protection, Over-Discharge Protection
Battery Level Indicator
Large battery capacity: Built-in 2600mAh polymer Li-Ion rechargeable battery
High compatibility 510 connector: Threads fit 510 atomizers and many Ego Clearomizers, iClear10,iClear16 ,iClear30 etc
ON/OFF battery switch
10 seconds cutoff
Passthrough Functionality: Can be used while the battery is being charged
Memory: Remembers last set voltage or wattage when the battery is turned off and then back on
Built-in 3 digit display: Digital display shows Ohms meter, Voltage /Wattage setting, Puff count
Portable power source: USB output port can be used to charge portable Mp3 players and cell phones
Rp.500.000
Quote:
Innokin iTaste MVP 2.0 Shine Edition Starter Kit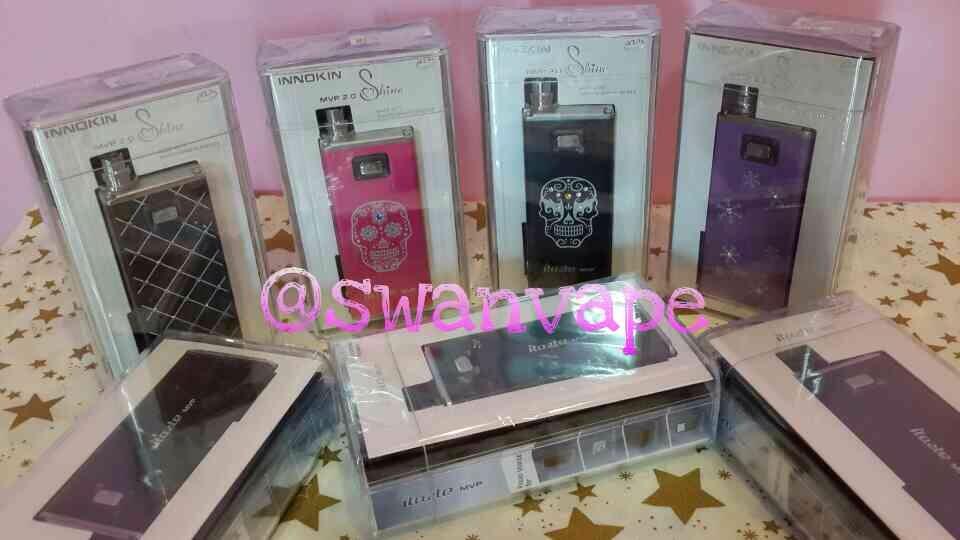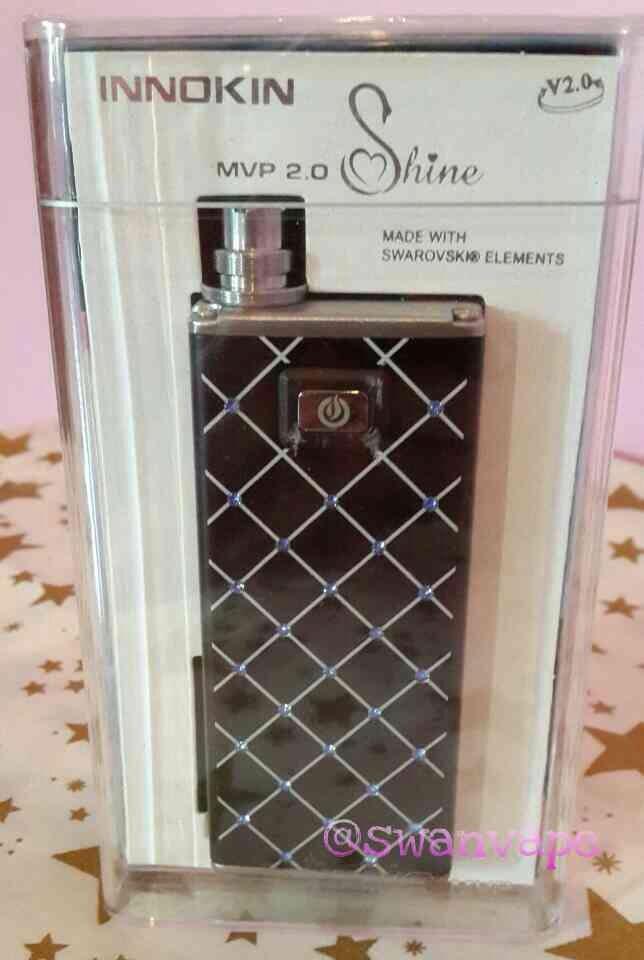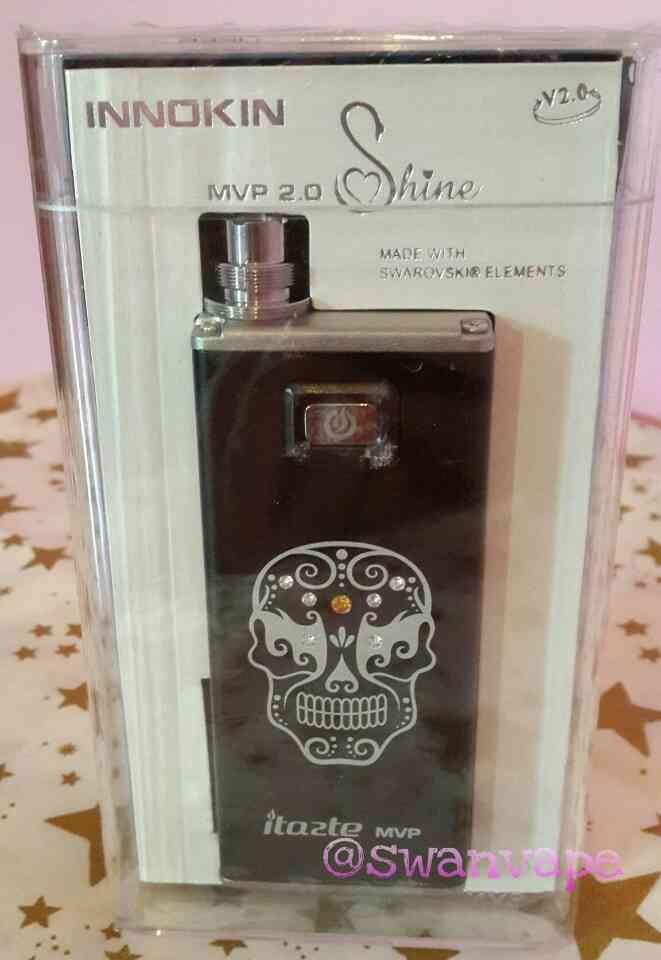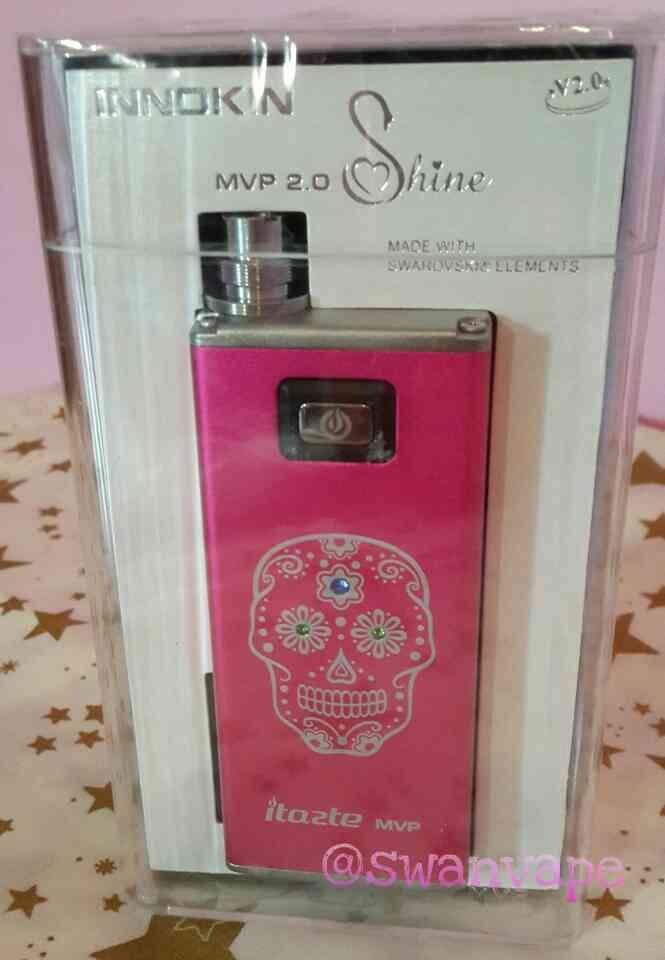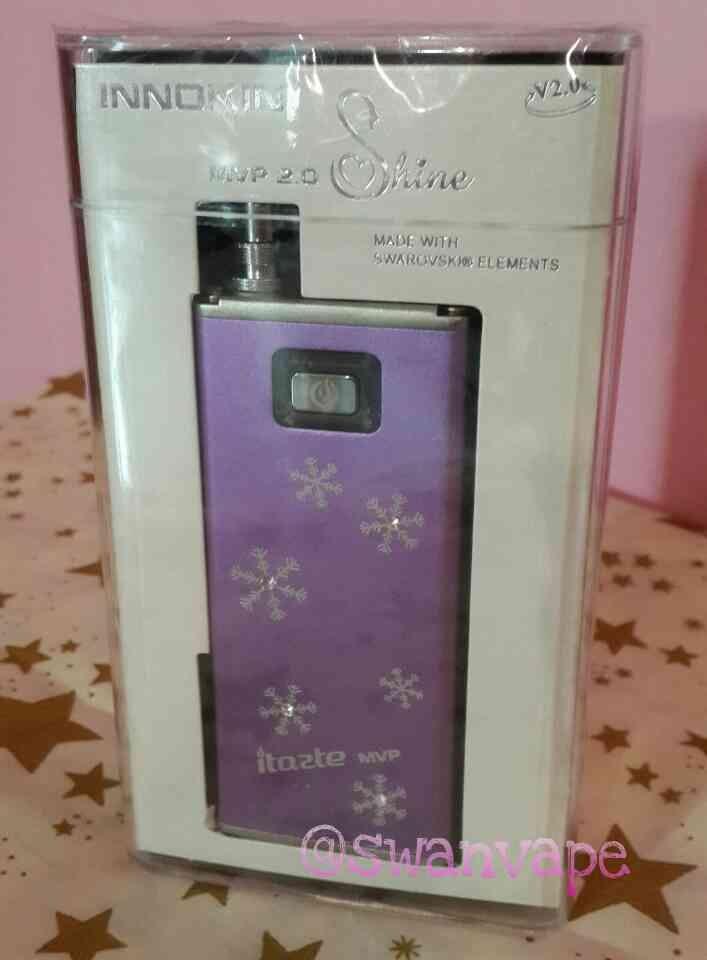 Innokin iTaste MVP 2.0 Shine Edition Features
Variable Voltage: 3.3V – 5.0V in .1 volt increments
Variable Wattage: 6.0W - 11.0W in .5 watt increments
Huge built-in 2600mAh Polymer Li-ion Rechargeable Battery
Can be used as a Portable Power Source for electronic products
510 / eGo Threading will allow use of a wide variety of Atomizers, Cartomizers, Clearomizers & Tanks
L.E.D. Display with Battery Indicator
Ohm Meter - Atomizer / Cartomizer / Clearomizer Resistance Check
USB Passthrough Function
Settings Retention
Puff Counter
Short Circuit Protection
Over-Discharge Protection
Low Voltage Warning
3-Click ON/OFF Safety Switch
Standard Micro & 2.0 USB Socket
Maximum Current Output: 3.0 Amperage
The Innokin iTaste MVP v2 Shine Edition comes with
1x Innokin iTaste MPV 2.0 Shine Editon
1x Innokin iClear 16B Bottom Dual Coil Clearomizer
1x eGo Sleeve Cone (Beauty Ring)
1x Multi-plug USB Charger Cable
1x Bag of replacement crystals
Product Specifications
Variable Voltage Range: 3.3V - 5.0V
Variable Wattage Range: 6.0W - 11.0W
Case Material: Aluminum
Device Thread: 510 | eGo Female
Dimensions: (L) _ Inch | (D) _ Inch

Rp.550.000
Quote:
Vision Spinner 2 Battery 1600mAh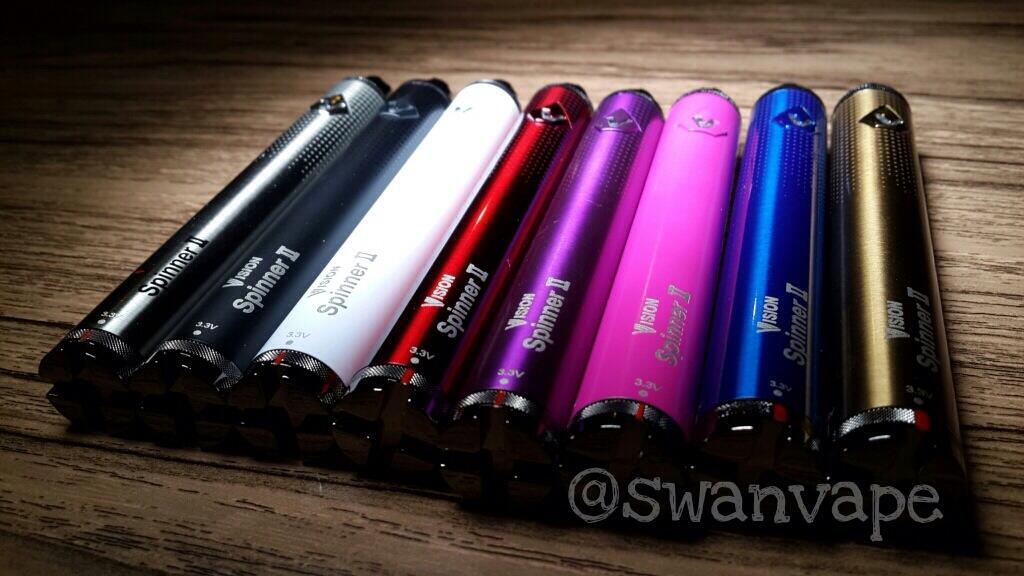 Approx. dimensions: 4-15/16"L. x 5/8"D.
Upgraded button with battery charge indicator: White light ~ 60%-100%, Blue light ~ 30%-60%, Orange light ~ 0-30%
New Upgraded and stable PCB control Board
More comfortable and ergonomic spin dial for adjusting the voltage
Brand New and upgraded Battery Cell (which makes the Spinner II even more Powerful)
Longer Lasting Life span due to the New upgraded PCB circuitry And Battery Cell
Cutoff Time: Approximately 8 seconds
This is the highest capacity variable voltage eGo available today! Vape at your desired voltage! Higher voltage = More vapor! The Vision Spinner is compact making it the most portable variable voltage device available. Don't forget the high capacity battery cell... Vape for hours on a single charge!*
The Spinner has a dial located at the base of the battery. The Spinner has four markings to indicate approximate output voltages at 3.3, 3.8, 4.3, and 4.8 volts but is adjustable throughout the entire voltage range. Simply turn the dial to your desired vaping voltage. It features an easy to read numbered dial.
Rp.300.000
Quote:
Innokin Cool Fire II - READY BLACK & GREEN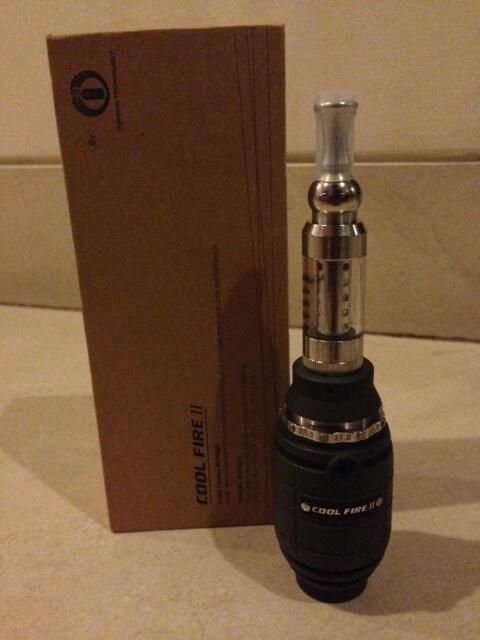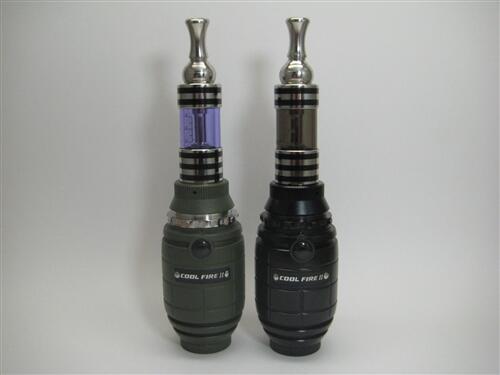 Styled to resemble a grenade, the Innokin Cool Fire II is a 18350 variable wattage personal vaporizer. This kit comes with one Innokin iClear 30B Bottom Coil tank with a 3ml capacity.
Features:
Variable Wattage: The rotational wheel adjusts wattage to the following: 7.0, 8.0, 8.5, 9.0, 9.5, 10.5, 11.0, 12.0, 12.5
Battery Level Indicator:
Reverse Battery Protection Circuit.
Built in 7A fuse for protection and stability.
Short Circuit Protection.( 0.6 +/-0.2 ohm )
ON/OFF battery switch.
LED Battery Power Display.
Low Voltage Warning.
Overtime Vaping Warning (10 seconds switch cutoff).
Battery safety protection (Vent holes).
High compatibility 510 connector: Will fit iClear10, iClear16, and iClear30 clearomizers, as well as standard 510 accessories
Dimensions: 3-1/4"L x 1-1/2"D
RP.600.000

HP / WHATSAPP : 085779954325 / 081291594339
LINE : SWANISHION
INSTAGRAM : SWANVAPE