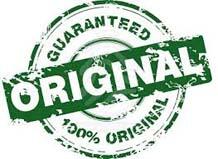 Kacamata Safety Untuk Shooting Sport, Selain berguna untuk melindungi mata juga dapat menambah akurasi menggunakan lensa Light Rust,
100 % UV Protection
Balistic Safety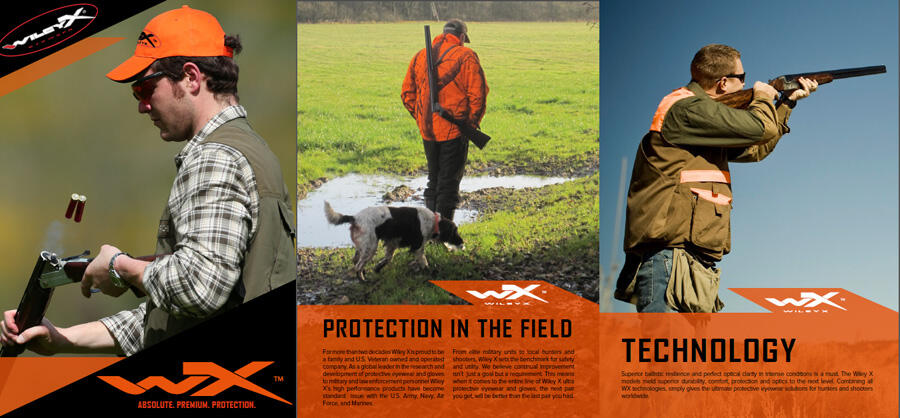 Descriptions :
When it comes to hunting and shooting no amount of protection is too much. As an ISO 9001:2008
business we meet a higher standard than competitors' "marketing claims." Per required
specifications and as outlined by ISO 9001:2008 and ANSI Z87.1 standards we continue to
meet the highest Ballistic Impact Standards.
Wiley X products are put through rigorous testing in order to be EN.166 rated
and full ANSI Z87.1 rated. Wiley X is the only premium performance
manufacturer of hunting and shooting eyewear whose entire line is
ANSI and EN.166 certified.
All Wiley X models in this catalog also meet or exceed
MIL-PRF-31013 and MIL-DTL-43511D VO Ballistic Impact
Standards for spectacles respectively. MIL-PRF-31013
requires a spectacle to withstand the impact of a .15
caliber (3,8 mm) fragment fired at 640-660 fps,
(195-201 m/s).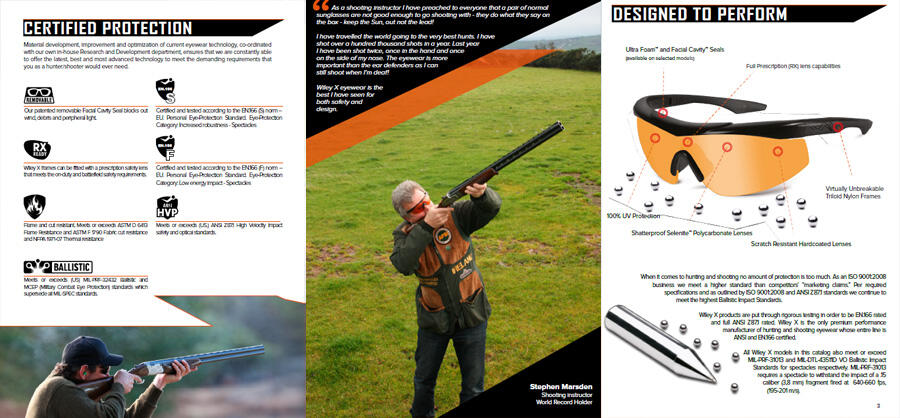 THE SECRET BEHIND
You, as a hunter, rely on many different factors when hunting. Factors like the weather, weapon
type, choice of ammunition, distance, hide, camouflage and gundogs – just to mention a few. But
most importantly – you rely on each other and your ability as a hunter to act and react in matters of
seconds - being in control of the situation and deciding if it is safe to pull the trigger.
As safety is the most important factor of them all, it is important to choose the best eyewear on the market.
When you are in a hunting or shooting situation where you can expect; ricocheting pellets, sharp pieces
of clay pigeons, flicking branches in the woods or pointy reeds – you can ALWAYS rely on the fact that all
eyewear in this catalog meet or exceed the hardest tests in the World.
To illustrate the above – the picture below is showing a Saber Advanced lens which has been shot from
10 meters distance only – using a 12 ga. shotgun, using half a choke and shooting with steel shot in size 7.
As the picture shows – the lens was hit by multiple pellets, no kracks or penetration on the back side of the
lens, leaving the eyes intact and protected.


HOW CAN A LENS THIS THIN BE SO STRONG?
All Wiley X lenses are made out of SeleniteTM (polycarbonate) and then heating the lens in an oven – you
get an almost unbreakable quality, ready to absorb everything Mother Nature throws at you and protecting
your eyes.
100% CLEAR FIELD OF VIEW
In worst case, it can be fatal not having 100% clear field of view. Non-certified safety eyewear often tends to
blur all around the lenses leaving only the center of the lens with 100% clear field of view.
All Wiley X lenses are produced using a special production technique, which allows the lens to have different
thickness from the middle of the lens and out – leaving you with 100% optical clarity – a Wiley X specialty.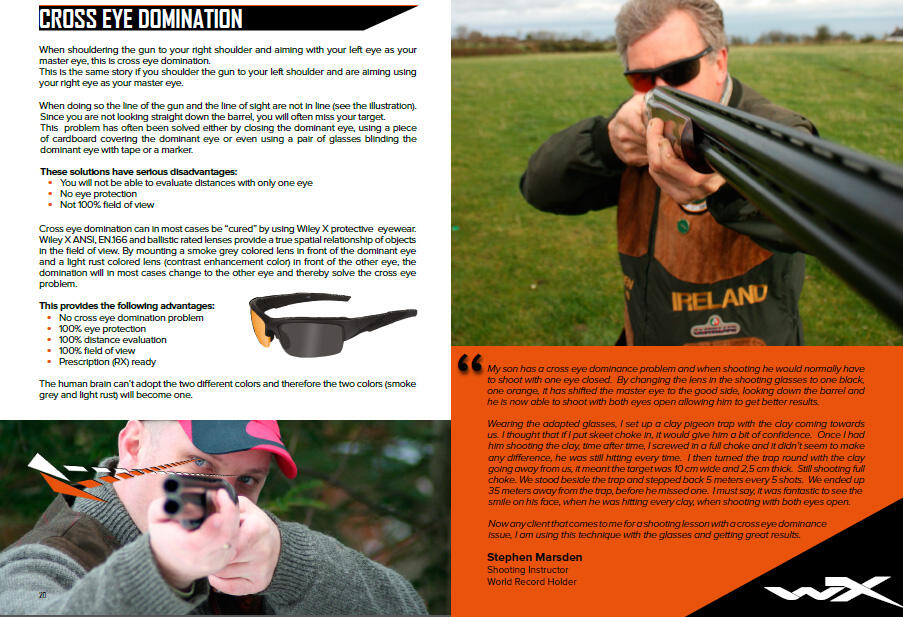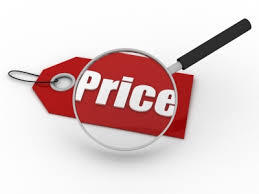 1. Wiley X PT 1 + 2 Lens ( Boleh Pilih Smoke Grey, Clear atau Light Rust ) = Rp.1.175.000,-
2. Wiley X PT1 Lens Only = Rp.225.000,-
Rx Ready .
Bisa Dipasang kan Rx Insert untuk lensa minus up To. -11.00D .

Rx Insert : Rp.250.000,-
Lens Rx : Rp.175.000,-



Mau Pake Rekber ?? OK




Contact :
Contact :
Hp. 08 31876 31876 (Whatapp/sms/Call)

[color=red]
Untuk alasan keamanan pastikan transfer uang

hanya

pada nomor rekening sebagai berikut :