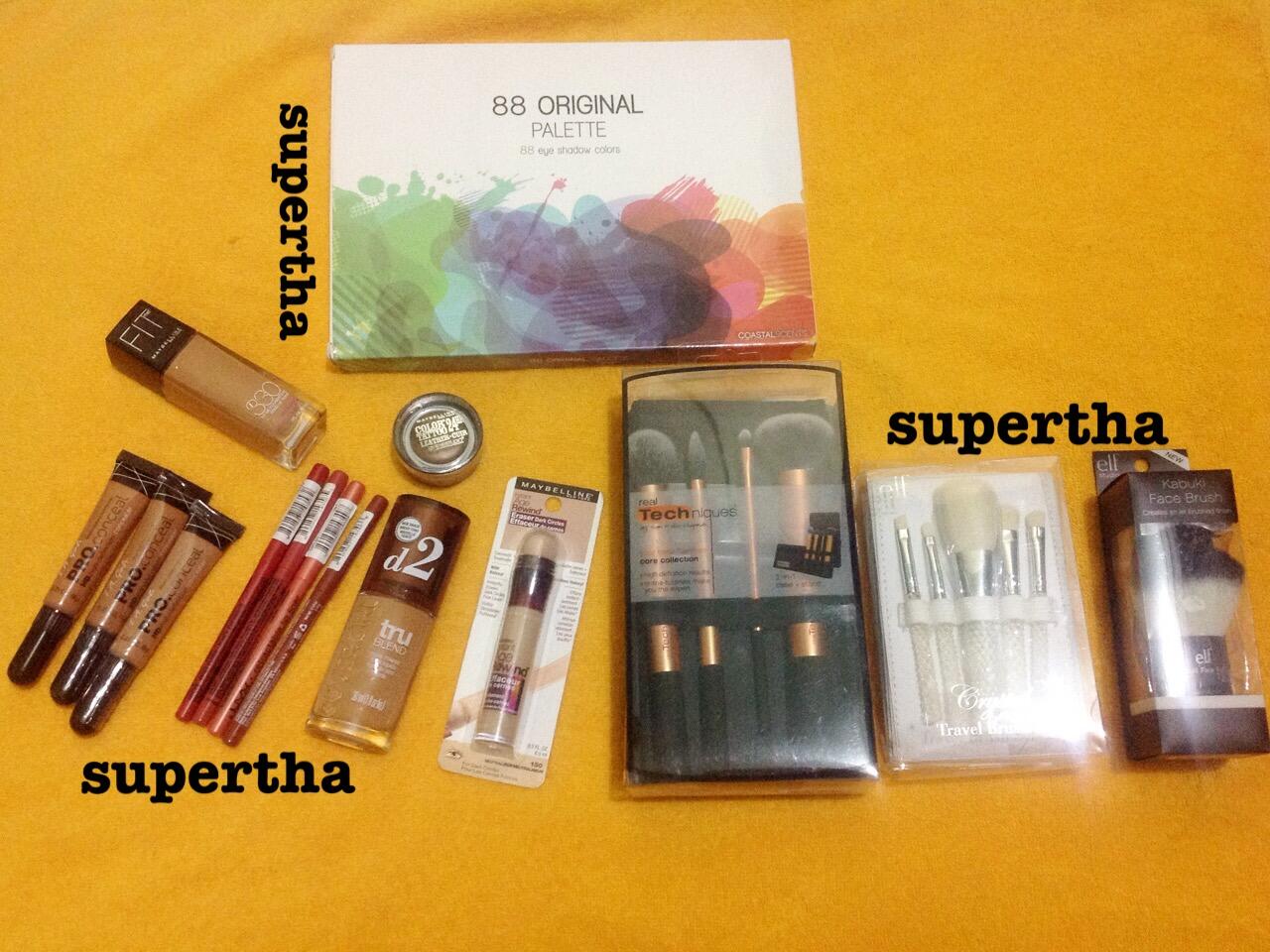 BRAND NEW AND PRELOVED MAKE UP 100% AUTHENTIC
FOR SALE - STASH PURGE!
ALL ORIGINAL
BRAND NEW: Real Technique Core Collection 2-in-1 Case + Stand
IDR 270.000
BRAND NEW: Maybelline Instant Age Rewind Eraser, Shade Neutralizer
IDR 140.000
BRAND NEW: E.L.F. Crystal Travel Brush Set, White
IDR 120.000
BRAND NEW: E.L.F. Kabuki Face Brush
IDR 90.000
BRAND NEW: Cover Girl Trublend Liquid Makeup Foundation, Shade D2 Sun Beige
IDR 160.000
BRAND NEW: Maybelline Color Tattoo Leatrher 24 Hour, Shade Chocolate Suede
IDR 100.000
BRAND NEW: L.A. Girl Pro Conceal HD Concealer, Shade Fawn; Toffee; Medium Beige
@IDR 65.000
BRAND NEW: NYX Retcractable Lip Liner, Shade Nutmeg; Grape fruit; Fruit punch; Citrus
IDR 60.000
BRAND NEW: Coastal Scents 88 Original Palette
IDR 275.000
PRELOVED: Maybelline Fit Me Foundation, Shade Toffee 330, used 2x, dibuka Oktober 2014, dijual karena salah shade
IDR 110.000
Tambahan, gak ada digambar.
BRAND NEW: Coastal Scents Revealed Palette 1 and 2
IDR 280.000
BRAND NEW: Coastal Scents Eclipse Palette
IDR 275.000
Terms:
- All items are original. 100% authentic
- Fixed price :Peace
- Serious buyer only
- No haggling, no hit and run
- If interested please contact me at 0878.99.81.73.69 FAST RESPONSE

- Transfer only to Mandiri
- Pengiriman via JNE dari Palembang. Shipping fee pleas check the website
Thank you!