Jual karena mau beralih ke mod mecha+rta
Pemakaian wajar sekitar 1bulan
Mulus dan tdk pernah jatuh. Hanya ganti tank glass warna abu-abu
Zamin puas langsung ngebul
Kondisi OK banget utk harian pemula
Kelengkapan :
Starter kit vision spinner 2 (tanpa dus)
Mini protank 3 (tanpa dus)
Charger tanpa colokan penyambung
Rp 550.000 [Nego] harga diluar ongkir
Cod : Pluit Only
Minat call/sms : 02199585866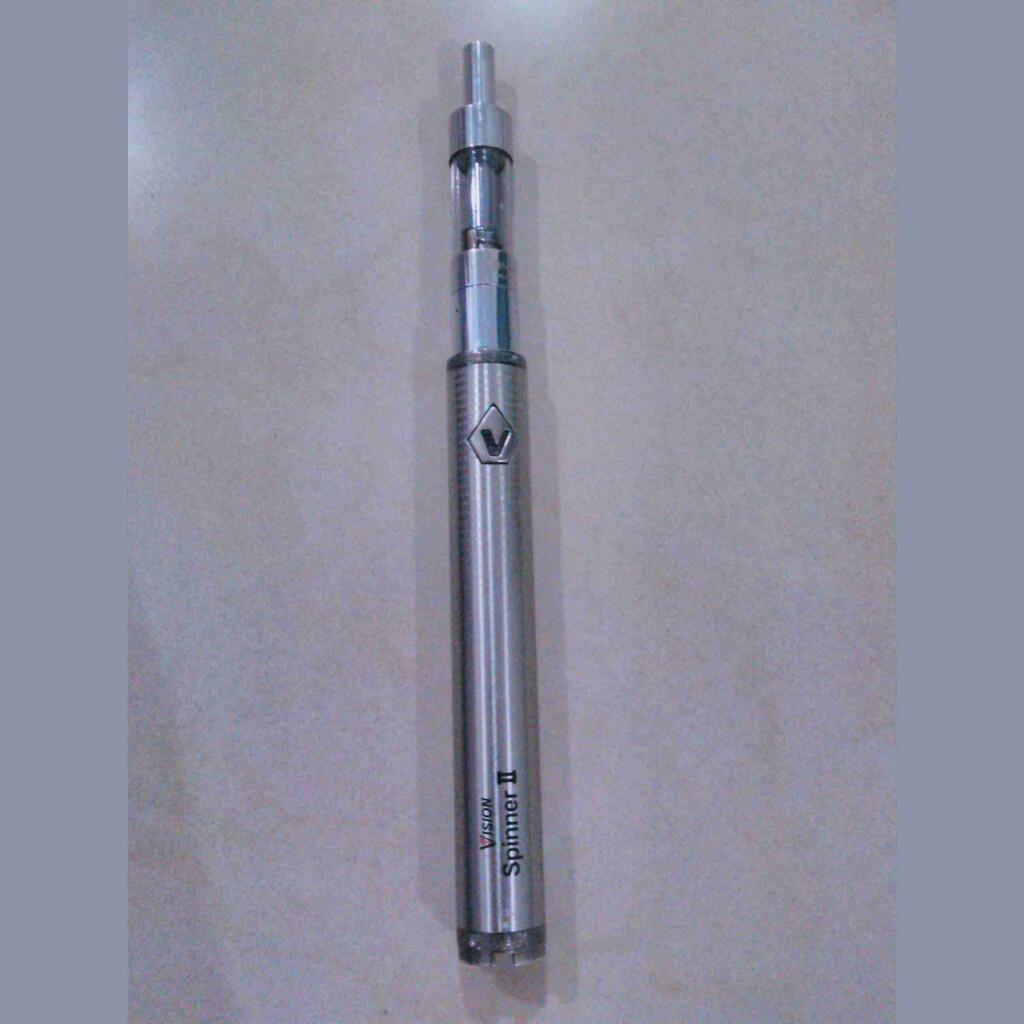 Vision Spinner V2 1600mAh
This is the highest capacity variable voltage eGo available today! Vape at your desired voltage! Higher voltage = More vapor! The Vision Spinner is compact making it the most portable variable voltage device available. Don't forget the high capacity battery cell... Vape for hours on a single charge!*
The Spinner has a dial located at the base of the battery. The Spinner has four markings to indicate approximate output voltages at 3.3, 3.8, 4.3, and 4.8 volts but is adjustable throughout the entire voltage range. Simply turn the dial to your desired vaping voltage. It features an easy to read numbered dial.
Upgraded button with battery charge indicator: White light ~ 60%-100%, Blue light ~ 30%-60%, Orange light ~ 0-30%
New Upgraded and stable PCB control Board
More comfortable and ergonomic spin dial for adjusting the voltage
Brand New and upgraded Battery Cell (which makes the Spinner II even more Powerful)
Longer Lasting Life span due to the New upgraded PCB circuitry And Battery Cell
Cutoff Time: Approximately 8 seconds
The Spinner battery is safer than regular eGo batteries because it offers 3 kinds of Protection:
Short Circuit Protection: When short circuit happens, the battery will shut down and not function again until short circuit is removed.
Safety Cutoff/Atomizer Protection: If you press the button for 8 seconds, the battery will be locked until the next press.
Low Voltage Protection: When the battery voltage is lower than 3.3v, the battery will shut down.
Additional features and notes:
5-click On/Off lock feature; Press the button 5 clicks within 2 seconds and activate the battery or turn it off.
A fully charged Spinner 1600mAh variable voltage battery can provide 14-16 hours of use.
Using the battery at a higher voltage output will drain the battery faster than at a lower voltage. We suggest you to start with a low voltage and increase the voltage gradually until you find the right voltage for your atomizer/cartomizer.
How to charge?
The battery can be charged with a normal Usb 420mA
Charging time: 3-4 hours
Size:Length 12.40cm