Percussion Handmade in Germany.
Schlagwerk's percussion instruments are unique in the international music scene – because you can feel the real passion for the product, perfect craftmanship and a great love of music that has gone into the making of each instrument

30 Years of Schlagwerk and No Silence at All
We will continue to strike the right note in cooperation with our customers, partners and fans in the future.
Many thanks to all of you who remained loyal to us over the passed years and thereby made us your no. 1 in handcrafted drums!
Our timeline shows you the very beginning in the early 80´s on to turbulent times of successful increase leading to our latest product line still affected by our passion for handcraft.

[Schlagwerk Link Website]
Click Here

[Schlagwerk Link YouTube]
Click Here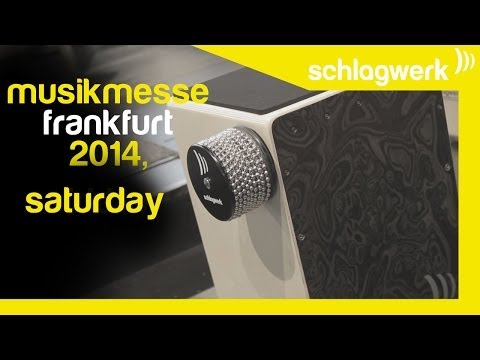 Cajon Fineline Comfort Morado
CP 605 comfort Morado
Playing surface: "Morado" – Honduras rosewood
Resonance box: beechwood comfort (CLM-process),
approx. 30 x 30 x 50 cm
SP60 Fine genuine leather seat cushion included. Fineline snare technique with individual CW² snare wires.

Cajon la Peru Zebrano
CP 4011 Zebrano
Playing surface: Zebrano veneer
Resonance box: 7 layers of Gabon wood, approx. 30 x 30 x 50 cm
Sound: warm bass, compact mid-range tones
The perfect combination of Gabon resonance box and Zebrano playing surface makes the balanced proportion between warm bass tones and fine, but concrete upper tones possible – the real all-around Cajon!

Cajon la Peru Skinwood Black
CP 4022 Skinwood Black
Playing surface: Skinwood (with goatskin); patent pending
Resonance box: 7 layers of alder wood,
approx. 30 x 30 x 50 cm
Sound: medium dry
The natural and continually redefined design of the playing surface is the most distinctive visual feature of the Skinwood Black. An aural and tactile treat for fans of unique instruments
Spoiler

for

Price List Schlagwerk

:

Harga Belum Termasuk Ongkos Kirim