TAS CARRIER FJALLRAVEN FUNAS 35 OUTDOOR BACKPACK +COVER|DEUTER TNF OSPREY SUPREME REI
| | | |
| --- | --- | --- |
| Lokasi | : | Jawa Barat |
| Kondisi | : | Baru |
| MATCH FOR | : | TREKKING,HIKING,OUTDOOR |
| TYPE | : | BACKPACK/RUCKSACK/CARRIER |
| VOLUME CAPACITY | : | 35 LITRES |
| DIMENSION | : | 64 (H) x 30 (W) x 23 (D) cm |
| WARNA/KONDISI | : | OX RED / BNWT |
| Posted on | : | 19-02-2019 22:46 |
| Terjual | : | 0 barang telah terjual |
| Dilihat | : | 4112 kali |
| Berat | : | 1350 gram |
| Last Sundul | : | 31 July 2019, 01:25:58 PM |
Penjelasan Produk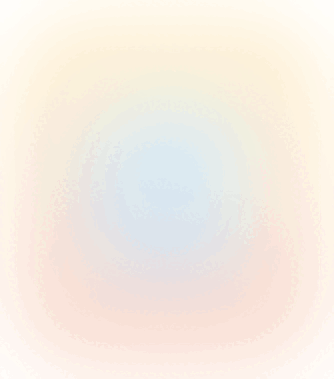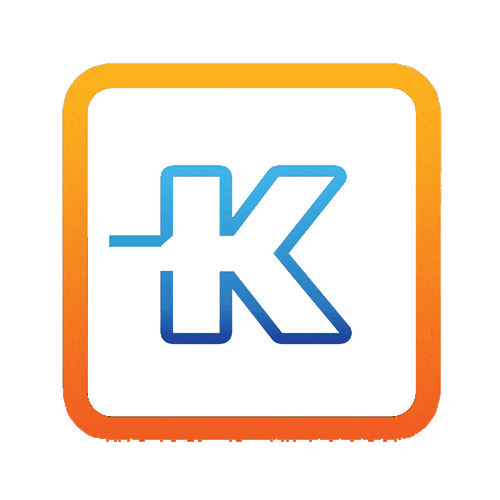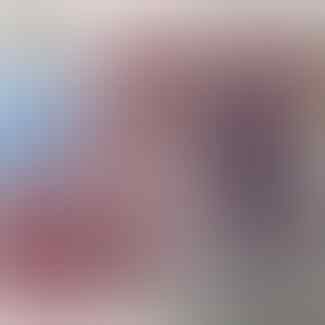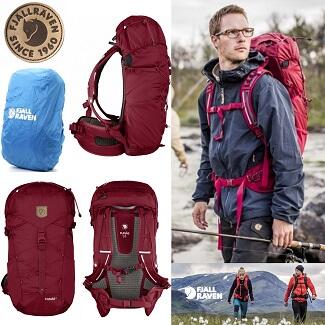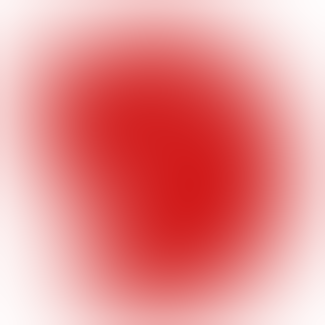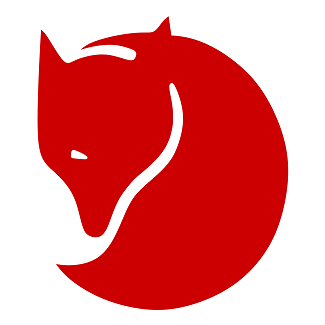 Quote:
MORE QUESTION & PHOTO GANSIS :
ASK/TEXT/LINE/CALL ME (S E N S O R2049349)
PIN BB (59BA7395)
BL - T*KP*D - SH*P*E (@djiedjay)
LOKASI/COD: BUAHBATU/BANDUNG & BULELENG/BALI
















MONGGO DIKLIK,DILIHAT,DIPILIH,DIORDER,DIBELI

FJALLRAVEN FUNAS35 HIKING BACKPACK/CARRIER/TOUR RUCKSACK/OUTDOOR DAYPACK|326-OX RED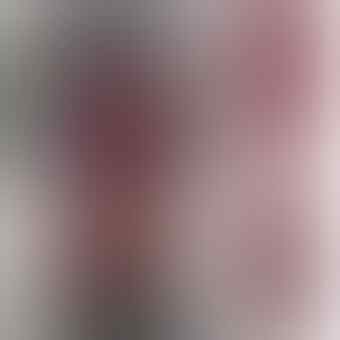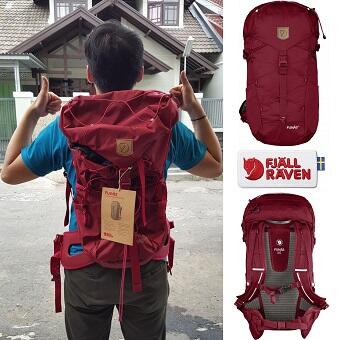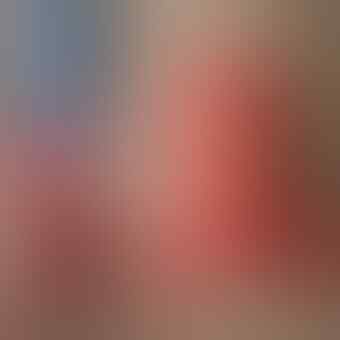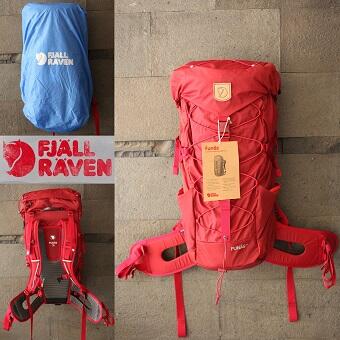 - Brand New With Tag (Kondisi Baru)|Full Tag & Price,
- Very Excellent Condition,
- 100% Original Product of Fjallraven,
- 35 Liter Capacity Hiking Backpack,
- Tidak ada Minus/Cacat/Bolong/Sobek,
- Tas Siap Pakai, Bersih/Tidak Bau Apek, Tidak kusut2/lecek2,
- Match for Extreme Expedition, Mountaineering, Hiking/Outdoor Activity, Camping/Trekking/Travelling, Daily Wear, etc.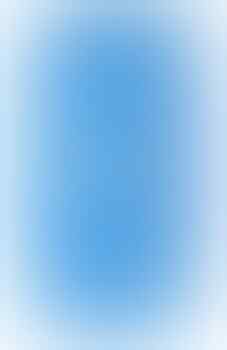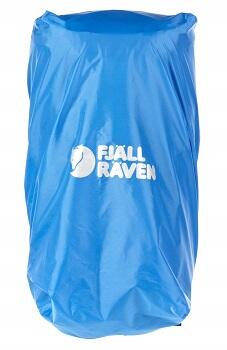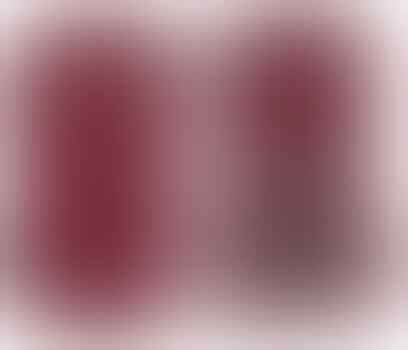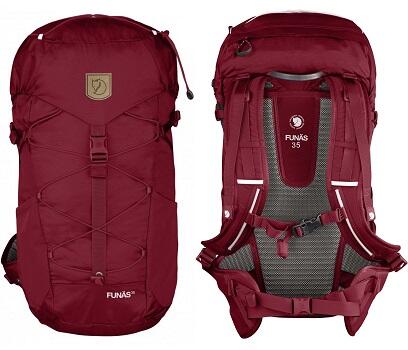 - FUNAS 35:
https://www.youtube.com/watch?v=559ekRexC6k
The Funas 35 is a lightweight daypack fit for fast movers who want to shed the weight on the load they carry.
This 35 liter pack has a back panel with airy construction and a divided hip belt for the best possible ventilation.
Additional features include expandable pockets on the sides, a whistle on the chest strap, a front reflector and reinforced bottom.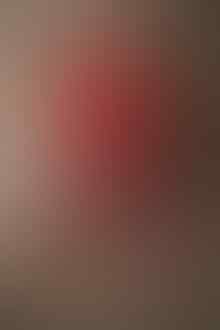 - PRODUCT DESCRIPTION:
http://www.fjallraven.com/funas-35
http://www.fjallraven-shop.pl/pl/p/FUNAS-35/1000
The Funäs is a multi-purpose, top-loading rucksack offering functionality and simplicity. Lightweight, top-pack backpack with rear ventilation panel.
The ergonomic backsystem offers comfortable carry and the breathable design makes it ideal for year-round use.
Compression straps on the sides help to stabilise the load and the hip belt offers plenty of support for trekking.
External, elastic cord runs over the lid and the front, allowing you to quickly stash equipment to the outside of the pack.
And the side pockets are constructed of durable, stretch fabric to offer extra storage space.
To top it all, the Funäs includes a raincover in its bottom pocket, making this pack an excellent choice for short treks.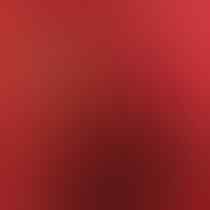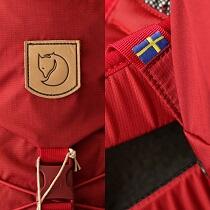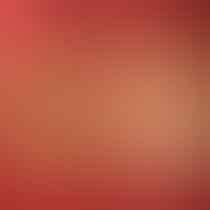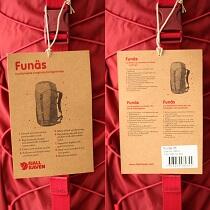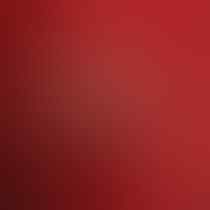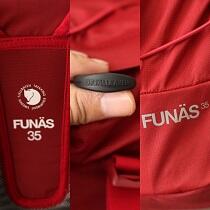 - SPECS/TECHNICAL DETAILS:
https://www.amazon.co.uk/Fj%C3%A4llr.../dp/B0124TQV5C
http://zozo.jp/shop/fjallravenby3nit...sale/13048254/
• Brand: Fjällräven
• SKU: F26003
• ASIN: B00M3QYAU0
• Colour: 326 - Ox Red
• Category: Rucksack/Backpack
• Concept/Activity: Trekking
• Application: Hiking
• Sport: Camping & Outdoor
• Gender: Unisex
• Volume Capacity: 35 Litres
• Height: 64 cm (25.20 inches)
• Width: 30 cm (11.81 inches)
• Depth: 23 cm (9.06 inches)
• Weight: 1350 g
• DImensions: 64 x 30 x 23 cm ; 1.35 Kg
• Shipping Weight: 1.4 Kg
• Materials: 100% Polyamide
• Outer material: 100D Ripstop, 100% polyamide; 500D polyamide
• Rain-Cover: Included
• Cover: 100% polyamide
• Carrying system: Fixed
• Chest Strap: Yes
• Castles: YKK®
• Laptop pocket: No
• Batteries Included?: No
• Care Label: Clean with a soft brush and lukewarm water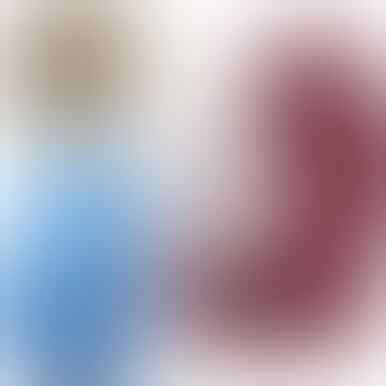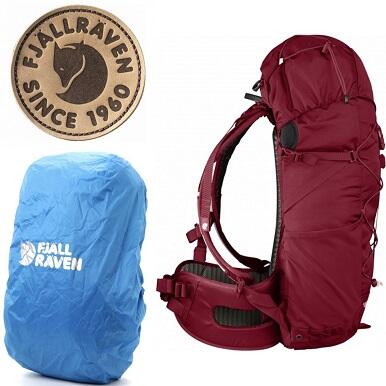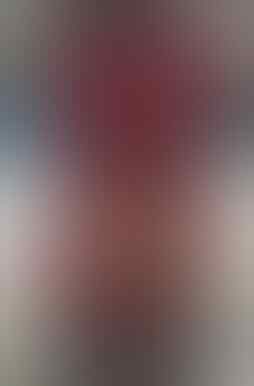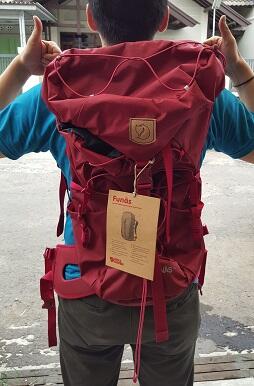 - DETAILS/FEATURES:
https://www.ldmountaincentre.com/wal...unas-35-p14992
http://www.randallbscott.com/trend-o...n-yejklmq.html
The Funas is a lightweight backpack using ripstop material
Comfortable simplicity for light treks
Top loaded backpack with supportive hipbelt
Ergonomically shaped back panel with airy construction
Expandable side pockets in durable stretch polyamide
Accessory rubber cords for gear storage on lid and front
Safety whistle on chest strap
Versatile daypack
With original zack cover
With YKK® Zippers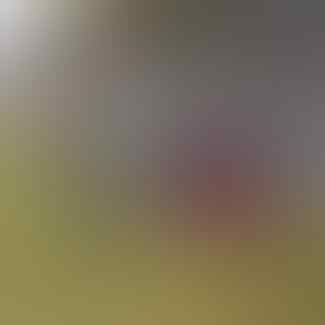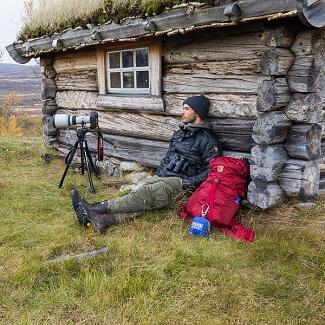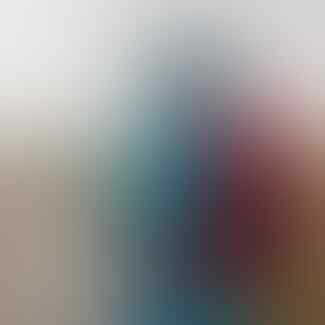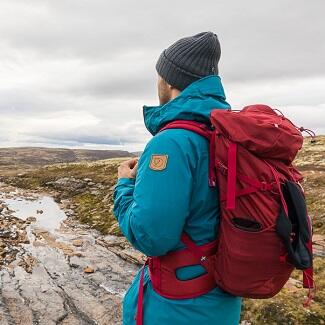 - ABOUT FJALLRAVEN :
http://www.fjallraven.jp/fjallraven3.../backpack#Sec3
SUSTAINABLE INNOVATION FOR THE GREAT OUTDOORS:
The entire purpose with our brand, is to inspire people to get off their backs and into the wild.
Make nature a bigger part of their lives. But it's not always as uncomplicated as it sounds.
Because our aim is also to preserve nature in the shape we found it.
Our sustainability policy – The Fjallraven Way – is the needle's eye that guides us in what's right and wrong.
It's simple and transparent, and comprises all aspecs of research, development, production, transport, and recycling.
What is the Fjallraven Way?
It's how we choose to construct our new waterproof hardshell entirely out of recyclabe polyester and fluorocarbon-free impregnation – while compensating unavoidable emissions.
It's how we have set up a unique Down Promise, where we trace and guarantee each feather back to an ethical production.
It's constantly increasing the share of ecological cotton in our G-1000 weave. It's controlling that local labor conditions are fair.
It's consistently pondering new materials, questioning whether each item can be made with even less footprint.
But it's also about projects targeted at issues we feel greatly for. One of them involving a furry white fox, living on the brink of extinction.
The Arctic fox lives above the treeline in northern Scandinavia, and is an important part of the Nordic fauna.
It's a tough, curious and adaptable species living in lairs that can be hundreds of years old, and curled up it can sleep through -40C arctic nights.
However, they will disappear if nothing is done. The biggest threats are access to food, and being pushed out by it's larger cousin – the red fox.
Important measures involve supplementary feeding as well as keeping the red fox at bay with hunting.
"Also, you can move fox cubs from different batches during good years in order to prevent inbreeding" says Anders Angerbjorn,
Arctic Fox Expert and one of the driving forces behind the "Save the Arctic Fox" initiative.
The government is ultimately responsible for implementing sufficient efforts to save the Arctic fox, but funds are always lacking.
This is why Fjallraven is sponsoring a full time research position at Stockholm University which partly consists of field studies,
dna-sampling as well as active monitoring and supplementary feeding in the mountains.


Quote:
PRICE: BEST OFFER

ASK ME/S E N S O R2049349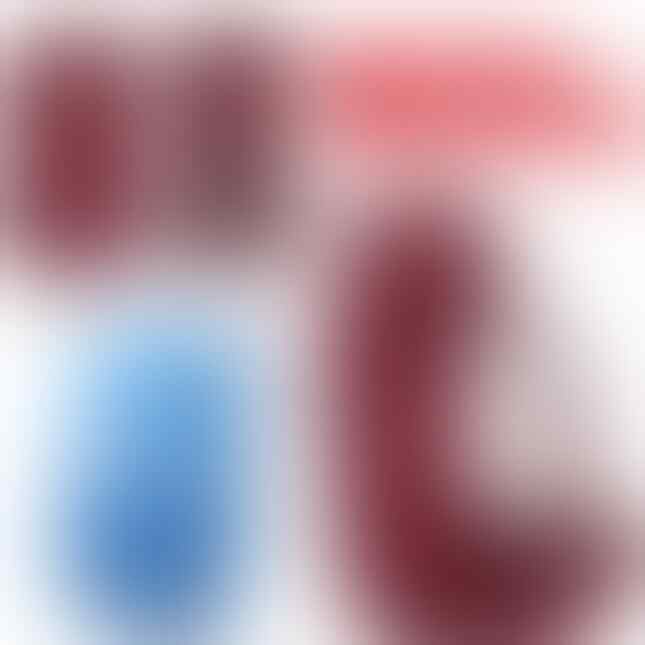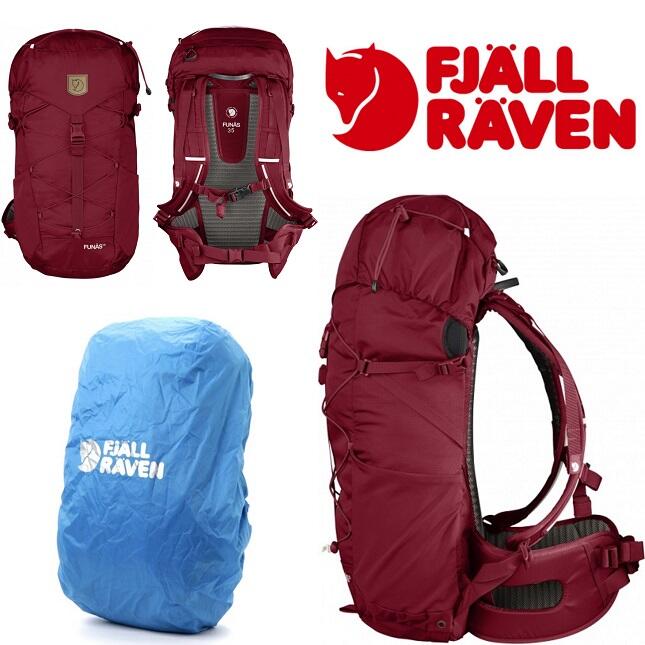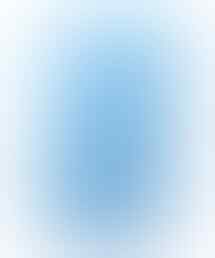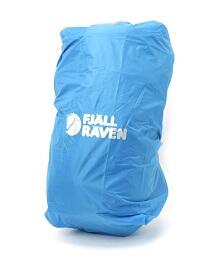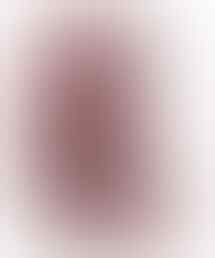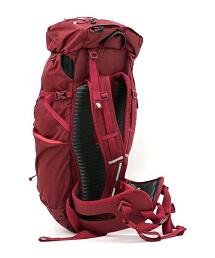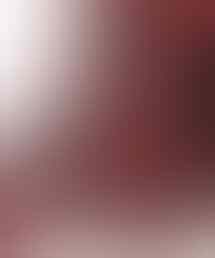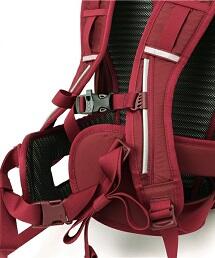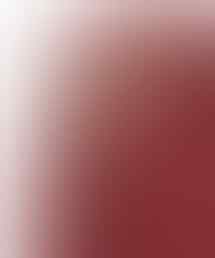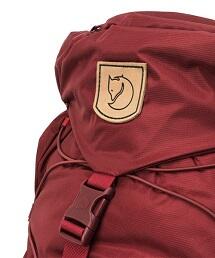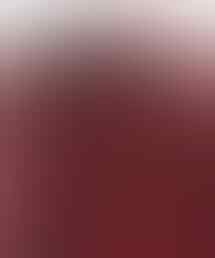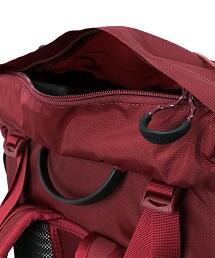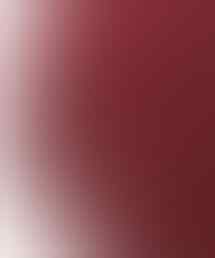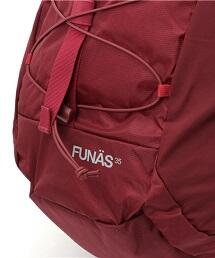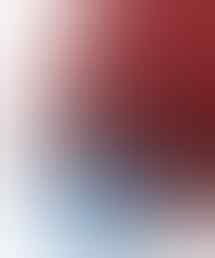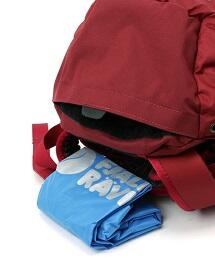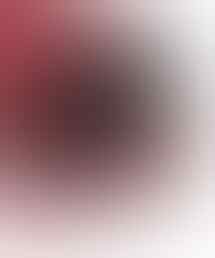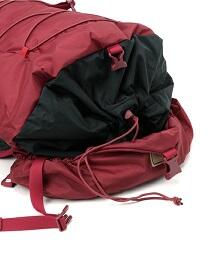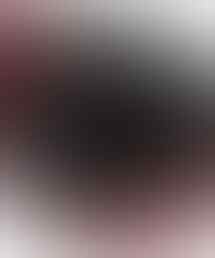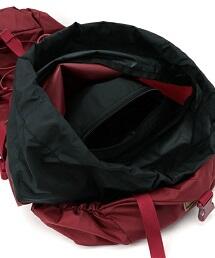 TO BE CONTINUED (ALWAYS UPDATE)
BE A SMART BUYER















Quote:
LINK ALL MY THREAD JACKET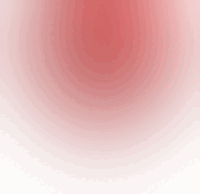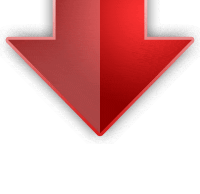 Quote: