46.
.
AV TV RCA USB Video Cable for iPhone 3G iPod Touch Nano
Harga
150 ribu
New high quality AV cable comes with a built-in USB charger cable.
High quality connector for playing your Apple divice videos/graphicas in large screen projectors, such as computer(LCD,CRT), TV or any USB port.
Easy to install and use
Compatible With Apple:
* iPhone 1st Generation (8GB, 16GB), 3G (8GB, 16GB)
* iPod Touch (8GB, 16GB, 32GB), 2nd Gen (8GB, 16GB, 32GB)
* iPod Mini 6GB, 4GB
* iPod Classic 160GB, 80GB, 120GB
* iPod Video 60GB, 30GB, 80GB
* iPod Nano 2nd Gen (2GB, 4GB, 8GB), 3rd Gen (4GB, 8GB), 4th Gen (16GB, 8GB)
* iPod Nano 1st Gen 1GB, 2GB, 4GB
* iPod 4th Gen 20GB (Color Display), 30GB (Color Display), 60GB (Color Display), 40GB (Photo), 60GB (Photo), U2 Special Edition, 20GB, 40GB
* ipod shuffle
Untuk ipd touch dan iphone dengn os diatas 3.0 harus install resupported dari cydia (aka. Ipodtouch/Iphone harus di jailbreak), harga resupported 1.9$, pembelian akan di bantu
47.
BELKIN LIVEACTION CAMERA REMOTE SHUTTER CONTROL FOR IPHONE BLUETOOTH
Harga
Rp. 400 Ribu
Capture And Share Instantly
Remote shutter control with buttons for photo and video.
Stay In The Picture
With the LiveAction Camera Remote, you never have to be left out of a group shot again. This intuitive remote allows you to activate your iPhone or iPod Touch camera shutter from up to 30 feet away—completely wirelessly. Two button controls let you instantly switch between photo and video functions without ever touching your device. You can also use the detachable camera stand to prop up your device and then slide it back onto the remote to create the ultimate pocket-sized camera kit
Capture The Moment
Whether it's a spontaneous group shot or an impromptu speech, the LiveAction Camera Remote and Stand allow you to capture each moment as it happens. Hide the remote discreetly in your pocket for the perfect group pic and toggle between the photo and video buttons to instantly go from still to live shooting.
Works With The Liveaction App
It's easy to record and share your media with the LiveAction App. When you have a pic or clip you want your friends to see, intuitive on-screen controls let you upload your special moments directly onto Facebook or into an email—without having to open another program.
LiveAction can be used alone as your iPhone's primary camera app. Or, you can use it solely in conjunction with Belkin LiveAction Camera products.
Features
■Bluetooth-enabled remote shutter control
■Two distinct buttons for photo and video
■Detachable camera stand
■Operational up to 30 ft
■Intuitive app interface
■Case-compatible
Compatibility
iPhone, iPod Touch
51.A
Nintendo Wii Remote Nunchuck Controller+Charger Docking
harga
300 rb
Wii Remote + Nunchuk Controller for Nintendo Wii +Case
Product Description:
New Official Nintendo Wii
Remote and Nunchuck controller Set
Factory OEM Package.
Region Free.
It can use on any region of Nintendo Wii.
100% Brand New
Brand new, comes straight from the factory.
Contoured to perfectly fit a player's hand, the Nunchuk controller builds on the simplicity of the Wii Remote controller and goes an extra step to meet the needs of gamers.
Used in conjunction with the Wii Remote controller.
This version, 100% compatible with all US games, software, hardware, and everything else. It is absolutely guaranteed to work perfectly. Covered by our money-back guarantee
New generic Dual Charging Station w/ 2 Rechargeable Battery & LED light
Quantity: 1
Never run out of battery power when you are about to score the winning point.
Save money and protect the environment by using the rechargeable battery
High capacity battery that lasts 2~4 times longer than the standard AA batteries
LED light glow from the base of the dock station to show the batteries charging status
Package includes:
The package includes:
1 x Wii Remote Controller
1 x Wii Nunchuck Controller
1 x Silicone Skin
1 x Wrist Strap1 x Wii Remote Controller
1 x USB cable
51.B
Dual Charger Station Dock For Wii Remote+2 X Battery
harga
150 ribu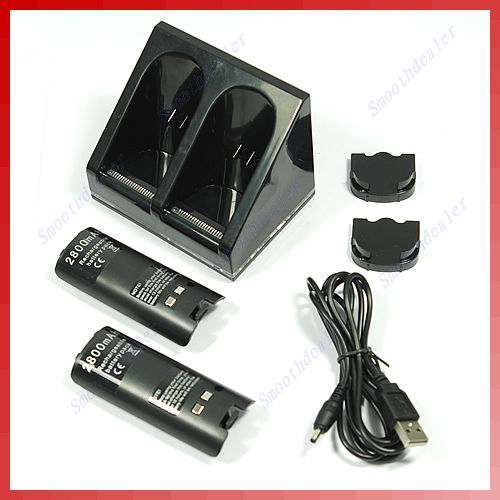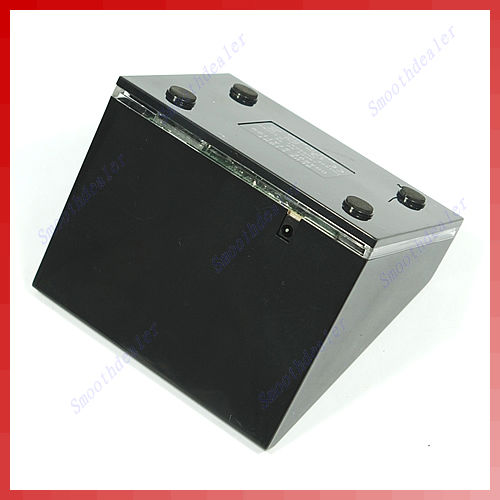 100% brand new and high quality
Material: ABS
This product is suitable for charging of Nintendo Wii Remote Controllers
Light indicator for charging status
Skid-proof design
Can charge two controllers at the same time
Input: DC 5V
Charge Current : =< 450mA
Include one pair of high quality 2 x 2800mAh Rechargeable Battery Pack
Note: The two remote controllers are only for your reference, they are not included
Package Included:
Charging Station for Wii Remote x 1
2800mAH Rechargeable Battery for Wii Remote x 2
Battery stand x 2
Charging Cable x 1
52.
New Wii Remote Motionplus Motion Plus for Nintendo Wii
Harga Rp
175 Ribu
100% Brand New Official Motion Plus with Remote Jacket
It has been removed from retail box to save on shipping cost to our clients
Nintendo's Wii MotionPlus accessory for the revolutionary Wii Remote controller again redefines game control, by more quickly and accurately reflecting motions in a 3-D space.
The Wii MotionPlus accessory attaches to the end of the Wii Remote and, combined with the accelerometer and the sensor bar, allows for more comprehensive tracking of a player's arm position and orientation, providing players with an unmatched level of precision and immersion. Every slight movement players make with their wrist or arm is rendered identically in real time on the screen, providing a true 1:1 response in their game play.
Wii MotionPlus must be used with a Wii Remote + wrist strap, which is sold separately.
Wii MotionPlus Compatible Games Titles
:
- Virtua Tennis 2009 – SEGA
- Tiger Woods PGA TOUR 10 – EA Sports
- Grand Slam Tennis - EA Sports
- Wii Sports Resort - Nintendo
Packing content:
1 x Nintendo Wii MotionPlus with Remote Jacket
53.
New Black USB Dock Cradle Charger Power Station for Apple iPad iPhone 3GS 3G
Harga
250 ribu
Charge and sync your iPad with this dock. Your iPad sits upright in the dock as it syncs or charges, so it's perfect for a desk or countertop.
Connect the dock to your computer with the USB cable included with your iPad to sync iPad.
Connect the dock to an electrical outlet using the iPad 10W USB Power Adapter (included with your iPad) to charge the iPad battery.