UPDATE 07 FEBRUARI 2012
- Color Of A Woman Ep.15-19
- Bachelor Vegetable Store Ep.13
- Fermentation Family Ep.16
- Hooray For Love Ep.55-57 End
- Lights And Shadows Ep.19-20 End
- Live In Style Ep.37-39
- Office Girls Ep.19-23
- Padam Padam Ep.17-18
- Ring Ring Bell Ep.15
- Salary Man Ep.08-10
- Take Care Of Us Captain Ep.10
- The Moon That Embracing The Sun Ep.10
- We Got Married TeukSo Couple Ep.13-16
- What's Up Ep.17
- Wild Romance Ep.09-10

NEW KOREAN DRAMA
- Dream High 2 Ep.01-03
Synopsis :
A three-member idol girl group, HershE, transfers into Kirin Arts High School. The popular idol group has to team up with another boy group in school, Eden. This drama shows how students of different backgrounds collaborate together and overcome challenges to achieve success. In Season Two, Kirin has fallen from its top arts academy status into dire financial straits and is in danger of closing.
Cast :
Jin Woon plays Jin Yoo Jin
Kang So Ra plays Shin Hye Sung
Park Ji Yeon plays Lian
Hyo Rin plays Nana
Park Seo Joon plays Si Woo
Im Jae Bum plays JB
- Shut Up Flower Boy Band Ep.01-03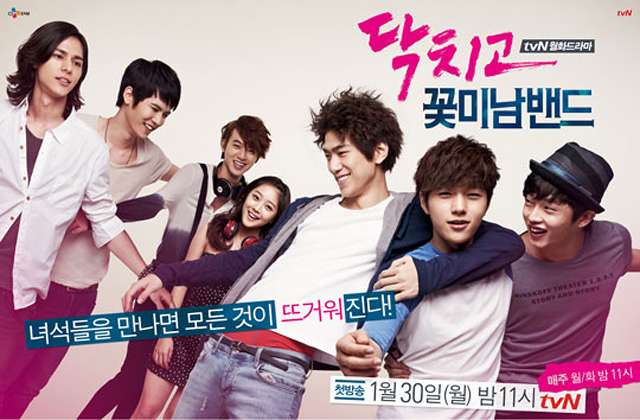 Synopsis :
Shut Up:Flower Boy Band is about a band consisting of handsome, free-spirited high school boys. The show will tell the story of their friendship, their passion for music, and their loves.
Cast :
Sung Joon as Kwon Ji-hyuk
L/Myung Soo, as Lee Hyun-soo
Yoo Min-kyu as Kim Ha-jin
Lee Hyun-jae as Jang Do-il
Kim Min-seok as Seo Kyung-jong
Jo Boa as Su-ah
Jung Eui-chul as Seung-hoon
Lee Min Ki as Byung-hee
- Salamander Guru And The Shadow Operation Team Ep.01

Synopsis:
Swindlers Sun-Dal (Oh Dal-Su) and Won-Sam (Lim Won-Hie) become Salamander Guru (Oh Dal-Su) and Assistant Guru (Lim Won-Hie), with the help of elite computer hacker Min-Hyuk (Minho) who makes the two swindlers look like the real Salamander Guru and Assistant Guru. Meanwhile, the real Salamander Guru Bum-Gyu (Lee Byung-Joon) has Alzheimer's disease.
Cast:
Oh Dal-Su
Lim Won-Hie
Minho
Ryoo Hyoun-Kyoung
Lee Byung-Joon
Kim Gyu-Sun
Yoon Sang-Ho
Thanks