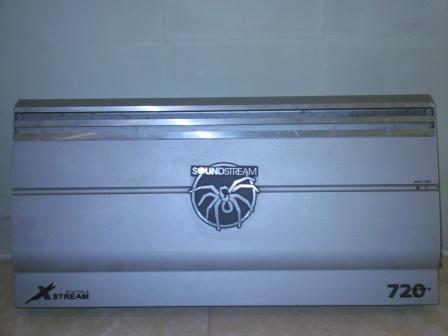 Mau jual power dgn tenaga super gede dan halus :
soundstream xstream xta 720.4
ini power bagus banget.
gw jualnya juga sayang. tapi pikir dari pada gak kepake. dijual aja.
kondisi barang masih bagus

belum pernah diservis
ane pakai sendiri gan, bukan pedagang..
tenaga nya super duper gede dan halus
HARGA 1,500,000,- (nego)

Lokasi Bekasi
COD sekitar MM, Bekasi Square, Cyber Park

hubungi : Leo
HP : 08567 3600 63

Spoiler for Spesification ::
RMS Power @ 4 ohms 90 watts x 4 channels
RMS Power @ 2 ohms 180 watts x 4 channels
RMS Power @ 1 ohm Not Stable
Bridged RMS Power 360 watts x 2 channels
Peak Power Output 1440 watts approx.
Amplifier Specifications
Number of Channels 4
Total RMS Power Output 720 watts
Minimum Impedance Unbridged 2 ohms
Minimum Impedance Bridged 4 ohms
THD at Rated RMS Power 0.05%
Speaker Level Inputs No
Preamp Outputs No
Built-in Crossover Low-pass (LP)
High-pass (HP)
High-Pass Crossover Frequency 50 - 500 Hz
Low-Pass Crossover Frequency 30 - 500 Hz
Subsonic Filter 60 - 200 Hz
Signal-to-Noise Ratio 96 dB
Channel Separation N/A
Bass Boost 0 - 18 dB
Bass/Gain Remote N/A
Fan Cooled No
Fuse Rating 30A x 2
# Bass EQ Control: Fully adjustable subwoofer equalization circuit providing frequency and boost ("Q") adjustment for optimum subwoofer performance. A frequency tracking subsonic filter protects woofers from potentially harmful low frequency information and maximizes output in a usable range.
# Drive Delay II: Amplifier section powers up 2 to 3 seconds after the poewr supply eliminating turn-on and off pops. The turn off process is reversed: Amplifier section turns off first, followed by the power supply.
# Flexible Input Level Control: Allows 500 mV to 4 V input sensativity.
# Trident 3-way Protection
# IDI (Intelligent Distress Indicator)
# Thermal / Short / Over Load Protection
# Stability:
* 2/4 ohms Stereo Mode
* 4 ohms Mono/Bridged Mode
# P.W.M Mosfet Power Supply
# Power and Protection Indicator
# Selectable X-Over HPF / Full / LPF
# 18db Bass Boost with Switch Sub (50Hz)
# Frequency Response: 10Hz - 30kHz
# Variable High-Pass Crossover (50-500Hz)
# Variable Low-Pass Crossover (30Hz-500Hz)
# Variable Sub Sonic Filter: (60Hz-200Hz)
# Gold Plated Terminal Strips / RCA Jacks
# Heavy Duty Heat Sink
# Adjustable Input Sensativity
# Soft Delay Remote Turn-On
# Low Level Inputs
# Phantom Channel For Powering Center Speaker or Subwoofer
# Dimensions: 24.9"L x 12.4"W x 3"H