Kami dari Dion_Ipe Network Solution ingin menawarkan jasa, yaitu sebagai berikut:
Mikrotik :
Quote:
Firewall and NAT - stateful packet filtering;

Routing - Static routing;

Data Rate Management - per IP / protocol / subnet / port / firewall mark; Simple Queue; Queue Tree;

HotSpot - HotSpot Gateway with RADIUS authentication/accounting; data rate limitation; traffic quota; real-time status information;

Routing - Static routing;

NTP - Network Time Protocol server and client; synchronization with GPS system

Userman - User Manager from Radius Server to manage your user Hotspot, and bandwitdh limitation.

Proxy HIT - HIT from local proxy, one mangle rule dan queued.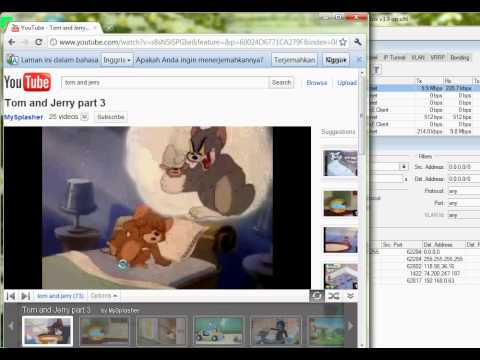 kalo ga muncul ini aja
http://www.youtube.com/watch?v=v1TNFFcAdf8
WEBPROXY :
Quote:
Web proxy - FTP, HTTP and HTTPS caching proxy server; transparent HTTP caching proxy; With SQUID2.7

Caching DNS client - name resolving for local use; Dynamic DNS Client; local DNS cache with static entries With BIND9 and Unbound

LINEX (Local Intranet Network Exchange
Quote:
List Indexing file download from Server to Client, example : Movies, Anime, Updated antivirus... etc..

Web Base Local System Management with Joomla Template and Virtual File Manager (automate indexing file)




ini Websitenya
Silahkan di check
Contact Us :
Silahkan menghubungi kami di
1. Kantor : 0341-405516
2. Simpati : 081329466909
atau di YM
[url=ymsgr:sendIM?ipeaja2003][IMG]http://opi.yahoo.com/online?u=ipeaja2003&m=g&t=2[%5d[/IMG][/url] Dion Ipe
Pin BB : hilang
FB : Dion Ipe
GoogleTalk :dionipe@gmail.com
FB add me :
http://www.facebook.com/dionipeok
with new storeurl C++
TESTI
http://www.kaskus.co.id/showpost.php...2&postcount=18
Quote:
Original Posted By
vairuz07
►
Mantab gan...Seller tidak mengecewakan settingan MT dan Proxy squidnya mantab....
ane udah nyoba gan, bnr2 maknyuzzzz internet jadi wuz wuzzz...


http://www.kaskus.co.id/showpost.php...07&postcount=8
Quote:
Original Posted By
monfit
►
mantap setingannnya.... bang ipe ini.....
ane udah coba di warnet ane skrang udah stabil n cpt kaya' pesawt terbang.... was wus
.... .......

sukses aja gan lapaknya......
n bantu sundull juga

:

:

:
PHP Code:
Squid Object Cache
:
Version 2.7
.
STABLE7
Start Time
:
tThu
,
03 Jun 2010 18
:
37
:
13 GMT
Current Time
:
tWed
, 09
Jun 2010
09:
13
:
20 GMT
Connection information
for
squid
:

tNumber of clients accessing cache
:
t2

tNumber of HTTP requests received
:
t2408609

tNumber of ICP messages received
:
t0

tNumber of ICP messages sent
:
t0

tNumber of queued ICP replies
:
t0

tNumber of HTCP messages received
:
t0

tNumber of HTCP messages sent
:
t0

tRequest failure ratio
:
t 0.00

tAverage HTTP requests per minute since start
:
t298.2

tAverage ICP messages per minute since start
:
t0.0

tSelect loop called
:
50209022 times
,
9.651 ms avg
Cache information
for
squid
:

tRequest Hit Ratios
:
t5min
:
46.5
%,
60min
:
34.8
%

tByte Hit Ratios
:
t5min
:
60.6
%,
60min
:
29.3
%

tRequest Memory Hit Ratios
:
t5min
:
8.5
%,
60min
:
7.4
%

tRequest Disk Hit Ratios
:
t5min
:
62.8
%,
60min
:
77.0
%

tStorage Swap size
:
t17938564 KB

tStorage Mem size
:
t32764 KB

tMean Object Size
:
t21.86 KB

tRequests given to unlinkd
:
t0
Median Service Times
(
seconds
)
5 min 60 min
:

tHTTP Requests
(
All
):
0.35832 0.44492

tCache Misses
:
0.89858 0.94847

tCache Hits
:
0.00919 0.01035

tNear Hits
:
0.35832 0.39928

tNot
-
Modified Replies
:
0.00000 0.00000

tDNS Lookups
:
0.00094 0.00094

tICP Queries
:
0.00000 0.00000
Resource usage
for
squid
:

tUP Time
:
t484566.937 seconds

tCPU Time
:
t3197.472 seconds

tCPU Usage
:
t0.66
%

tCPU Usage
,
5 minute avg
:
t1.41
%

tCPU Usage
,
60 minute avg
:
t1.17
%

tProcess Data Segment Size via sbrk
():
102612 KB

tMaximum Resident Size
:
586256 KB

tPage faults with physical i
/
o
:
0
Memory usage
for
squid via mallinfo
():

tTotal space in arena
:
139476 KB

tOrdinary blocks
:
133247 KB 311476 blks

tSmall blocks
:
0 KB 0 blks

tHolding blocks
:
5692 KB 4 blks

tFree Small blocks
:
0 KB

tFree Ordinary blocks
:
6228 KB

tTotal in
use:
138939 KB 96
%

tTotal free
:
6228 KB 4
%

tTotal size
:
145168 KB
Memory accounted
for:

tTotal accounted
:
92409 KB

tmemPoolAlloc calls
:
376700649

tmemPoolFree calls
:
374904594
File descriptor usage
for
squid
:

tMaximum number of file descriptors
:
1024

tLargest file desc currently in
use:
469

tNumber of file desc currently in
use:
352

tFiles queued
for
open
:
0

tAvailable number of file descriptors
:
672

tReserved number of file descriptors
:
100

tStore Disk files open
:
9

tIO loop method
:
epoll
Internal Data Structures
:

t827645 StoreEntries

t 7411 StoreEntries with MemObjects

t 7358 Hot Object Cache Items

t820698 on
-
disk objects

----------------------------------


TOTALS
ICP
:
0 Queries
,
0 Hits
(
0
%)

HTTP
:
2409957 Requests
,
742876 Hits
(
31
%)


_http://dionipe[.]co[.]cc
*hilangkan tanda [ dan ]