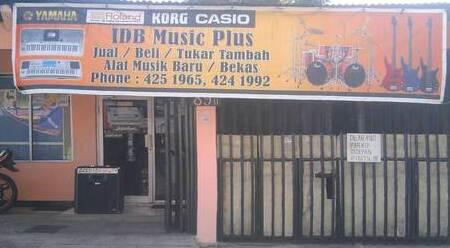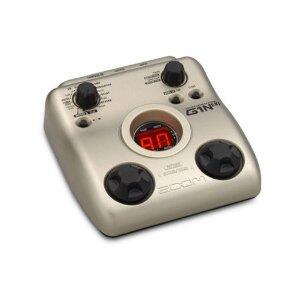 *ZOOM G1Next =

800.000

Guitar Effects Pedal.



Specification :


●Effect Types : 54
●Effect Modules : 8
●Patch Memory : User 40 + Preset 40, Total 80
●Sampling Frequency : 96kHz
●A/D Conversion : 24bit, 128times over-sampling
●D/A Conversion : 24bit, 128times over-sampling
●Signal Processing : 32bit
●Frequency Response : 20Hz-40kHz +1.0dB/-4.0dB (with 10k Ω load) ●Display : 2 digit 7 segment LED
●Input : 1/4' phone jack (Rated input level : -20dBm, Input impedance : 470kΩ)
●Output (Line / Headphones combined): 1/4' stereo phone jack (Maximum output level : {Line} +3dBm, output load impedance 10kΩ or higher / {Headphones} 20mW + 20mW, into 32Ω load)
●Control Input (G1N only) : Expression pedal, Foot switch
●Power Requirements : AA size (LR6) battery x4 (Optional), or AC adaptor DC9V/300mA / Center minus type (AD-0006 recommended)
●Battery Life : 12 hours (with alkaline batteries)
●Dimensions : G1N = 155(D) x 136(W) x 52(H)mm、G1XN = 155(D) x 234(W) x 52(H)mm ●Weight(without batteries) : G1N = 350g, G1XN = 600g
●Optional Accessories(G1N only) : FP02(Expression pedal), FS01(Foot switch)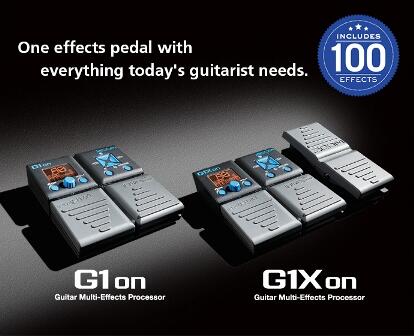 *ZOOM G1on =

890.000

Guitar Multi-Effects Processor.
*ZOOM G1Xon =

1.100.000

Guitar Multi-Effects Processor.



Features :


•100 effects, including distortion, compression, modulation, delay and reverb (G1Xon adds 5 pedal-controlled effects)
•Up to 5 effects can be used simultaneously, chained together in any order
•100 memory locations (10 banks of 10) for the storage of user-created patches
•Copy and Swap functions make patch organization a breeze
•Auto Save function for automatic saving of all patch parameters
•Pre Select function allows you to scroll through patches silently while keeping the current patch operational
•Onboard chromatic tuner supports all standard guitar tunings, including open and drop tunings
•Looper feature for the recording of up to 30 seconds / 64 beats of CD-quality audio with seamless start and end times
•68 built-in rhythm patterns which can be used in conjunction with the Looper
•Input jack accepts standard mono guitar cable (both active and passive instruments supported)
•Auxiliary input jack for connection of personal music players
•Output jack for connection to amp or headphones
•Backlit LCD with contrast control for easy viewing in low-light environments
•Lightweight and small enough to fit in your gig bag
•Easily integrated into any existing pedal board
•Runs on 4 AA batteries, with alkaline battery life of 20 hours
•USB port for firmware updates
•Optional AC adapter
•G1Xon model adds a built-in expression pedal for control over input level, output level, or any selected effect parameter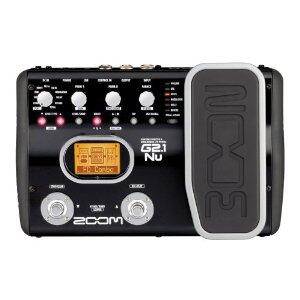 *ZOOM G2.1NU =

1.900.000

Guitar Effects Pedal With USB & Expression Pedal.



Specifications :


*COMP: Compressor, Rack Comp, M Comp
*WAH/EFX: Auto Wah, Resonance, Booster, Tremolo, Phaser, Ring Mod, Slow Attack, Octave, Pedal Vox, Pedal Cry
*ZNR: ZNR, Noise Gate, Dirty Gate
*DRIVE: FD Combo, VX Combo, US Blues, BG Crunch, HW Stack, MS Crunch, MS Drive, PV Drive, DZ Drive, BG Drive, Over Drive, T Scream, Governor, Dist+, Dist1, Squeak, Fuzz Smile, Great Muff, Metal World, Hot Box, Z Clean, Z Wild, Z MP1, Z Bottom, Z Dream, Z Scream, Z Neos, Lead, Extreme DS, Aco.Sim
*EQUALIZER: 6 BAND EQUALIZER
*MODULATION: Chorus, Vintage CE, Stereo Chorus, Ensemble, Phase, Flanger, Vibrato, Step, Dynamic Flanger, Cry, Detune, Pitch Shift, Mono Pitch, HPS, Pedal Pitch, Comb Filter, Air, Dynamic Delay, Tape Echo, Delay, Modulation Delay
*DELAY: Delay, Echo, Ping Pong Delay, Analog Delay, Reverse Delay
*REVERB: Hall, Room, Spring, Arena, Tiled Room, Early Reflection, Multi Tap Delay
*TOTAL: Patch Level, RTM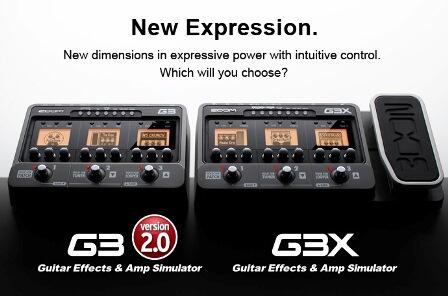 *ZOOM G3 =

2.055.000

Guitar Effects & Amp Simulator.
*ZOOM G3X =

2.155.000

Guitar Effects & Amp Simulator.



Features :


*Three large LCD displays with intuitive amp and stompbox interface
*22 amp (v2.0) or 94 stompbox models can be used in any combination
*Over 100 built-in ZFX-IV DSP effects
*Create and store up to 100 original tones
*Looper function with 40 seconds of phrase recording and overdubbing
*Integrated drum machine and auto-chromatic tuner
*USB audio interface for DAW recording
*Balanced XLR output and selectable modes for DI use
*Over six hours of operation using four AA batteries/USB bus power (AC adapter included)
*Includes Edit&Share and Steinberg Sequel LE recording software



Hub: IDB MUSIC PLUS.
Off: JL.KALIBARU TIMUR V NO.89/D, JAKARTA PUSAT.
Tlp/Fax: 021-4241992 ; 4251965.
Hp XL: 087885697769.
Hp MENTARI: 08164848474.
Hp SIMPATI: 081291599312.
Hp ESIA: 98948213.
Pin BB: By Request.
Web: www.idbmusikplus.com

*BCA, A/N: Donny Santoso
Rek: 428-1056543

*MANDIRI, A/N: Febby Santosa
Rek: 119-0005906431

*Buka Dari Hari Senen - Sabtu... Jam 11.00 - 18.30, Hari Minggu Tutup.

*NB: Harga Di Atas Sewaktu-Waktu Dapat Berubah Tanpa Pemberitahuan Sebelumnya..!!



PENTING :



*IDB MUSIC PLUS Hanya Memiliki Nomor Telephone / Handphone / Rekening / BlackBerry Sesuai Di Atas, Di Luar Itu Semua... Bukan Tanggung Jawab IDB MUSIC PLUS Sepenuhnya..!!

*IDB MUSIC PLUS Sekarang Sudah Tidak Memiliki Akun Facebook (Ebi Santosa) & Email (indoba_music@yahoo.co.id) Lagi... Karena Kedua Akun Tersebut Sudah Di HACK Oleh Orang Yang Tidak Bertanggung Jawab..!! HARAP DIINGAT..!!